India became a $3-trillion economy in 2019, according to an International Monetary Fund report, primarily due to the growth of small-scale businesses. An IBEF report further claims that the country is well on its way to becoming a $5-trillion economy by 2025. Contributing to this prospect, smaller businesses need to grow and expand exponentially. Chartered accountants and their firms thus form a crucial support system and contributorto this economic expansion.
Nevertheless, unplanned expansion would not suitably serve the purpose. CAs would need to perform extensive research before permeating newer markets with branch expansion. Thanks to financing options from Bajaj Finserv like a Loan for Chartered Accountants , funding such expansions only gets easier.
Still, here are some things one must do as a CA firm owner when planning to expand to a new location.
Pre-requisites to opening a new branch of your CA firm
• Catchment mapping
Catchment mapping refers to studying particular geographic areas for business potential. Businesses also need to assess whether a particular area can attract new customers before moving there or opening a new office in the location.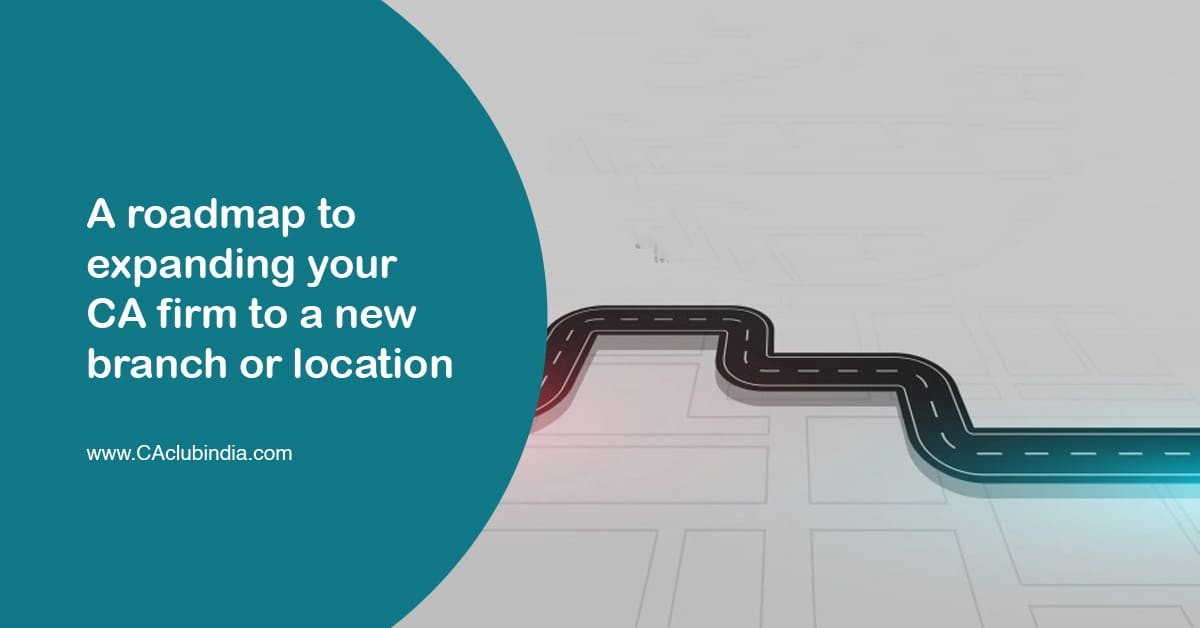 • Prospect research
It is the process of studying the motivations for different donors or investors, who are funding your business growth or backing such expansion. If one opts for a CA loan to ensure effective growth, he/she can avoid prospect research.
However, if you rely on other individuals or entities to finance your growth, prospect research should help you gauge the motivations behind this support.
• Market performance
An overall idea of the chartered accountancy market is essential to understand the existing demand for services and what you can expect in the future. Market performance involves studying how competitors are performing in the marketand strategies you would require to counter or overtake such trends.
• Future endeavours
Before opting for a loan for chartered accountants , a CA firm should assess how it plans to operate in the future. For instance, consider any planned future expansion if any. Moreover, a chartered accountant would also need to plan such expansions after keeping in mind future clientele or upcoming projects.
Expenses related to expanding your CA firm to a new location or branch
The next step to implementing such expansion plans would be to acquire suitable funding from available options like a professional loan for chartered accountant . These credit options can ensure adequate funding for all expansion-related expenses. Here are some of the expenses to consider -
• Rental expenses
During business expansion, expenses related to renting a new office space acquire the top spot. Depending on the locality and demand for realty space, this rent can be significant. For instance, monthly rent for office space in Mumbai can range between Rs.50,000 and Rs.25 lakh.
• Infrastructure
A loan for chartered accountants can be essential during expansion to finance infrastructure establishment, including computers installations, furniture and fixtures, etc. Although these can seem like inconsequential costs at first, they quickly add up to a substantial amount.
• Additional workforce
Opening a new office would require a chartered accountancyfirm to employ additional staff, suitable as per the profession's skill requirements. A loan to chartered accountant can thus aid in hiring suitable workforce comprising skilled employees, without needing to stick to a stringent budget.
Bajaj Finserv provides loans for Chartered Accountants up to Rs.35 lakh to fulfil such funding needs with ease. This hassle-free credit option can ease affordability when it comes to the expansion of CA firms and is available as an unsecured credit to all eligible CAs.
Advantages of availing a loan for CAs
Listed below are some of the reasons that make availing this advance beneficial -
• Instant access to funds
Unlike several other advances, a loan for CAs can be utilised as an emergency credit option. Eligible candidates can thus avail these funds from Bajaj Finserv within as less as 24 hours of approval.
• Easy repayment terms
A flexible repayment tenure for such loans ensures that the EMIs payable do not strain one's finances. The repayment period for this advance can thus range between 12 and 60 months. Besides, the chartered accountant loan interest rate is affordable too, with Bajaj Finserv offering financing at an interest rate of 13% to 14%.
• Flexi Loan facility
Apart from the CA loan interest rate , another integral feature is the Flexi Loan facility. Under this funding option, borrowers can thus make multiple withdrawals from a pre-sanctioned loan amount. However, interest is charged only on the amount withdrawn.
Thus, if you withdraw Rs.2 lakh from your pre-determined loan for chartered accountant of Rs.10 lakh, interest would be applicable on Rs.2 lakh only and not on the total sum.
• Online account management
Another crucial benefitof a loan for chartered accountants from Bajaj Finservis that borrowers can seek information regarding their loan account online via a dedicated portal provided by Bajaj Finserv. Other than accessing loan details, one can also choose to prepay or foreclose such debt through an online portal, which reduces thehassle of approaching the lenderin person.
The availability of pre-approved offers also enhances convenience while reducing time consumption during loan processing. You can check your pre-approved offer before sending a loan application if you are an existing Bajaj Finserv customer.
Expanding a chartered accountancy firm involves significant research, market analysis and taking care of other pertinent details. One should thus plan accordingly as not doing so can leave severe financial repercussions for the business, hindering its growth and expansion prospects.
Tags :
career