This day 5 years back at 8 PM, our Prime Minister Shri Narendra Modi announced the ban of INR 500s and INR 1000s which then formed 86% of the circulation of currency notes.
The main aim of demonetisation was to bring in hidden money under tax by depositing in the bank, which was like a surgical strike on illegal cash.
The other aims included the stopping of fake notes and moving India towards Digital transactions by creating a cashless economy.
The sudden move affected the agricultural sector and small scale traders who were solely dependent on Cash transactions.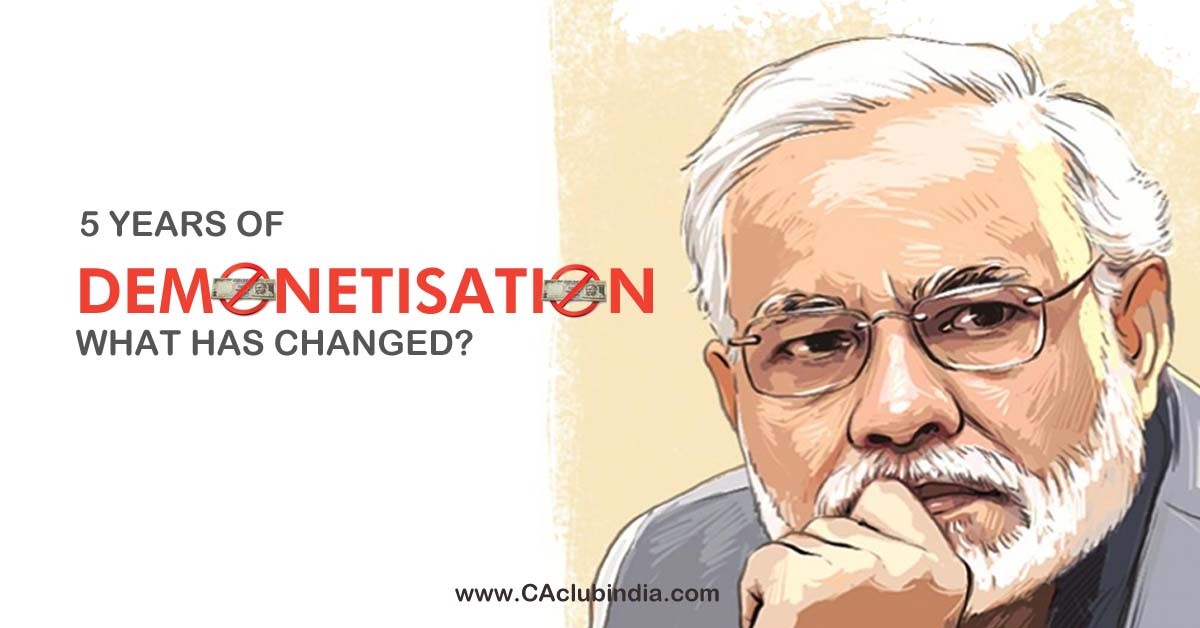 What Really Happened?
1. Recovery of Black Money
According to RBI's report people had returned Rs 15.28 lakh crore of the Rs 15.44 lakh crore banned currency, or 98.96 per cent of the scrapped Rs 500 and Rs 1,000 notes, to the banking system. The old notes came to the RBI either directly or from bank branches and post offices through the currency chest mechanism.
The Government had expected a recovery of around Rs. 3-4 lakh crores but could only recover Rs.1.3 lakh crore through the means of anti black money and money laundering measures, where demonetisation played a major measure.
2. Collection and Circulation of Counterfeit Currency
According to the Report of RBI a total of 18. 87 lakh pieces of fake notes have been seized across the country in various denominations from 2016 to 2020. Most fake notes were in 100 denominations. According to the RBI there has been a sharp increase in the counterfeit denomination of 10,50,200, and 500 even in the New series of Currency.
The Circulation of fake notes has not stopped according to the RBI.
3. GDP Growth Rate Analysis
GDP growth rate started declining sharply in the post-demonetisation years. India's GDP growth rate increased consistently from 5.2% in 2011-12 to 8.3% in 2016-17.The trend started to fall downwards with the GDP rate being 4% in the year 2019-20.
4. Digitalised Transactions
Digitalised Transactions have seen fastest growth post demonetisation. UPI payment volume stood highest in FY 2020 at Rs. 1251.86 crore . The value of transactions through the Unified Payments Interface (UPI) crossed $100 billion in October 2021.
Research says that the Indian economy has seen great formalisation which is spectacular and has made history.
There is no place for transactions without UPI. This UPI has come into force post demonetisation.
This has brought formal banking schemes to various sectors of society to name the Jan-Dhan scheme.
Thus, the move had its pros and cons. What are your thoughts on the same? Let us know in the comments section below!
"Loved reading this piece by
Poojitha Raam
?
Join CAclubindia's network for Daily Articles, News Updates, Forum Threads, Judgments, Courses for CA/CS/CMA, Professional Courses and MUCH MORE!"
Tags
others