"Online learning is not the next big thing, it is the now big thing." - Donna J. Abernathy
There is a plethora of study material available on the internet and since the pandemic, online courses have become one of the most valuable sources of learning. If in today's time you are not utilizing the resources available online and are just sticking to the traditional offline studying, you are missing out.
Similarly, to study for CA, CS, CMA exams several things can work for you but the best option is getting yourself enrolled in online courses that are provided by various platforms. You can also get admission at offline coaching centres that provide coaching for competitive exams but here are a few reasons why online courses are your best bet.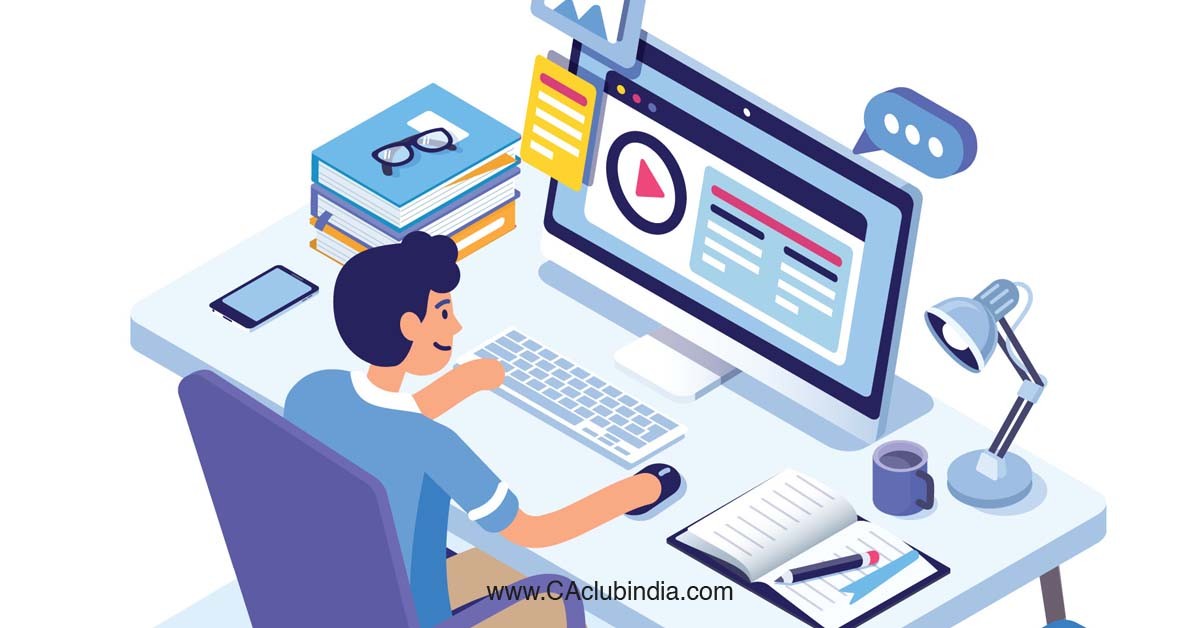 1. Save Money
Buying courses online costs way less than offline coaching. Offline coaching fees include the cost of various amenities that are provided at the centre of coaching and thus the price is high. Online courses do not include that cost and therefore are less costlier. Online courses also eliminate the money spent in travelling to offline coaching centres.
2. Time-Saving
Along with money that's spent on travelling, time is also saved when you opt for online courses. A lot of time that is spent looking for the perfect coaching institute or travelling there can be substituted with just a google search for professional online courses. Online courses also allow you to follow a flexible timeline. This way you can study a particular course according to a schedule that fits you the best.
3. Access to More Resources
There is no dearth of resources on the internet. You get access to study materials from around the globe and 24x7. It allows you to do your research and compare various courses to choose any one course that you would like to study or you can study them all. There is no bar! It also lets you connect with educators and students from all over the world which fosters a better learning online environment.
4. Alternate Learning Systems
Studying online also brings the opportunity to learn a particular subject through different methodologies. Online courses help you understand that there is no one right way to study a topic. These courses are more individual-oriented and thus they provide greater scope for 'learning by doing.'
5. Self Discipline and Motivation
Studying and completing an online course requires self-motivation and discipline. Studying online helps to foster that habit of motivating oneself intrinsically to study in a disciplined manner. This also helps in bringing more focus to the individual.
Once you have bought an online course, you usually get access to it for a long time which will allow you to repeat a particular course as many times as you like.
March your way on to a better learning experience with CCI Online Learning
Do you wish to master your upcoming CA/CS/CMA Exam?
Do you wish to get conceptual clarity, together with a qualitative learning experience?
Are you looking for a holistic learning experience?
Then look no further. CCI Online Learning is your One Stop Shop!
What do you get?
Updated Lectures
Conceptual Clarity
Sufficient Practice
Student Friendly Teachers
Expert Faculty Guidance
Cost-Effective Classes
Doubt Clearing Sessions
Multiple System Access
Quality Material
All Classes Streaming with Pendrive and Download
Click here to know more!
"Loved reading this piece by
CCI Team
?
Join CAclubindia's network for Daily Articles, News Updates, Forum Threads, Judgments, Courses for CA/CS/CMA, Professional Courses and MUCH MORE!"
Tags :
students
ca students