Registrar of Companies has officially revealed that there are 2,50,000 companies which are on the verge of getting snapped for undermining the beneficial provisions of the Companies Act,2013.
# The Old Procedure: Get Over It!
According to the provisions of Companies Act,1956, Registrar was vested with powers to "Remove the Name" of the Company from the Register of Companies. Removal of names signifies the company is being struck off and its viability is redundant.
The name was snapped by the ROC on the grounds when:
The company was not carrying its operations or business.
On winding up.
In the case of winding up, there is no liquidator or a return from liquidator is not furnished within 6 months.
P.S.: Its a Defunct concept for Defunct companies
# ROC's Butcher Drive
The Companies has finally introspected the need to wipe out companies.
Lets have a look at an exhaustive compilation of the total number of companies incorporated in the particular state in comparison to the number of closure notices issued.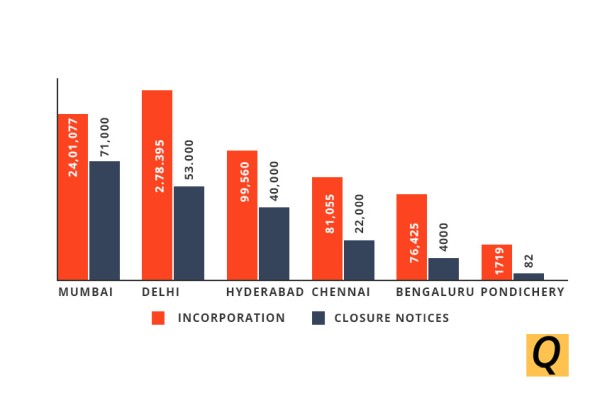 The names of these companies will be struck off or dissolved, in case of no objection in response to the notices. Simultaneously, notices will to various aided statutory authorities like income tax, central excise and service tax authorities.
According to the Companies Act,2013, Roc under section 248 is authorized to remove the name if,
The company did not commence its business within 1 years of incorporation.
Subscription is not paid within 180 days of incorporation
The company did not carry its operations for a period of one year nor did it apply for the status of a dormant company.
#The New Procedure: worth a Try!
There is a new path breaking Concept in the Companies Act,2013 covered under Section 455.
A company can apply for the status of being a "Dormant Company".
There are two cases,
A company which was incorporated to manage future projects or assets or intellectual property, having no accounting transactions.
Such Companies need to make sure that
There is no investigation pending
There is no prosecution
There are no outstanding public deposits
There are no outstanding loans
There is no mismanagement
There are no Tax dues
The securities are not listed on any Stock Exchange
A Company is Inactive.
There is no business activity
Annual Compliances are not met
No accounting transaction in previous 2 financial years.
P.S.: Its Better to be Dormant than Defunct!
A company which applies for the status of a "Dormant Company" can retain it for maximum 5 years before it changes its status.
A dormant Company needs to fulfill certain criteria, to avoid getting struck off,
1. Maintain minimum number of directors,
Public Company - 3
Private Company - 2
One Person Company - 1
2. Pay prescribed annual fees.
3. File audited Return of Dormant Company annually.
4. File Return of allotment or change in director details, if any.
A dormant company can be easily converted into an Active Company which saves all the time and effort invested in its incorporation.
It is evident that 250000 companies are unaware about this Hibernation procedure.
The end of the journey is not yet as definitive as it is for the sun to set once it rises, Go, Hibernate!!
The author is affiliated with QuickCompany which deals in Legal Activities like, Company Registration, Trademark registration, MSME Registration and trademark search, etc..
Tags
Corporate Law