Quotes for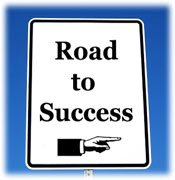 Introduction -
Well this is exactly the time when I should have got my PCC result but thanks to ICAI that we have to wait for another 3 Days. I pray to God that whatever is going on it should bring cheers on the face of result aspirants.
So, as I am free and a bit relaxed too so I am back with my Genre of Articles i.e. Inspirational with a tadka of Humour.

Here are some quotes which are very much related with a CA student life :-
(A) The only place where success comes before work is in the dictionary-

See this is CA and not any Graduation exam where you can pass with a week study. So there is no alternative for Hard Work in CA.

So, think many times before joining this prestigious course and don't join it because your best friend is joining it. Par agar agar ek baar join kar liya hai toh dubara mat socchna.

If you are thinking to clear it with luck then please this is not your cup of tea because even fortune favours the brave.
Luck is what you have left over after you give 100 percent.
Yaar yahan to bade-2 intelligent bando ka band baj jata hai because CA is not only about intelligence but Intelligence with Hard work. Pehla factor kam ho chalega but doosra (Hard Work) to hona hi chahiye...

(B) The elevator to success is out of order. You'll have to use the stairs... one step at a time
There is no shortcut to success but definitely a shortcut to Hell (MTV Roadies).
All of us know that we have to clear 3 Chakraview of CA (CPT, PCC and FInal ) and difficulty level goes on increasing.

If you have clear CPT in first attempt then don't think that you have become a CA. Picture abhi baaki hai mere dost.

CPT toh ek trailor tha and PCC is the real picture. But to achieve that first you have to clear the basic exam (CPT) .

Don't forget that to win 1 Crore in KBC i.e. CA degree first you have to answer the initial question of Rs 5000 (CPT) correctly.
To think is easy. To act is hard. But the hardest thing in the world is to act in accordance with your thinking
In a nutshell it's not impossible to clear CA but you have to continue with your Hard work .
(C) Age is of no importance unless youre a cheese
Yaar I am 25 and still struck in PCC . Main toh buddha ho gaya ....

There is a misconception in general public about the entry age in CA. According to me there is no age for studies.
During my Articleship I encounter one lady who started her CA at the age of 35 and she was very excited about the profession.
It's all about the killer instinct and passion for your goal.

Jo 22 mein paas hua vo bhi CA aur jo 32 ki age mein vo bhi CA.
(D) The minute you settle for less than you deserve, you get even less than you settled for
Keep trying and decide you goal as you are going to achieve in accordance with your target.
A very famous FM teacher has said , " You should have only two targets in CA- Rank or Pass"
Don't reduce your targets or forget your dream just because you failed in your first attempt.
Hope is the dream of the waking man
If you are scared of failure then CA is definitely not for you....
Conclusion -
This was a short but an effective article on How to get Success in CA.

I request you not to comment on it without completely reading it.
Regards
Pulkit Gupta
pulkit_1988 @ rediffmail.com