We all very well know that CA exams are tough to crack. The number of students who fail is more as compared to those who pass, however, this is also a fact that it is not impossible. There are some students who not only pass but also secure the All India Rank. We need to analyse why a student is failing in his exams and why he is not able to get through with it.
So, let us get into the real reasons of failure in CA exams –
1. Lack of Discipline
Students need to understand that everything has its own right time. For example, there will be a right time for partying as well as there will be a right time for studies. It is us who need to be disciplined and do the right things at the right time.
Especially, when just a few months are left for exams, students need to focus on their career and leave all other things aside. Family functions, parties, events, birthdays, social media, etc, everything that creates disturbance in studies, please leave it and try to save as much time as possible.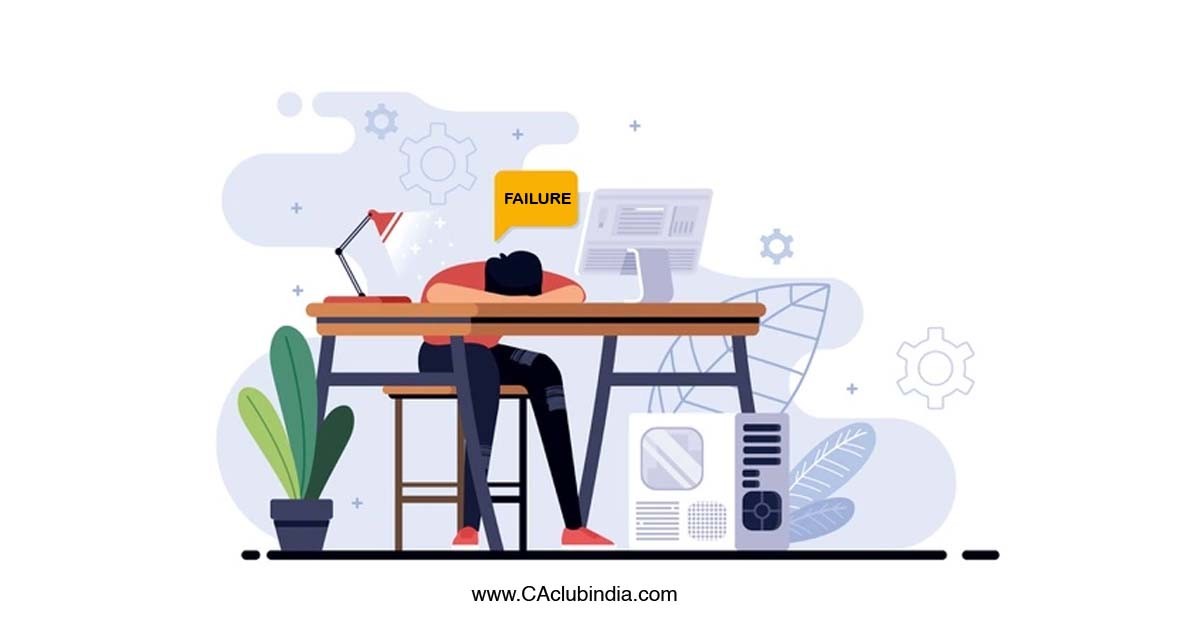 2. Improper Planning
You need to have a proper plan before starting with studies. Like, along with articleship, how and when you are going to manage your coaching classes, which subjects are to be self–prepared, how many revisions should be done before exams, which book to refer to, and so many other points. Make a proper plan for each of them.
And if we talk about timetables also, yes, it is a must! Prepare a daily timetable and at the end of the day just check what topics are covered and what are left. Try to complete the maximum of your timetable.
3. Wrong selection of books or confusion in which book to refer
I will always suggest, if you have taken coaching for a subject, refer to the book given by your coaching teacher. It will be very easy to grasp and remember things.
And if you are self-studying for any subject, do proper research, ask your friends, go through the content of the book properly and then only choose which book is right to refer.
Never choose too many books for one subject. It will be so confusing that you won't be able to retain any of the content. Many students make this mistake. So, please try to avoid it.
4. Wrong Revision Techniques
Revision is a very crucial part of the preparation strategy. Plan your revisions. Not only plan but ensure that the revision technique that you are using is right and beneficial.
Don't just read or go through the book. Make notes, revise them frequently without seeing the notes. Wherever you make a mistake, mark that area in red so that next time you avoid it.
Write answers to practical questions. Don't only just do audit questions. Practice and check. Mark important questions that are to be mandatorily preferred one day before exams. Make a smart plan and revise it even more smartly.
5. Test series without preparation
Test series or solving mock test papers is a must! Every student must do it. But make sure, you study for it and then appear in the test series. Then only you will be able to rightly evaluate if you are really ready to sit for final exams.
6. Ignoring ICAI's Material
It is good to refer to coaching notes or any other author's notes. I too agree that those notes are simple and easy to understand sometimes. But, this is also important to understand that ICAI takes your exam.
So, ensure that you go through all of its material.
Check how they are expecting you to present answers in exams through suggested answers, check what type of questions are important through RTPs, and solve their given mock test papers.
This will really boost your confidence and will prepare you for exams in a great way.
7. Lack of Motivation
There are students who fail in exams but just don't understand why they are really failing. I believe back-to-back failure in CA exams is like you are stuck in a loop and you have no idea how to get out of it.
But, don't lose hope. Trust yourself and continue to work hard. Maybe this time choose different techniques for studies or try different patterns for revisions. Maybe this time you just need to silently revise and be positive. You have no idea what can work for you.
So, just don't feel demotivated or feel lost. If you will be mentally strong and happy, you will achieve success in no time. And trust me, at the end, when you see those two letters in front of your name, IT IS ALL WORTH IT!
Try to analyse what are you missing out from the above points and please implement the change as well. It will surely be beneficial.
All the best!
"Loved reading this piece by
CA Sapna Ghelani
?
Join CAclubindia's network for Daily Articles, News Updates, Forum Threads, Judgments, Courses for CA/CS/CMA, Professional Courses and MUCH MORE!"
Tags :
students
ca students