Last decade saw an evolution of cloud computing in area pertaining to Customer Relationship Management, Accounting and Financial Planning & Analysis. With major emphasis towards data efficiency and accuracy, cloud computing has now become buzz in the financial world.

SaaS (Software as a Service) is the strongest Cloud trend and Services. One of the first movers in cloud computing was Salesforce.com, which in 1999 introduced the concept of delivering enterprise application via simple website. In 2002 Amazon started Web services, providing services like storage, computation and even human intelligence. Then came Google Docs in 2006. But 2009 marked a key turning point in the evolution of cloud computing, with arrival of browser based cloud enterprise applications, with the best known being Google Apps working on Google Chrome.
In response to industry trends, ICAI has recently taken many initiatives like ICAI Knowledge gateway, ICAI Cloud campus & e-learning which has brought new dimension of facilitating knowledge & web-based services to peers.
But when it comes to Auditor, technology still needs penetration to the traditional methods of auditing where Auditor has to rely heavily on face to face interaction with his audit team and client to obtain much required information to provide his opinion on the Financial Data.
In this scenario, significant time is consumed among the Auditor & audit team in preparing Audit Plan for any new engagement. Also Auditor either has to visit Client place to review the progress on audits or call back the audit team along with their supporting documents & evidences. These back & forth activities eat up into valuable time of the Auditor during crunch Audit periods impacting the quality of Audit.

Cloud computing automates repetitive and time consuming activities for the Auditor with additional advantages in the form of increased efficiency and reduced cost of Audit. Below is the typical environment under cloud computing: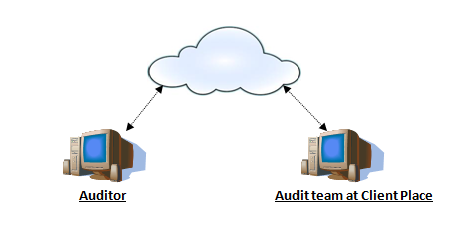 There are only few options available for the Auditor in cloud computing area, primary among them is www.auditshelf.com which is a web based audit tool.
This tool provides a much needed apparatus to Small & Medium level Chartered Accountant firms in India to scale its operation without compromising with the efficiency and competence. Advantage of this tool is that it brings accuracy and efficiency into audits by using a standardized Audit Scheme i.e. Planning of Audit, Performing Compliance Procedures to test the internal controls, perform Substantive Procedures to test the transactions, Conclude with Audit Review points and archive the engagement after running diagnosis of all the procedures.

Currently, one year license with maximum 3 User Logins is available for free. The entity is planning to add more features to its application in coming releases. To get more details on this tool, please click here
In current scenario, where compliances are closely been watched by the Authorities, Auditors need to upgrade their methods of Audit. And therefore future solution lies in web-based automated tool for Audit.
Sponsored
Tags
Audit