MANDATORY COMMITTEES AND THEIR THRESHOLDS & COMPOSITIONS:
1. AUDIT COMMITTEE: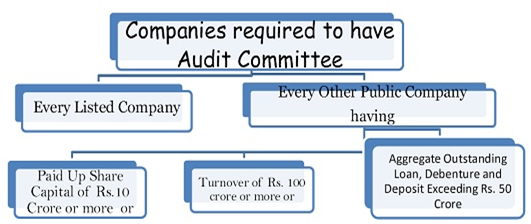 Meeting of Audit Committee:
a. Audit Committee should meet at least four times in a year.
b. Maximum Gap between 2 Meetings is 4 Months.
c. Minimum 2 Director must be present.

COMPOSITION OF AUDIT COMMITTEE: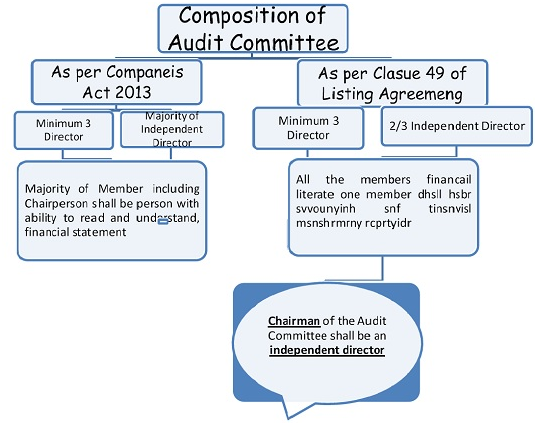 NOTE:
1. THE FREQUENCY OF AUDIT COMMITTEE IS PROVIDED AS PER REVISED CLAUSE 49 OF LISTED AGREEMENT (Applicable from 1st October 2014)
2. Chairman of the Audit Committee shall be present at Annual General Meeting to answer shareholder queries.
3. The Auditor of a company and the key managerial personnel shall have a right to heard in the meeting of audit committee when it consider the auditor's report but shall not have right to vote.
4. VIGIL MECHANISM:
a. Every LISTED company and company, which has:
- Accepted deposits from public;
- Borrowed money from Bank and Public Financial Institution in excess of Rs. 50 crore shall establish a Vigil Mechanism.
b. The Mechanism shall, be established for director and employee to report genuine concerns and also provide for adequate safe guards against victimization of persons using such mechanism.
c. The companies which are required to constitute an audit committee shall oversee the vigil mechanism through the committee and if any of the members of the committee have a conflict of interest in a given case, they should recuse themselves and the others on the committee would deal with the matter on
d. In case of other companies, the Board of directors shall nominate a director to play the role of audit committee for the purpose of vigil mechanism.
2. NOMINATION & REMUNERATION COMMITTEE: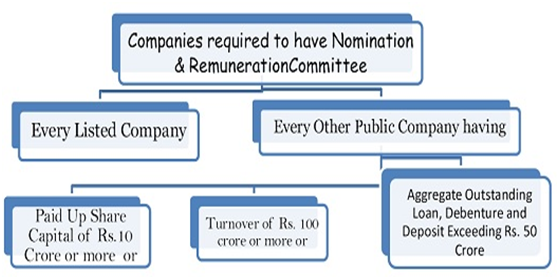 COMPOSITION OF REMUNERATION & NOMINATION COMMITTEE: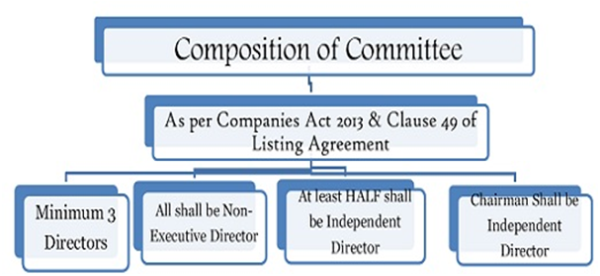 Note:
1. The Chairman of the nomination and remuneration committee could be present at the Annual General Meeting, to answer the shareholders' queries.
2. NO SPECIFIC FREQUENCYOF MEETING OF NOMINATION & REMUNERATION COMMITTEE PROVIDED UNDER THE ACT.
3. STAKEHOLDERS RELATIONSHIP COMMITTEE:
Every company having more than 1000 (One thousand) Share Holders + Debenture Holders + Deposit Holders + Other Security Holders shall constitute a Stakeholders Relationship Committee, which shall consider & resolve the grievance of security holders.
Composition:
- Chairperson: Non-Executive Director
- Members: As may be decided by the Board–
4. CORPORATE SOCIAL RESPONSIBILITY COMMITTEE:
Every Company:
a. having net worth of Rs. 500 crore or more, or
b. turnover of Rs. 1000 crore or more or
c. a net profit of Rs. 5 crore or more during any financial year shall constitute a Corporate Social Responsibility Committee of the Board
COMPOSITION OF COMMITTEE:
a. At least 3 (three) directors, out of which at least 1 (one) director shall be an Independent Director.
b.In case of UNLISTED PUBLIC COMPANY Not required to have an Independent Director, the committee can be constituted without an Independent Director.
c. In case of PRIVATE COMPANY, the committee can be constituted without an Independent Director. Further, in case of a Private Company having 2 (two) Directors, the committee can be constituted with only 2 (two) Directors.
Tags
Corporate Law