In earlier days, selection process largely consisted of two parts i.e. Written Exam and Personal Interview.
However, in last few years, a new process is added to judge the leadership and teamwork abilities of candidates. This process is called Group Discussion (GD).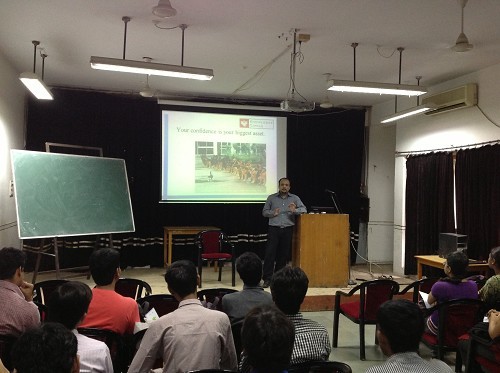 Be it a job selection process or a B-school selection, GD has become an integral part. So students, pull up your socks for the next selection process i.e. the GD or Group Discussion.
Knowledge Matters
In a Group discussion, you will typically have a group of 8-15 people. You will be given some stipulated time (say 20-30 minutes) and a topic. The topic can be a General topic, a technical topic, an abstract topic or a Case study. The simple rule for being able to speak in a GD is to know and for knowing, you have to read, read and read. The more you read, the more enhanced your knowledge is, and consequently you will be equipped with more content to speak on. Now, what to read? Read newspapers, magazines, books, blogs etc. to enhance your knowledge. (We suggest students to keep visiting this blog to keep yourself with various articles on varied topics to enhance their knowledge.)
Preparation
Apart from reading, there is another thing you need to undertake to sharpen yourself and that is Practice, Practice and more Practice. Do practise a lot of mock GDs with your friends, classmates to gain more experience and expertise. Doing it under professional guidance would be icing on the cake. By practising more, you get better and better with your communication skills.
Some Do's for a GD
1. Be Assertive
2. Speak Clearly and Audibly
3. Make an Eye Contact with Everyone.
4. Use Examples
5. Use Voice Modulation
Some Dont's For a GD
1. Don't argue for long
2. Don't repeat your own point or else's points
3. Don't look at floor or ceiling while speaking
4. Don't make personal remarks.
5. Don't make use of Non-Parliamentary language
Believe in yourself
Confidence is an essential ingredient for success, not only in GDs but every stage in life. With constant practice, confidence will automatically flow in. But you got to believe in yourself from the day one. The first person, to believe that you are the best, has to be yourself.
Mind your body language
While practicing for GDs, seek lot of feedback from friends, mentors etc about your body language. Although you think, you made all the relevant points in the GD, your body language may send out negative signals to the selection panel and may negatively impact their view.
In a Nutshell
All said and done, developing your knowledge, communication skills and body language will help you, not only to get selected but for all through your professional life. So this is the right time to work hard and polish yourself so well that the world gets mesmerized with your shine. I will be more than happy to provide any further guidance if needed. You may just drop me an email to knowledgecircle@yahoo.in
All the Best!
The Author Prof. Saurabh Bajaj (BE, MBA, FRM) is Chief Mentor with Knowledge Circle Mumbai.
Tags
Students