On 1st July 2017 Prime Minister MODI stated: 'In our country, only CA's have the Power to certify the accounts of an entity, therefore, the signature of a Chartered Accountant is more important than the signature of the Prime Minister'.
Almost every CA firm big or small offers this service to its clients hence it is inevitable for an article assistant to see the practical exposure of this subject. Among all other subjects, the concepts of taxation & audit are widely used in every CA firm. So you can imagine the importance of the subject 'Auditing & Assurance' not only for passing but in practical life as well. You can't afford to take it lightly.
In this article, I'm discussing 7 invaluable steps that can help you to score outstanding marks in your examinations provided you follow the guidelines religiously. This applies to all the IPC students whether they are registered under the old scheme or new scheme.
Now let's begin:
1. The Mind Set: Having a positive mindset is extremely important. Positive in the Sense, if you say 'I hate you AUDIT', it will reply 'I don't love you either'. Because it is the affirmations that lead to belief. So instead of criticizing it, if you apply reverse psychology by saying 'The subject is really childish and I can do it single offhandedly' results would be opposite.
The subject is theoretical by nature but it can become completely practical & interesting if you imagine yourself as an Auditor while reading the concepts. You are a future auditor so visualize in mind what factors would you consider while auditing any particular entity.
2. Your Coverage Strategy: You must know what how much time you should allocate to the topics. Most students waste their precious time on unnecessary topics that hardly come in the examination. So, there should be a direct relation between topic weight age & time devotion. Higher the weight age higher should be the time devotion to that specific area. So here is the chapter wise weight age, take a look at the picture: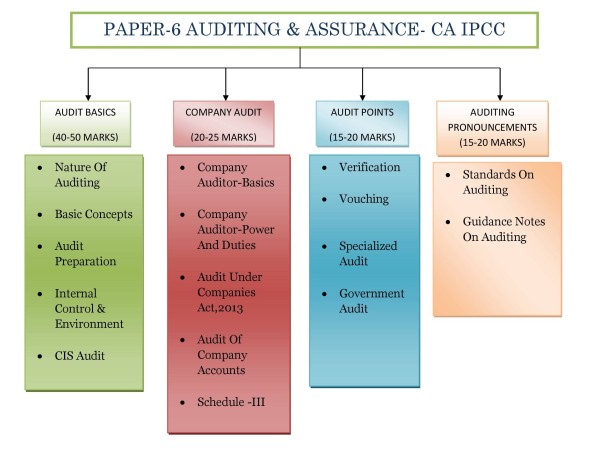 As you can see, the first 5 chapters are most important since these constitute the basics of Audit covering 40-50 marks & around 50% SA's. Therefore, your primary focus should be part-1. Pick this up first. Likewise, allocate your time for the remaining portion.
3. Standards on Audit: Generally, students come across this question which standards to be covered and which standards should be left out. So, here I'm going to rank them according to their possibility of coming in the examination.
Rank 1 SA's: 200, 210, 220, 230, 240, 300, 315, 330, 500, 580, 610.
Rank 2 SA's: 260, 450, 501, 520, 570.
Rank 3 SA's: 250, 265, 299, 620, 550.
Rank 4 SA's: 510, 560, 540 & remaining.
4. The Revision Formula: According to research we forget 60% of whatever you have studied in a day within the next 24 hours unless you don't revisit it. Hence revision is the most important thing as nothing can save you if you lacked in this aspect because you won't be able to recall the answers properly. In this exam, you won't only be judged on concept clarity but also how well you remember the concepts. So while revising you can follow the followings tips & tricks:
Try to draw Charts of every topic you read & then revisit it time to time. Even you can download these charts from the internet.
Recorded your own voice of the text, and listened to it in your free time or when you are on travel. It can save your time & energy too.
Use techniques like 'word association' or 'acronyms'.
5. Exam Hall Strategy: I have mentioned some points that you need to be taken care of in the exam hall:
In the initial 15 minutes, make a choice which one to answer first & recall the headings or solve complex points so that you don't need to think in the middle of attempting a question.
Answer the questions in a sequence you feel more comfortable in. Don't pick a question in which you are not sure to answer. This is helpful in creating a good first impression in the mind of the checker.
Attempt 100 marks paper (most important) even if you don't have the answer, write at least something relating to the topic.
Time management is a key factor when it comes to a paper like Audit where you need to allot time sensibly to all the Areas.
Be calm, relaxed. Don't panic.
Once you have completed your paper, directly go back to your home. Don't discuss the paper with your friends after the exam.
6. The Presentation Part: This is the area where most of the students lack Although a well-presented paper can help to fetch 15-20 additional marks. It is a common phenomenon that girls usually score higher marks in theory subjects because they are stronger in the presentation part. So, to have an edge over the same, the following points should be taken care of:
Start every question and subpart on a fresh page.
Draw margins on both sides of the answer sheet.
Write the question no. or the subpart no. on the top center of the page.
Try to use bullet points or short paragraphs while answering.
Know your question-Write what is actually asked along with conclusions. Try to justify each & every point at required length.
Use diagrams, wherever necessary.
Try to quote maximum references like As per Companies Act, According to Standards on audit or accounting standard etc.
This can illustrate you better:-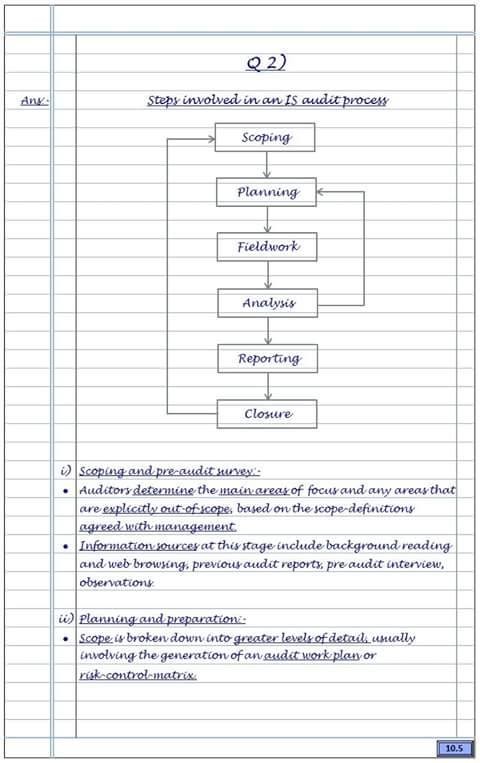 This picture is downloaded from www.swapnilpatni.com
7. The 80/20 rule in Audit: The 80/20 principle says you get 80% of your results with your 20% actions. Here I'm enumerating those 20% things that can give you tremendous results or I can say the essential things you can't miss:
It does not matter what book you use but it is of supreme concern that you must read your practice manual at least 3 times. Many times it has been observed that Institute asked the similar questions as printed in the practice manual. Believe it or not, it is the bible for rank holders.
Humans are not programmed to memorize each and every line of the book. Therefore, try to memorize only the 'KEYWORDS' given in institute's material. For e.g. Professional skepticism, true & fair view, inherent risks etc.
In a question, where we have to write headings, make sure heading should be the same as given in the institute's material.
Try to solve at least 5 past attempt question papers.
Try to write at least 3 full fledged mock test papers in examination conditions.
RTP's should be thoroughly covered once during the last 15 days.
Write your exam with the confidence that a CA is writing instead of CA student.
The author can also be reached at harsharora436@gmail.com
About the Author: Harsh Arora cleared his intermediate in NOV 2016 with 451 marks with 5 exemptions in Accounts, Law, Cost & Financial Management, Taxation, Information technology & strategic Management. In Paper-6 Audit & Assurance he scored 59 marks.
Tags
Students