Chartered Accountancy as a career has always been said as a dignified profession where you can earn respect as well as a good amount of earnings. It is one of the most demanded professions in our country. Almost every company, irrespective of their size or the sector they operate in, need professionals like Chartered Accountants to handle their finances and accounts.
So, if we try finding an answer to the question that Whether A Chartered Accountant can apply for Government Jobs? - The answer is YES!!
All the Government Organizations require a professional accountant to manage their finances, handle accountability, conduct audit, keep check on corporate recovery or insolvency, etc.
Let us find out what are the specific roles a Chartered Accountant can expect in a Government Organisation -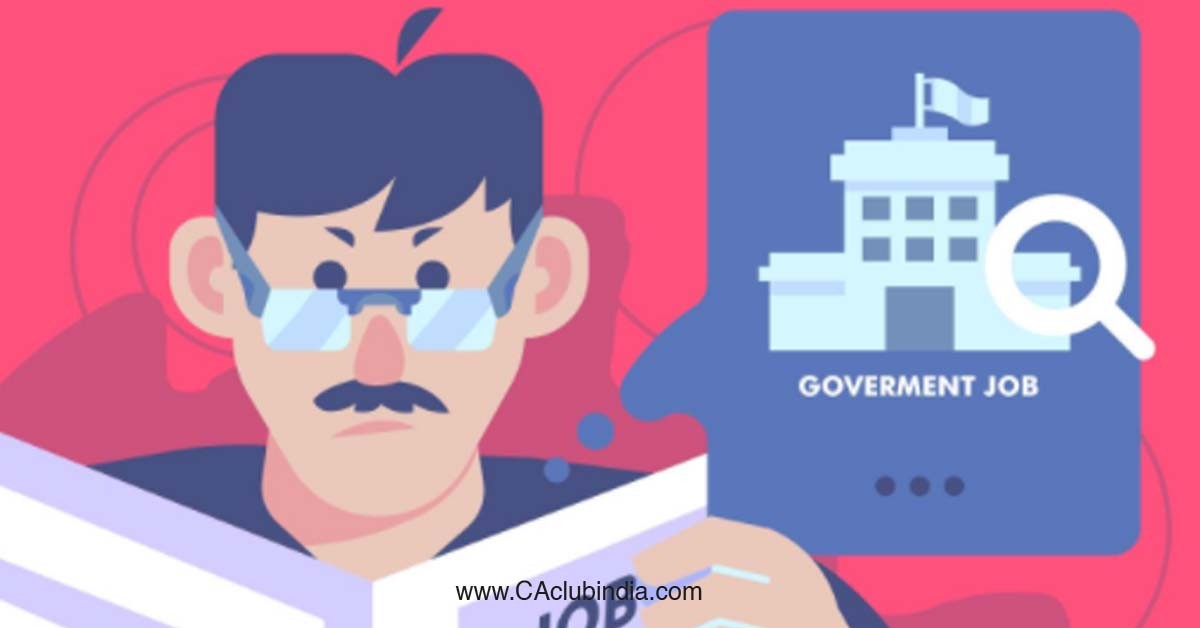 They can act as an Accountant who manages the data in the organization's books
They can act as a General Manager in a Finance Department
They can conduct audit of the government organization
They can act a Finance Managers in the Government Banks
They can act as an Assistant Administrative Officer
They can be in charge of Loans and Advances in Government Banks
They can act as Financial Analyst
They can play their role as a professional in Credit Management Department
They can act as tax expert
They can act as specialist officer in Rural Regional Banks and Public Sector banks
They can join the Internal Audit Department of Public Sector Undertakings
And many more ..
With this, we are very clear that CA's position in Government Sector is of a High Rank and can be considered as one of the most needed jobs of all the times.
There are many public sector undertakings which provide ample of job opportunities for Chartered Accountants. List of some of the undertakings are -
Gas Authority of India Ltd. (GAIL)
Indian Railway Finance Corporation (IRFC)
Export Import Bank of India
Bharat Electronics Limited
Metro Rail Corporation Ltd
State Bank of India
Indian Oil Corporation Limited
Bharat Electronics Limited
HPCL
Punjab National Bank
NHPC Limited
RCFL
BHEL
Coal India
SEBI
NHAI
and many more …
One more great option for Chartered Accountants is to appear for Civil Services Exams. The Union Public Service Commission (UPSC) is a government domain where CAs can apply for different posts. Candidates for the position will have to complete an exam after which they will have to appear for face-to-face interviews and then they can take up positions directly under the central government. They can provide services in Indian Revenue service, Indian Audit and Account services Indian Administrative service or IPS etc.
Chartered Accountants can also apply for RBI Grade B or SEBI Grade A exams.
Many Government Sector positions are offered after a Chartered Accountant appears for their exams and clear it.
In Government Jobs, the Chartered Accountants are offered handsome salary packages along with various perks and allowances. They say that the competition is low in government jobs for Chartered Accountants as compared to private jobs. But one needs to strongly prepare for the exams and appear for interviews.
With this we get to know that the importance of Chartered Accountants cannot be denied in Government Sectors. Because, nearly all State Governments or the Central Government requires a professional with a certification course like Chartered Accountancy who have achieved expertise in their area of finance.
Tags
professional resource