Exam days are busy days both for students & professors. Doubt solving, morale boosting, last minute tips and so on. 6th May was a similar day as we had CA Final Audit Paper. I was anxious how will be paper, how ICAI will surprise this time as they are known for it.
Finally at 5:05 PM got CA Final Audit Paper. First impression it's lengthy. Number of pages can be sometime a rough judgement about it as you need more time to read, interpret & answer if numbers of pages are more.
May14- 8 pages
Nov14- 7 pages
Nov15- 7 pages
May15-7 pages
But this time, MAY-16 exams were 11 pages. So it is definitely lengthy. No 6 marks or 8 marks questions were asked, it was all 4 or 5 marks so students were suppose to write many questions which needs a lot of time.
Now let's analyse difficulty level, it's highly subjective but I tried to do it, on the basis of experience of students though process.
| | |
| --- | --- |
| Row Labels | Marks |
| Easy | 61 |
| Medium | 22 |
| Difficult | 37 |
| Grand Total | 120 |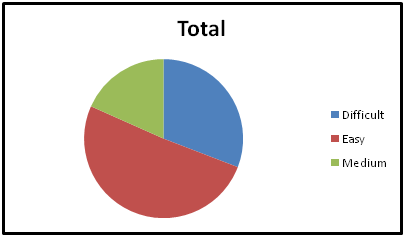 TRAP
Some questions appeared simple but I guess few will be able to do justice. Like Q 1b was on SA 505, where students generally study Positive Vs Negative Confirmation Request, Process of external confirmation etc but question was on "Designing" confirmation request not process further "Effects" of positive confirmation. Generally students leave this part y saying "Sir whether questions are asked in such detail, is it asked in any exams before? But those who followed instructions religiously won.
Similarly Q 3a which asked to comment on presentation & disclosure aspects in SAE 3400, leaving regular questions aside. Q 3d Dividend was proposed by BOD and cancelled by them, this is not dividend declared and cancelled as many must have thought and answered.
I hope students interpreted it properly and answered it.
Further Some questions were weird like "Key requirements of auditing standards of Public Company Accounting Standard Board" now you can write loads and loads of things but what exactly they are expecting was unknown, Further there is no such thing in ICAI practice manual or Module. Well ICAI will do some such things. They cannot give lollipop everywhere.
Chapter weight-age was as expected.
Chapter

Marks

SA

32

Company Audit

(Co Aud)

28

Professional Ethics (PE)

16

Tax Audit

8

Public Sector Unit (PSU)

4

Stock Exchange (SE)

4

General Insurance Company (GIC)

4

Bank Audit

4

NBFC

4

SOX

4

AS

4

Cost Audit

4

Peer Review

4

Grand Total

120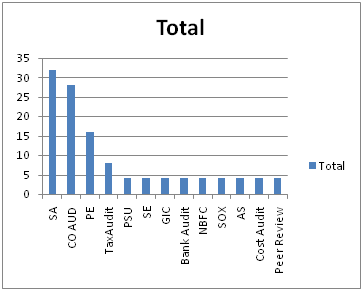 So it was definitely in favour of students. It was as expected so for this point of view it is a easy paper. That means in coming papers they may explore other chapters in detail.
Now let's see how I expect students to score.
| | | | | | | |
| --- | --- | --- | --- | --- | --- | --- |
| | | Good Studies | | Average Studies | | Poor Studies |
| Attempt | | 90-100 | | 80-90 | | 70-80 |
| Easy (61 M) | 90% | 45-54 | 75% | 35-45 | 50% | 20-30 |
| Medium (22 M) | 75% | 15-18 | 50% | 10-12 | 30% | 6-8 |
| Difficult (37 M) | 50% | 5-10 | 30% | 2-8 | 20% | 0-2 |
| | | 65-85 | | 45-65 | | 25-40 |
I have analysed many answer sheets of Nov-15 & prior exams and made a rough estimates of how students of various preparation level perform. I have assumed students will first solve easy and then difficult. So some difficult questions will be left out. Marks will definitely vary with individual performances. % scoring depends on quality of studies.
Overall I can say it was average paper may be more on simple side.
Now how to crack such papers and may be more difficult papers.
1. Start early if you neglect Audit, marks will neglect you.
2. There are plenty of stories where students appear for 4-5 attempts may be more because of low scoring in audit. Why take risk? Just like you consult doctor for health, consult specialists in subject and give your preparation a proper direction and become more efficient & effective
3. You need to cover concepts in deep, not just regular past questions otherwise you wont be able to solve 30-40% of paper. That's the big marks killer.
4. You need good concise material to revise whole subject before exams.
5. You need to know how to answer questions from different chapter.
6. You should solve few papers before exams.
I hope above analysis will help you understand what ICAI does and how to get prepared for it. I will prepare suggested answers soon and upload it.
"Please share your experiences with Audit papers over period of time"
To enrol Advanced Auditing (CA Final) subject of the author: Click here
To enrol Auditing & Assurance (CA IPCC) subject of the author: Click here
Tags
Exams