Why don't we introduce Petroleum Income-tax In India?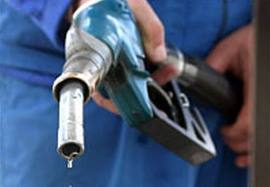 We all know that Petrol costs goes up day by day probably intra-day in future. Everybody is struggling to get petrol due to its higher cost. This petrol price hike hits other factors of production of the county to the greater extent. Rise in the petrol price will cause the country in every nook and corner. Considering the various factors and being affected by the petrol price hike, now one question arises who consumes more, why don't the government levy special tax on excess consumption by certain categories of people in India?. I agree, there must be exceptions to this tax in such a way that it should not affect the normal people those who are below the poverty line. Hence it could be levied on personal excess consumption identified through special mechanism which could be developed in this regard.
This could lead the said category people to cut down their excess consumption from luxury to normal necessary requirements. The tax levied on this way could be used to compensate the petrol price hike in the county consequently there shall not be any further rise for longer period of time. This tax shall not be the income to the government; it must be used only to control the price hike of petrol in the country. Special purpose vehicle could be formed by the government and that can do all the required things.
People may wonder how it is possible to tax this petrol excess consumption; it is quite different but not difficult. Everybody has permanent account number issued by Income-tax department which could be considered as identification of the personal with vehicle RC book where in the name of the registered owner will be traced or from the database of the Vehicle registration department details of the vehicle owner to be identified with special software as and when the sales man enters the vehicle number in the software for billing.
The agencies which are selling petrol shall be controlled by special rule made in this purpose.
Now what is mean by excess consumption? This question is the subject matter that the people of India have to decide?
The price hike has following impact:
Petrol Price hike à Price hike for Factors of Production -à Price hike in Products à Inflation of Rupee à Life change for human being à forcefully man has to create new methods to get more money to survive -à Leads to abnormal physical and mental changes in human beings in the Country à Could lead to overriding law, rules etc.
The above impact for one time hike, let us imagine there are continuous hike in the price. Only god can save us! But continuous increase in the factors of production is not at all good for the health of the nation!
Now what we can do........................................................................................?