• It was one of the easiest audit papers we have seen in recent past. Majority questions were straight forward, regular questions from PM and Past Papers. This also indicates what we should expect in May 17 and ahead, which is discussed later in article.
• Around 20 marks questions were straight away or very close to content in RTP
• As expected 18 marks from Company Audit I & 8 Marks from Company Audit II, So that is 26 marks from Company Audit
• 30 marks from SAs
• Surprisingly no questions from typically special audit. (Hotel / Hospital etc)
• Q.5 a) was weird. It asked theory question on applicability of CARO. But guess what 2015??. It was well communicated by ICAI that 2016 is applicable. Infact RTP had this question 18 (c) "CARO 2016 applies to all companies" Discuss. I think it was a mistake and ICAI will give marks as per correct version of CARO. I will put a mail as feedback of paper to ICAI.
• Q.7 was also weird, it was SRS 4410, that is compilation engagement, it belongs to final's syllabus. But it was easy and could be answered by general knowledge of audit.
Below analysis of total 124 marks paper, including extras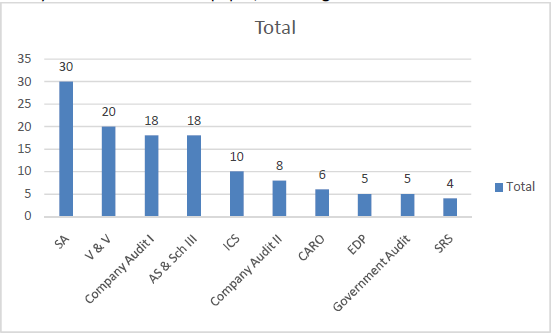 WHAT NEXT? (Checking & May 17)
So, evaluators will expect really good, quality answers.
I feel next audit paper will be little difficult one.
Next time you should expect more questions from SAs / Special Audit / CARO 16 & Cost Audit
Matters in bold & italics in Module will be important
Concepts in module with diagrams and cases will be important
Amendments in SAs may be targeted
I will be uploading detailed answers and explanation video soon
To view the question paper : Click here
To enrol Auditing & Assurance (CA IPC) subject of the author : Click here
Tags
Students