Entering into the third phase of lockdown and completing almost 45 days of staying inside, it feels like life indoors is the new normal. As a measure to avoid the risk of exposure to the deadly coronavirus, the government has extended the lockdown for another two weeks but this time with some relaxations. We obviously cannot deny the adverse effects of the outbreak of COVID-19 and how it has brought regular life to a halt but it's time to break the narrative. None of us ever had so much free time to spend at home.
Since it has been a month and a half, it is time to look back and see what did we learn in the past few days. If you are coming out of this lockdown without any value addition or having learned any new course/skill then you are quite a time killer. To keep you engaged in this tough time, we at CAclubindia did quite a few webinars in the past few days, and here are a few learnings that we have got to share with you. You can also view these webinars for free on www.caclubindia.com
1. Take Business Lessons from COVID-19:
When companies had to take to work from home, not all of us could cope up with it very well. However, somehow or the other we manage to do it. COVID-19 gave us a few lessons that we can implement in the future:
(i) Make the most of technology for saving time and money:
For saving time and money, technology should be harnessed to increase efficiency. Using online meet-ups/video calls/video conferences help us save a lot of money and time that we spend on travel. The best example of technology saving time and money that has emerged these days is delivery being done through drones for cost-cutting on salary. So, next time whenever you are planning on visiting your client or inviting your client to the office for exchange of information just connect with them over a video call and save yourself some time and money.
(ii) Work from home the new norm?
Now that we have become acquainted with working from home and employers know it well how to manage the employees in a situation like this. After everything is over we could probably think about allowing the employees to work from home at least once a week. This will help employees save some money and time. Also, it has been proven that flexible work hours encourage creativity and efficiency in work.
More can be achieved in less time when the employee is stress-free about 9 to 5.
These are the key learnings from the webinar on 'How Startup's can manage their finance amidst the outbreak of COVID-19 by CAclubindia with CA Rahul Saria. To view the session, visit the link click here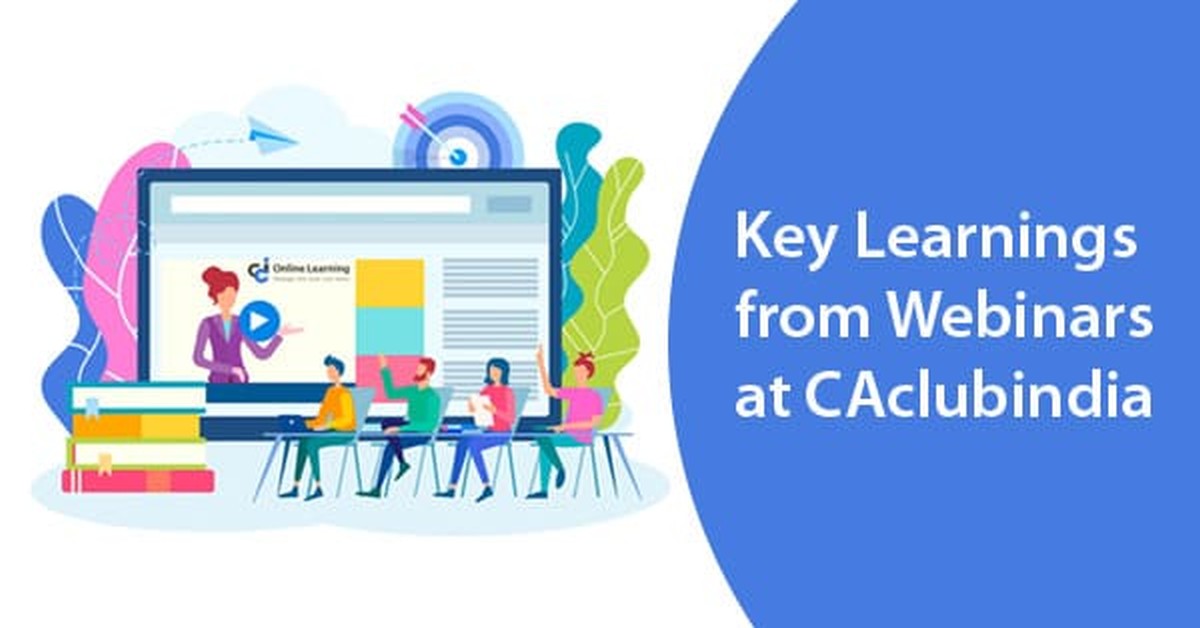 (2) Exploring the career path for Chartered Accountants:
Financial Modeling- A Key Skill that Chartered Accountants should learn to establish a successful career in Corporate Finance
What is Financial Modeling?
A financial model is a tool that is used to understand a company's performance through years (or other time frames) and help forecast the financial performances into the future. A typical financial model is created in MS-Excel, however, on a small scale, it is completely possible to do it manually. The process of creating such a model is called Financial Modelling. Whenever making a big business decision, financial modeling always comes to the rescue. e.g. We know that Facebook recently bought 9% stakes in Jio. Making such a decision and that too during the outbreak of COVID-19 must have been tough. In a situation like this financial modeling comes handy.
If we look into career options and growth opportunities surrounding financial modeling, we should understand that it is the most widely used tool in investment banking (portfolio management, stock selection etc.), equity research (acquisitions & mergers, fundamental analysis etc.), corporate development (valuation, comparison etc.), financial planning & analysis (FP&A), and accounting (transaction advisory, due diligence etc.). The skill set has not only helped many CAs to streak their career to the next level but has given various career opportunities to CA dropouts and graduates.
To know more about financial modeling watch the web-session conducted by CAclubindia on Financial Modeling and Valuation with CA Anurag Singal.
CPA a gateway to global opportunities for Chartered Accountants:
What is the CPA Exam?
The CPA exam tests more than financial reporting (IFRS) and U.S GAAP knowledge. It also tests your knowledge of general business practices and covers subjects including total quality management, economics, and contract law. When you pass the CPA exam you're demonstrating that you have a firm grasp of the business world to everyone that you work with. You will also be able to have technical conversations with your peers in finance, operations, sales & marketing, and general administration because you have the business acumen of a CPA
CPA's can look to specialize in various areas due to their in-depth knowledge on US GAAP and FASB pronouncements, due to their in-depth knowledge they are able to move beyond their routine journal entries, reconciliation jobs, etc to perform an in-depth analysis of financial statements and can provide advisory services, Auditing services(Assurance), IT services (Especially in functional consultant profiles like SAP FICO and Oracle Fusion), Taxation related matters ( decision making ), Forensic accounting, Compliance related matters like Environment audit, etc.
Many Chartered Accountants who wanted to venture into the foreign world did their CPA and have set an excellent career abroad. We at CAclubindia did a webinar on What is CPA and how to prepare for CPA with CA CPA Sripal Jain. To know all about CPA click here:
Exploring career opportunities in Internal Auditing:
Internal Auditing is the process of evaluating a company's internal controls, corporate governance,
and accounting processes. They are exercised to check legal compliance and maintain a timely &
an accurate account of financials and data. Common auditing procedures include transaction matching,
physical inventory count, audit trail (a step by step record to trace accounting and trading data to its
source) calculations and account reconciliation. Internal audits are performed to ensure the discovery of
any problem or correcting lapses before an external audit. Overtime Internal Auditing has become one of the prominent career options in the domain of consultancy services. We did a webinar on the
Fundamentals and Scope of Internal Auditing with CA Nidhi Nagori.
To view the full session click
here
(3) The impact of COVID-19 on Indian economy?
As per the World Bank's latest assessment, India is expected to grow 1.5 percent to 2.8 percent. Similarly, the IMF on Tuesday projected a GDP growth of 1.9 percent for India in 2020, as the global economy hits the worst recession since the Great Depression in the 1930s. We did a webinar to assess the impact of COVID-19 on India Economy with TV anchor and research analyst, CA Sonal Bhutra. Sonal told us that almost 70% of the Indian economy is shut due to the lockdown. She also gave us interesting insights on how different sectors have been affected amidst the COVID-19 crisis. View the full session here.
(4) Relaxations in GST amidst the COVID-19 outbreak:
Due to the outbreak of COVID-19, the government of India gave various relaxations to the taxpayers in Income Tax and GST. To understand all the key changes in Indirect Tax due to COVID-19 and how tax practitioners can manage work from home we conducted two web sessions on the impact of COVID-19 on GST. View the full session here.
Tags
career