Meet Shahid, 2nd Topper, CA Final November 2018 - Old Course. Shahid is from Koday, Gujarat. Shahid is a very humble boy who believes in hard work and giving his 100% commitment to everything without much about the results. In this exclusive interview with CAclubindia, he shares his story of becoming a Chartered Accountant, his strategy for the CA Final exams, his struggles and what this success means to him. Shahid secured 73% with 584 out of 800 marks in CA Finals.
Congratulations Shahid from the entire team of CAclubindia
Thank you so much.

How are you feeling?
I am extremely happy, I was expecting to pass with good scores but AIR 2 was something unexpected. I had secured rank in IPCC as well, so indeed there were expectations from everyone and fortunately, I was able to secure a rank in Final as well.

What is your parent's reaction?
They are also very happy, infact, we are attending so many calls from the last 2 days.

Tell us something about yourself?
I have completed my 12th from a nearby village where I completed my CPT and IPCC also. Now, I am thinking of doing a job and infact I have been receiving a lot of calls from different companies. But I'll take my time picking the right opportunity.

How did you get the inspiration of doing CA course? Anyone who inspired you to join this course?
I was not very much interested in Science so I opted for Commerce stream as I was good at Mathematics and as CA is a reputed course, I decided to pursue this course. It was my own decision to join this course as I knew that I was good at taxation subject. My parents were also supportive of my decision.

Whom you would like to thank who helped you in this journey?
First of all, I would like to thank my parents and also I would like to thank all my faculties who have guided me in this journey right from IPCC to Final level. and I would like to thank my friends (there were 2-3 friends of mine) who always tried to motivate me during those difficult times.

What strategy did you follow for your study schedule?
I had always believed that it does not matter if I secure a rank or not, but I would give 100% effort from my end. Last 5 to 6 months, I studied consistently with proper planning. I balanced it with keeping a few hours for myself for some refreshment like watching TV or playing cricket. I devoted 12 hours daily for studying. The revision also plays an important role. One should first try to revise everything after completing the syllabus, and for the second revision, they should make notes of all the things wherein they faced difficulty.

So, how did you manage your study schedule?
I took my coaching from Ahmedabad. I completed the coaching classes and then for the last 6 months, I did complete self-study as per the schedule I had planned. Initially, I started with the coaching materials for every subject, then I followed the institute's material for the next reading. I referred to the reference materials of different authors.

When I was sure enough that I have covered up everything, I gave the mock test papers from the institute to check my preparation level and based on that I prepared further.
What did you do for the amendments? Did you prepare notes?
I had followed the latest materials for all the subjects, so there was not much requirement for the amendments. I didn't prepare any notes either. I had a habit to note down the important points in the book itself along-side the topic, for my own understanding.

So, how did you manage revision of the papers just one day before the exams? and how did you plan for those 3 hours time which is allotted for examination?
During that time, I referred to reference materials for DT, IDT. I didn't study any subject after the exam but rather preferred studying the next morning from 6 am till midnight. I tried to cover up as much as I could and then revise a bit, the very next morning. During the exam time, I aimed to cover at least 60 marks within first 1 and a half hour. Depending on time, I used to cover up the remaining. On an average, I have covered up 90 marks question for each of the papers.

And, how many hours did you study in a day on an average?
I studied consistently for 10 to 12 hours for the last 6 months before the exams.

Did you give mock test papers?
I gave mock tests for 3 papers, while I was in Ahmedabad. Mock tests were very helpful to have an idea of how I was able to present my answers and it also helps in the evaluation of paper as well.

Which subject was easy and which subject was difficult for you?
The difficult subjects were ISCA and Audit. Easy, I would say, was FR. I tried to give more time to the subjects where I was weak at, whereas in FR, I had started the revision just before the exams only as I had conceptually gained the knowledge of the subject while I was attending the classes. I was confident that I would not face many hurdles in the practical subjects as I was good in those subjects, so I emphasised more time on the weak subjects like ISCA and Audit. So, one should invest more time for the tough subjects so that one can gain confidence over it before the exams.

What is the importance of articleship? and How did you manage articleship along with your studies?
Yes, articleship plays an important role as it gives practical exposure. It helped me in subjects like � DT, GST. So, overall, articleship is beneficial for your exams. Wherever I felt that the topics are easy and can be prepared through self-study, I didn't use to attend classes for that. So, I got a bit of free-time to cover up the revision for the other topics while managing my articleship work.

Any particular book or faculty you'd like to mention that helped you the most?
Almost every faculty was helpful in whatever fields they have taught me. And as far as books are concerned, DT by Bhanwar Borana was very helpful for me.

Did you face any stress and what did you do to cope up with that?
Yes, sometimes I faced such situations where I used to discuss it with my friends and they kept motivating me; or I used to pick easy topics while studying. CA is a course where at some point of time, you may have to face such hardships, but trying to overcome those challenges will gradually help you properly plan your study schedule, else it's not easy to crack CA. Once, II was sick for a few days when I wasn't able to study properly. During that time, my parents motivated and supported me in every possible way. That was the time where I felt that my studies are hampered but my parents helped me to overcome that rough phase.

Did you face any boredom while studying?
Whenever I felt such, I used to watch cricket or refresh myself and then continue my studies. You can't study at a single stretch so some frequent breaks of 1 or 2 hours are required.

Did you take care of food and sleep? Any specific routine which you followed?
Yes, of course, sleep is very important because if you have to study for long hours, then you need to be refreshed else you can't concentrate on your studies. There was not any specific routine which I followed, I just tried to maintain a consistency that I study for at least 10-12 hours each day.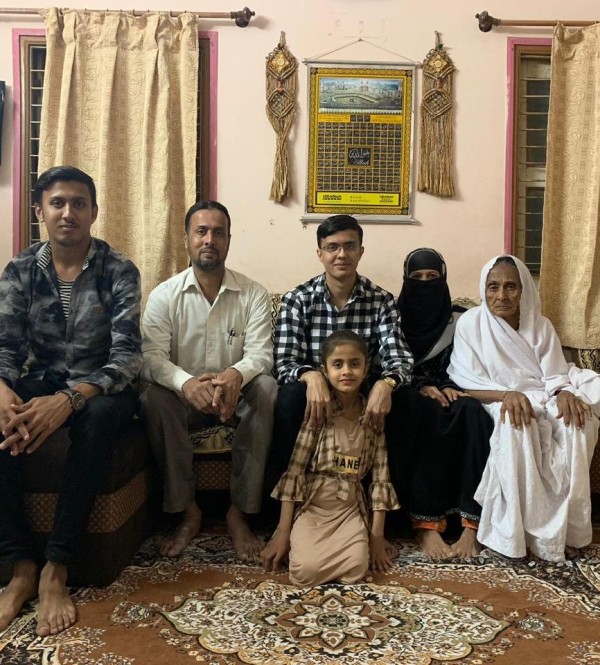 Any technical tips which you would want to suggest?
One should try to follow a consistent routine because before the day of exam, it's not possible to cover everything. I had planned my schedule in accordance to that so that I don't face any difficulty before the exams. I had followed the reference books where everything was summarized. It's not possible to complete the entire syllabus so one should pick up the strong points and study accordingly. For e.g, I utilized both the months of September & October to study ISCA and Audit as these were the subjects where I was weak, so that I may not have to face difficulty afterwards.

As your younger brother is in IPCC what would be your suggestion for him and also for the other students?
I advise him to plan his schedule as per his comfort zone and help him to clarify doubts wherever needed.

What are your hobbies apart from your studies?
I like watching and playing cricket.

So, who is your favourite player?
Sachin Tendulkar. (Smiles)

Have you ever visited our website - CAclubindia?
Yes, I have a registered ID on the website, I am a regular member. I used to go through the important amendments/files and read some articles too from relevant topics.

Any message which you would like to share with the other students?
Hardwork is important in CA but at the same time consistency is also required. For good results, consistent and regular studies are important. And at the same time, I would suggest them not to get stressed and demotivated, just put in their efforts and study on a regular basis.

I would like to say that one should work hard and have a firm belief in oneself that yes, it's possible to crack the exam and secure good score and rank. Nothing is impossible, if you put in your efforts, you can surely crack the exams with flying colours. I never thought that I would secure AIR 2 but now as I have secured the rank, I feel that it's possible for others also.

Once again, Shahid, many congratulations to you from the entire team of CAclubindia and thanks for the wonderful interaction!!
Thank you so much, Prerna !!
Also Read:
Interview of AIR-1, CA Final Nov 2018 (New Course) - Siddhant Bhandari: Click Here
Interview of AIR-1, CA Final Nov 2018 (Old Course) - Shadab Hussain: Click Here
Interview of AIR-2, CA Final Nov 2018 (New Course) - Rohit Kumar Soni: Click Here
Tags
students
ca rankholder interview
ca exams