First we would like to express our sincere gratitude to all of you for reading and liking the first part of the article. In the part one we have covered the areas like:
• Historical Relations of India & Japan
• India & Japan- A Comparative Analysis
• Strong and Weak aspects of Japan
• Strong and Weak aspects of India
You can read the complete part one of the article by visiting to the URL India & Japan: The rise of a new sun? This is the second and final part of the article in which we would try to conclude the same.
Japan in India
Since the arrival of Indian Buddhist Monk Bodhisena in Japan in the early 6th Century to the minor bombing by Japan to demolish the Howrah Bridge of Calcutta (Now Kolkata) so to cut the supply chain of British and American Army, India and Japan has seen every aspect of friendship. Post-independence, as we decided to remain neutral and instead of joining the league of a titan, India formed a non-alignment movement along with Indonesia and Egypt, the relationship of Japan and India never seen any breakthrough. However in 1970's and later and more specifically after the economic liberalization steps taken by the government in 1991, our economic relationship with Japan improved. In the 21st century, this relationship accreted and there were two reasons. First was related to security as China became huge and second was economic as India was picking up economically. To study the role and engagement of Japan in India from the economic front, we have to consider two major aspects of it. They are:
• Japanese Companies operating in India.
• Japanese Projects in India (Both Existing & Proposed).
Major Japanese Companies operating in India
Though over 300 Japanese Companies are operating in India ranging in sectors from Medicine development to highway construction, software coding to automobile manufacturing and lot of other sectors. However some of the major Japanese companies which has become the part and parcel of our daily like are: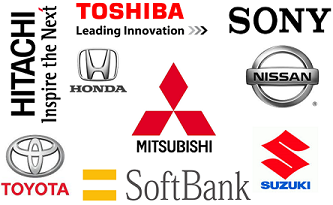 • Toyota Motors
• Honda Motors
• Softbank
• Nissan Motors
• Hitachi Ltd.
• Mitsubishi Motors
• Suzuki Motors
• Sony Corp.
• Toshiba Corp.
• Yamaha Motors
• Casio Computer Company Ltd.
• Canon Inc.
• Fujifilm Holdings Corp.
Some interesting points regarding the Japanese Companies operating in India are:
i. India is a major market for Toyota Motors after North America, Europe, China and its home country Japan. Toyota has several manufacturing facilities in India and in the coming few years Toyota expects India in its top 3 markets. Toyota has planned billions of dollars for expanding its footprints in both traditional car market as well as electronic car market in India.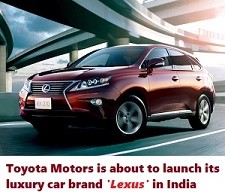 ii. Honda is probably the most well-known Japanese Company operating in India since decade. India constitutes most significant market for Honda's two wheeler division and one of the most significant market for its four wheeler division.
iii. India is gradually becoming very crucial market for Japanese Software Company SoftBank and the recent investment by SoftBank in some of the Indian startups like Snap Deal etc. is an example of it.
iv. Suzuki Motors has a bigger business in India than anywhere in the World including its home country Japan. Hence there is no surprise that why Maruti Suzuki Ltd. (a subsidiary of Suzuki Japan) is the biggest passenger vehicle manufacturer in India.
v. For the companies like Nissan and Mitsubishi Motors, India used to be very insignificant market till the last couple of years but in the recent period Nissan shown huge interest in India and is continuously expanding its dealership network in India. Mitsubishi is also a major supplier in some of the mega infrastructure projects, urban transportation projects like Delhi Metro etc.
vi. As we all know that India is a very tech savvy nation hence it always remained a very significant market for almost all global consumer technology companies and in the same way Japan is no exception. Japanese Companies like Sony, Toshiba, Canon, Casio etc. always done big businesses in India.
vii. Hitachi Ltd. Is again a very crucial company in India and is involved in diverse segments like power generation, infrastructure building, technology etc. Hitachi has several joint ventures with Indian Companies under which it manufactures heavy equipment in India.
Major Japanese Projects in India (Both Existing & Proposed)
Japan is undertaking development projects all over the globe from Pakistan to the Middle East, from Argentina to Africa. Japan made and committed several infrastructure and other projects in India and some of them are:
Delhi Metro Rail Project: Japan has provided over $15 Billion of concessional loans, technical knowhow, technologies etc. for the Delhi Metro Rail Project. This project has become a backbone of public transportation in Delhi & NCR and everyday around 2 Million people travels in Delhi Metro.
Delhi Mumbai Industrial Corridor Project: India is expected to be third largest economy by the year 2050 and through the proposed Delhi Mumbai Industrial Corridor Project, Japan is planning to become a partner in the growth story.
Dedicated Freight Corridor Projects on the Mumbai-Delhi route: Under the Eleventh Five Year Plan of India (2007–2012), Ministry of Railways has decided to a construct a dedicated freight corridor projects connecting various locations like:
i. Dedicated Freight Corridor Projects on the Mumbai-Delhi route
ii. Dedicated Freight Corridor Projects on the Delhi-Howrah routes.
iii. Dedicated Freight project connecting Bangalore and Chennai.
The dedicated freight corridor projects are aiming at improving the railway tracks, upgrading IT infrastructure, upgrading grids, improving road connectivity, energy and power connectivity etc., thereby making the transportation more capable, quicker and cost effective. Japan has expressed its interest in all of these dedicated freight corridor projects and agreed to help India with cheap loans, technological supports etc.
Railway project between Delhi and Mumbai: Japan has always been very much concerned about the poor infrastructure conditions of India and pointed this many times that lack of proper infrastructure is a major reason why Japan never made very big investments in India. Therefor Japan has always appreciated all of the infrastructure projects in India and are ready to help through money, technology etc.
Chennai-Bangalore Industrial corridor: As we seen that India is expected to be third largest economy by the year 2050 and through the proposed Chennai-Bangalore Industrial corridor, Japan is planning to become a partner in the growth story. The southern part of India is relatively more developed and better connected in infrastructure terms. The proposed Chennai-Bangalore Industrial corridor is expected to provide a significant boost in the economic growth of India.
Smart Cities in India: Since childhood we are hearing a phrase that India lives in villages. Now the issue is that we are not so programmed DNA wise that we love to live in villages but in India urbanization in real sense never happened. So a question arises that what is the need of urbanization and what is wrong in rural environment. Problem is that the rural system does not provide sufficient education, health, employment and other opportunities to the masses and thereby country remains poor and even gets trapped into the poverty circle. Smart City project might be considered as the most promising but challenging project which if becomes reality, will turn the fortunes of India. As we discussed in the part 1 of the article that Japan is the most urbanized country of the world, Japan becomes most competent player who can bring the dreams of Smart Cities in India into a reality. Japan too has expressed huge interest into the Smart City project of India.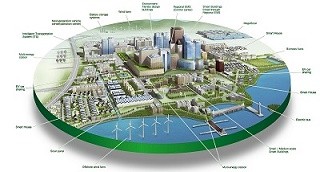 So through the above analysis we can see that the involvement of Japan in India is quite significant.
Japan & India in Modi's Era
The entire 2014 general election campaign of Bhartiya Janta Party (BJP) was centered on bringing 'Acche Din' for the common man. Now only economic growth can bring 'Acche Din' for the common people as only economic growth can create more employment opportunity, cool inflation and will raise the standard of living. The 2014 general elections created something unbelievable as a tried and tested 120 years old political party seen the worst possible defeat it might ever expected and a new man having no experience of national politics made the government with majority seats. So PM Modi has an inherited pressure of proving himself by making the economy grow. PM Modi visited around the globe to bring FDI in the country and he given special attention to Japan due to following reasons: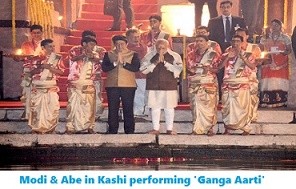 • Ancient cultural relations of Japan & India.
• Japan is 3rd largest economy.
• Japan is highly corporatized & very advanced technologically.
• Japan needs new markets to pull itself out of recession.
• Japan & India has common external threats.
So these were some of the reasons why Modi is giving very high priority to the Indo-Japan relations. First time in the history of India it happened that Indian PM visited Japan and Japanese PM visited India within a year. In the recent concluded visit of Japanese PM Shinzo Abe, India and Japan agreed on following economic and business agreements:
i. Japan has committed to double its current investment in India to $35 billion over the next five years.
ii. Japan has pledged $500 million towards the Public-Private Partnership Infrastructure Financing Project to the India Infrastructure Finance Company Limited (IIFCL).
iii. During last year's visit, Modi had inked a Memorandum of Understanding (MoU) between the Ministry of New and Renewable Energy of India and the Japan Bank for International Cooperation (JBIC) in the field of new and renewable energy.
iv. Both countries agreed to work towards industrial infrastructure development with the creation of Smart Community projects in six Indian states as part of the Delhi Mumbai Industrial Corridor (DMIC) Project.
v. Japan has agreed to ease foreign end-user entities list for India. As a starter, it has removed 6 Indian space defense-related entities from its restricted list.
vi. Japan has agreed to work with India on creating smart cities, starting with the Kyoto-Varanasi project.
vii. Earlier this year, the Japanese government initiated further steps to help develop infrastructure in India.
viii. Japanese investments in India have grown at a fast clip. FDI inflow amounted to $618 million during June-September, 2014 against $273 million for the corresponding period in 2013. A survey conducted by Japan Bank for International Cooperation (JBIC) this year ranked India as the top destination for future investments by 1,000 Japanese manufacturing companies.
ix. In June this year, Japan's SoftBank Corp, together with Bharti Enterprises and Taiwan's Foxconn, committed to investing an estimated $20 billion in solar projects in India.
x. Japan has agreed to participate in Indian Railways' $140 billion investment plan and modernize 400 railway stations across the country.
To facilitate the quicker clearance of Japanese investment proposals in India, PM Modi set a single window system which will ensure a speedier completion of regulatory and compliance related tasks of Japanese companies. It can be said that PM Modi is leaving no stone unturned I bring Japan both economically as well as strategically closer to India. So it is quite reasonable to assume that India will see an ever closer japan in Modi's Era.
Chinese fear factor in Japan and India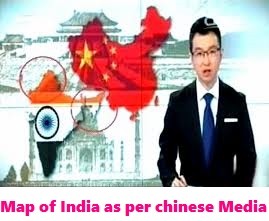 India has some bitter relations with china and this is related to pre independence era. Embarrassing thing is that due to that bitterness, India has always suffered like India lost Tibet to china, then we lost part of Jammu & Kashmir to China then we lost a big land area near Arunachal Pradesh to China. This didn't end here. China now claims entire Jammu & Kashmir and Arunachal Pradesh as its territory. Don't know why but China has a mindset in which it considers India as the potential threat for itself in Asia and the World. As per China, India is standing in its way of becoming another superpower like it is not already a super power and because of this, China gives continuous anti-Indian signals by its acts which includes claiming Arunachal as South Tibet, illegal intrusion into India, precluding ONGC from oil exploration in Indian Ocean, kidnapping villagers living in villages attached with the border areas, helping Pakistan through weapons and technologies and so on. So not exactly but India has a continuous threat from China though remote in nature. China don't have any friendly relations with Japan either. In fact Japan and China has more bitter historical relations than India and China like how Japan invaded China and kept China under its flag for centuries, then again Japan killed thousands of Chinese troops, bombed several of its Cities, destroyed its infrastructure etc. Those were the days when China was unorganized, poor and weak both technologically and manpower wise. But now tables has turned. Chinese kid became very strong adult and Japan grown old. In fact in today's China too there is huge anti-Japanese sentiments prevails. So in short, in the present time there are basically two reasons due to which huge tension exists between Japan & China.First is an Island near Japan called Senkaku Islands located in East China Sea which In September 2012, the Japanese government purchased from their "private owner". Since than China never recognized the purchase because as per China, that island belongs to China and it has never sold it to Japan. And the second reason is South China Sea in which China is building artificial islands thereby claiming the majority of the sea as against the international laws of territorial water in which the territorial water right of any country extends up to few nautical miles from the soil borders of the country.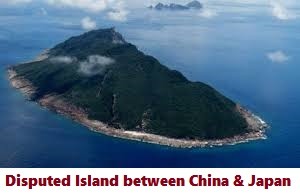 So China has tensions both with India and Japan and much of the reasons of that tension can be attributed to the expansionist mindset of China in which a state uses the policy of expanding its empires to be in power. This expansionist mindset of China has forced both Japan and India to come closer and work in a more coordinated manner to tackle the increasing risks China is posing for both Japan and India. A look at the military expenditure budget of China, Japan and India makes some shocking revelations about the growing military power of china. As we can see from the table that the declared military expenditure budget of China is more than the combined military expenditure budget of Japan and India. So a very close and coordinated partnership between Japan and India is essential to deal with the challenges China is bringing for them.
Opportunities for Chartered Accountants
Chartered Accountancy is a profession which has a direct link with the economy. This profession expands with the Economy and a falling economy impacts it most than any other profession. So a closer economic relations between Japan and India will bring lot of advantages for Chartered Accountants working in all areas. This will generate more demand of Chartered Accountants in the industry as well as the practice of Chartered Accountants will also get a boost in the areas like indirect tax, auditing, forex services, certification and attestation services, fund raising, debt management and other. Even a modest investment of 1 Million Dollars needs the services of 3 to 5 full time CAs and same number of part time CAs.
Conclusion: Will the Sun rise?
Now this is the question which most of the people would ask. It is not that things does not change or transformations does not happens. We have example of China that how China transformed itself as a super power from a striving nation in just 30 years. So can we expect this for India? If you ask me to answer in one word, I would say 'No'. There are lot of reasons and factors behind this 'No'. The main problem in India is not related with planning but execution. Most of the planned projects never gets properly executed in India. Execution is the most serious challenge with India which has no quick fix too. So we should expect only good things and hope that the Sun will rise and shine.
Disclaimer: We would like to state that this article is our original work. We have sourced data from the websites like Wikipedia, Economic Times and Times of India. We would also like to acknowledge the efforts of CA. Atul Agarwal and Mr. Sumit Ghiria for the compilation of data and creation of tables, editing of images and typing of text. You can always write your comments and feedbacks at casaketghiria@gmail.com.
Tags
Professional Resource