Arjuna (Fictional Character): Krishna,On the occasion of Diwali everyone purchase the different types of crackers. Now a days, so much discussion is being made on crackers. In court also, Law and cracker is being co-related with one other.So,how the GST Act will be co related with the firecrackers?
Krishna (Fictional Character): Arjuna, Diwali is the festival of joy and happiness. There is very much importance to the adoration of Dhanateras, Lakshmipujan, etc. Similarly, we celebrate Diwali by bursting crackers (Law). Every year government burst some new types of crackers. This year, new and huge atom bomb of the GST is already busted on the taxpayers before the Diwali.
Arjuna: Krishna, Is there any 'three shots' cracker available in the GST Crackers stall?
Krishna: Arjuna, Yes it is available. These crackers will make three sounds i.e. CGST, SGST, IGST after the supply. It means taxpayers have to pay tax after the supply of goods or services.
Arjuna: Krishna, there may be variety of crackers in the GST Crackers Stall of Government. But which is the 'Rocket' in it?
Krishna: Arjuna, 'Rocket' means 'RCM'. In that, a person who burns the rocket is an unregistered taxpayer and where the rocket burst is a registered taxpayer, this is the situation of RCM. The applicability of the provisions of RCM is postponed from 13th October to 31st March, 2018 via Notification.
Arjuna: Krishna, are there 'Crackers lad' (Garland Crackers)available in the stall?
Krishna: Arjuna,Yes, Garland Crackers are also available. In case of Garland Crackers one firecracker is connected with another and if one cracker burst, then others also burst. Similarly, there is concept of matching-mismatching in the GST. Our sales and other persons' purchases are connected with each other. The details furnished in the Form GSTR-1 by the supplier, will be reflected in the Form GSTR-2A of the receiver. But if those details are not matching, then Garland crackers will burst in Form GSTR - 2.
Arjuna: Krishna, Is there 'Bhuichakra' available in Government stall?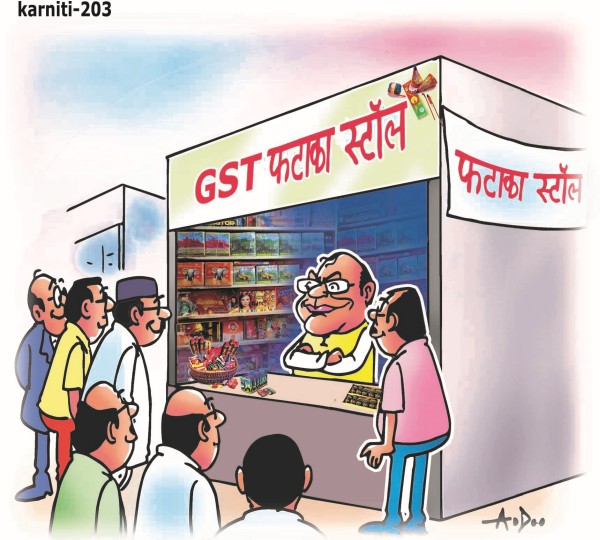 Krishna: Arjuna,'Bhuichakra' means 'Returns'. As the 'Bhuichakra' goes round and round at one place, similar is the situation of the returns. Every taxpayer has to file 3 returns per month i.e.36 returns for a year. So, in 'Chakkar' of returns, the taxpayers have to come on 'Bhui'.
Arjuna: Krishna, which is the 'Sutali Bomb' (Twine Bomb) in GST?
Krishna: Arjuna, 'Sutali Bomb' means 'Penalty and Late fees'. Government has already announced the Due dates of GST returns. Every taxpayer should file the returns in time by complying with the provisions of the Act.Otherwise the 'Sutali Bomb' of the Government would burst on the taxpayers.
Arjuna: Krishna,Is there any 'Lavangi Fataaka'(Small Crackers) available in stall?
Krishna: Arjuna, 'Lavangi Fataaka' is given to kids. In case of GST, 'Lavangi Fataaka' will be given to person registered under Composition Scheme. The small taxpayers, whose annual turnover is less than Rs. 1.5 Cr, can pay tax under composition scheme. It means, for them Lavangi fataaka of tax rate 1%, 2% or 5% are available.
Arjuna: Krishna, in the crackers stall, are there 'fancy crackers' available or not?
Krishna: Arjuna, Fancy crackers are very bright and of loud sound. These crackers make very loud noise in India but its flame is in abroad. It means as fancy crackers come from abroad and burst in India, similarly, on the goods or services imported in India, IGST is payable in India.
Arjuna: Krishna, what lesson the taxpayer should take from this?
Krishna: Arjuna, Diwali is the festival of lights. Everyone should celebrate the festival joyfully. If each and every Indian taxpayer follows the law, then the whole country will become enlightened. It means if laws are complied then 'Diwali', otherwise 'Diwale' (Bankruptcy).
"Happy Diwali!"
Tags
GST