Ashish Malik, CPA (Aust.), associated as a DGM, finance/IT transformation with Sun Pharma, the fourth-largest speciality generic pharmaceutical company in the world, believes in developing his skills for future leadership roles.
With techno-functional expertise, he acts as a bridge between finance and IT functions and manages all finance automation projects, and is a subject matter expert for SAP Business Planning and Consolidation and internal and statutory audit compliance.
Before seeking out a CPA designation, Malik had already accrued 18 years of experience in accounting and technology and is a dual professional functional designation holder with Chartered Accountant and Company Secretary.

To build on his leadership acumen, he began researching opportunities that could offer the greatest return and increase his credentials, which eventually led him to the CPA Program.

"I found myself at a saturation level with no further growth," says Malik, "To enable myself for a better global leadership role and diversion back to a functional profile, which is a persistent dream, I joined the CPA Australia course and now I feel ecstatic with my decision."
Malik is just one of the many accountants who have benefitted from the Mutual Recognition Agreement (MRA) that was entered between CPA Australia and the Institute of Chartered Accountants of India (ICAI), in 2009. Qualified professionals continue to discover how this alliance provides unexpected advantages.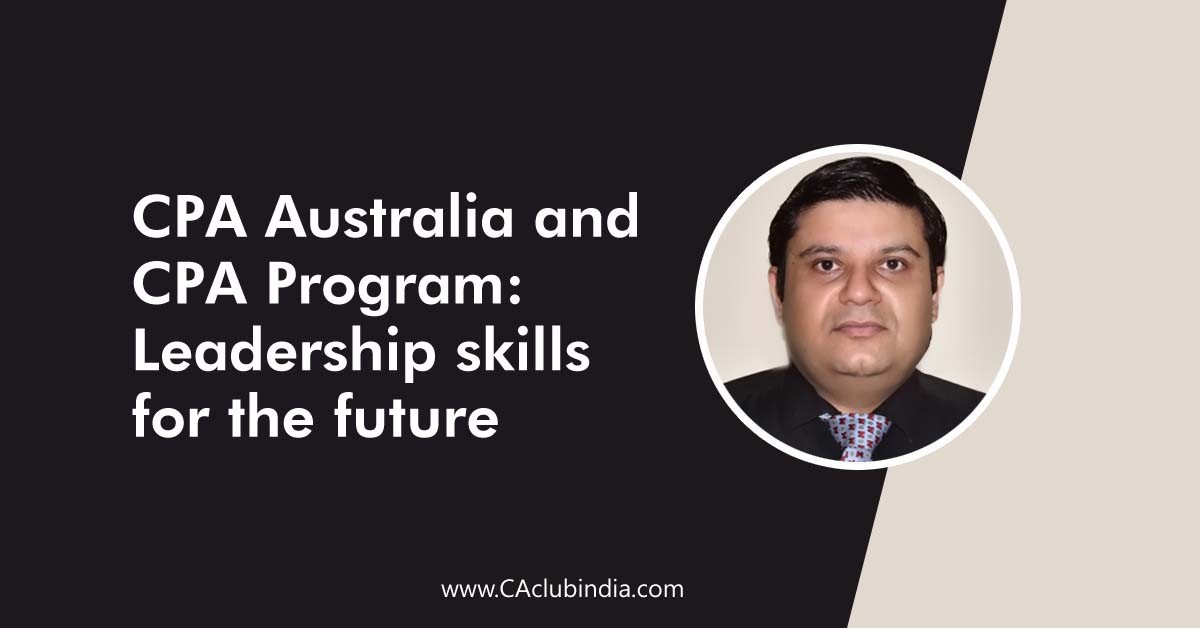 "Since the last couple of years, I was in fact thinking of doing a regular MBA from Canada or Australia, but due to the COVID-19 situation and long education gap, my visa was rejected. I was lucky when I came across the MRA of ICAI with foreign accounting bodies," says Malik.
"The CPA Australia program was very lucrative due to its low cost and quick process by clearing just one main exam and one online subject, a privilege special to Indian chartered accountants," says Malik.
Since 2008, Malik has been doing consulting roles working on niche global projects with organizations such as Deloitte Singapore, Cognizant Technology Solutions and CPM Consulting, Singapore among others.
Be seen as a leader
The capstone subject of the CPA program, Global Strategy and Leadership, was highly nostalgic for Malik and reminded him of his time studying his chartered accountancy course. His own experience since that time has taught him how vital decision making and management skills are for leaders.
"The content of the Global Strategy and Leadership module is tremendous and includes so many practical management/leadership scenarios, which resemble real corporate world events."
Translating these skills into your career performance can deliver tangible results in recognition from peers and future advancement.
"As soon as my reporting manager informed my senior management that I had advanced to CPA member status, I got appreciation emails from my CFO, CIO, HR Partner and other official stakeholders."
"Moreover, since I was inclined towards a functional role, the management entrusted me with an additional role to take care of project management of all finance transformation and automation projects. It was like a dream come true for me," Malik says.
Build professional connections
A major aspect of the CPA program that appealed to Malik was the increased access to professional contacts.
As one of the world's largest professional accounting bodies, CPA Australia has thousands of members spanning over 100 countries across the globe. Being a part of these networks fast-tracks forming professional relationships and offers an edge in the job market.
"An opportunity to connect with almost 200,000 like-minded accounting professionals on a global level; this will not only support an exchange of ideas and knowledge but also serves as a platform for sharing job opportunities," says Malik.
In the six months since Malik became a CPA Australia, he has forged professional relationships that have helped him stay up-to-date with the latest in accounting and finance trends. These connections have been especially helpful with international regulatory changes that can impact cross-regions.
Malik believes that "everyone you will ever interact with knows something which we might not be aware of." Having access to such a comprehensive group of professionals is important for those aiming to work internationally.
Shape your future career
Knowing what you want for your career and how to get there is a step in the right direction.
Malik advises that if you're "looking towards contemporary education with practical business case-studies and to attain a cost-effective and quick renowned world-class qualification, involving best study techniques and partners, there is no second thought – CPA Australia brings a new ray of hope for each Indian accountant."
He applauds CPA Australia for designing a flexible course that makes it easy for professionals to gain a global accreditation while managing work commitments.
More than just the future of each accountant, Malik hopes that the collaboration between ICAI and CPA Australia will continue to deliver rewards to its members as it grows and evolves.
"ICAI and CPA Australia can look forward to building an international pathway program and offer joint-credential certifications," suggests Malik.
Find out how to become a CPA Australia member through our Mutual Recognition Agreement with ICAI at an online information session.
Tags :
professional resource