I have often faced disappointment in the months of January or July on account of my results of CA Final over the last three years. Something which seemed almost too familiar and disheartening.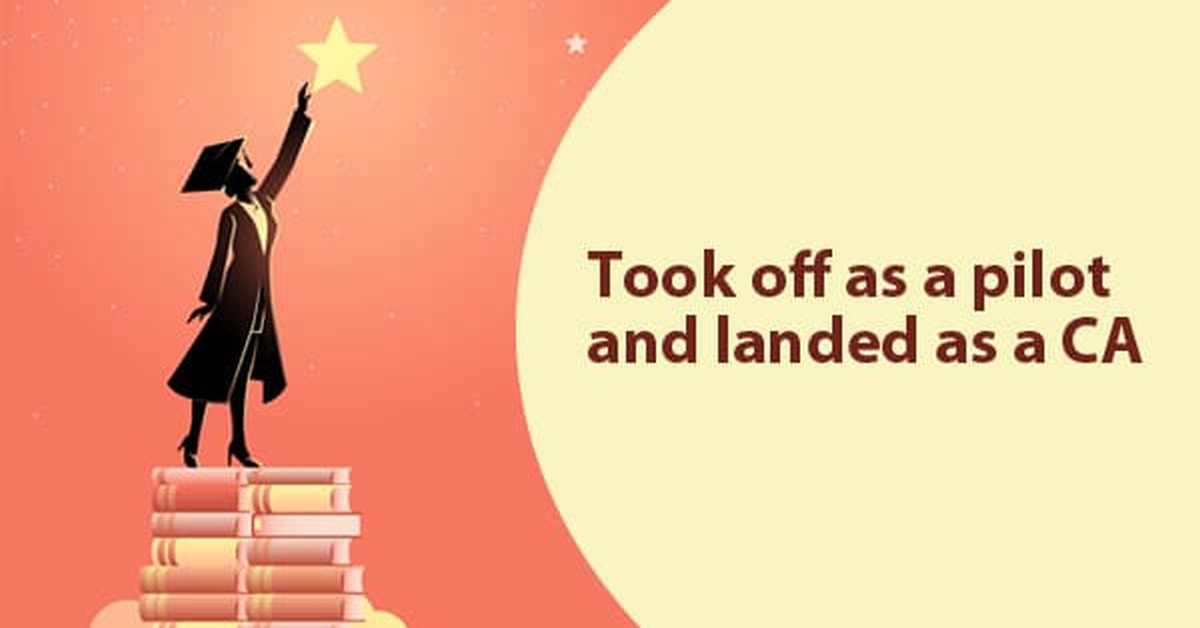 Before starting on my journey to becoming a Chartered Accountant, I had tried a different career path. I aimed to be a Pilot and underwent training in Melbourne to obtain my Commercial Pilot License after my 12th standard. On completion and returning to my country, I decided to not wait for a Job offer since the industry was in a nosedive, I took up bachelor's in Business Management. I excelled in my studies and secured a second rank in Bangalore University! I was pleased and shocked at the same time!
On completing my BBM, the idea of being a commercial pilot working in an airlines took a backseat and I decided between MBA or some other alternatives. Somehow, MBA never made the cut. After series of discussions with my husband, I decided to do CA.
I took admission under direct entry scheme, completed my IPCC without coaching in first attempt. I finished my article training and was eligible to give my first CA final attempt in the month of November 2016. I gave my attempt. I did not clear. Then came May 2017, November 2017..... I still did not clear.
I do not wish to talk about the shortcomings in my studies, which can be solely attributed to me and myself alone. I, however, want to share with all the CA aspirants out there, what this course, made me as a person. After failing four times, the drive to study started declining. There was no pressure on me to work, nor was there any pressure for me to clear my exams. My husband supported me through the entire journey and he always told me I could make it, although I did not believe him truly.
The dream of saying "I am a Chartered Accountant" slowly lost its shine. I started to feel frustrated at the thought of exams, being unable to give my best in studies. I knew the fault was with me. I somehow could never bring myself to give it all I got, and I always knew this. I felt broken. This course had drained me of everything. Why did it seem so big? What is it about this course that makes me feel so tiny and incompetent ?
Reading the far too familiar syllabus was no fun either. The same books, the same notes, the same spots they stood at in the bookshelves. Still, I managed to keep myself going. In November 2018, I cleared Group 1. The feeling was unreal. It gave me enough boost to keep the momentum through May 2019, since it was only one group left.
I prepared with all my might and dedication. I had never sat for 10 hours in a day until then, and I logged 12 to 13 hours of effective studies. I became determined. This was the last step I had to climb and I am done! The exams being postponed on account of elections became a blessing! I did not lose focus and lay back, but continued to prepare.
Sometime in the first week of May, sudden medical emergency in my family, bought me plummeting down. I went from 13 hours of study to barely 3 hours in a day, with a lot of distractions. I could not believe the situation I was in. So many attempts went without any issues and I never passed in any of them. This attempt, I have given the best of me and I have to now battle pressing mental issues and fear.
By the time my exam came in June, I knew in my heart that I had failed again and the results did not lie either. I lost all hope. Clearing group 1 was like a boon and a curse. It kept me from leaving and made me feel I cannot go any further. I started to prepare half-heartedly for November 2019. I was thankful for the excellent notes I had prepared for my earlier attempt, which reduced the time and effort in subjects like Direct Tax and Advanced Management Accounting. I decided to give it one more shot.
On January 16, 2020 I read my result as "PASS". I have never cried over joy in my whole life, but that day, I remember sobbing uncontrollably on my husband's shoulder. He said "CA Parinitha" and I gasped.
My journey of becoming a Chartered Accountant has been more than just exams to me. It has transformed me into an honest person, owning up to my mistakes and analysing my downfalls. Today, I do not regret my past and wish I could have done things differently. I have learnt a great deal from it, and I remain thankful. Today, I find myself where I wanted to be. A Chartered Accountant.
And yes, it is possible.
Tags
Students