Chartered Accountancy as a career continues to be a preferred choice in spite of the high bar that is set for all aspirants. To clear the CA exam, a lot of effort and dedication is required. The choices that you make after passing will have a big impact on the kind of life and work you get in the future. What is the best career choice for a fresh CA? Which is the right choice for you, taking into account your interests, skills and goals?
Every fresh Chartered Accountant is faced with a wide range of career choices. While most of the talented CAs aspire to join the Big 4 - PwC, KPMG, Deloitte and EY (Ernst & Young) - there are many other careers paths that can lead you to professional success and satisfaction.
Some other popular career choices include:
Start an independent professional practice: Many like-minded CA aspirants who possess a combination of entrepreneurial spirit, technical skills and good connections choose to start their own CA practice. However, this step requires a business mind and the ability to set up a business from zero. Needless to say, setting up a practice from scratch takes an investment of time, effort and money.
Working at a CA firm: Many CAs prefer to join an established firm. The biggest benefit of this option is that you get to practice in an established environment. However, the same can be seen as a downside - the firm may be set in its ways and prefer sticking to traditional methods instead of exploring more innovative ideas and processes.
Joining government or semi-government organisations: Government or semi-government corporations offer another option for fresh CAs. Such jobs offer a good work life balance and come with a good starting package. However, it is possible that the salary package won't continue to grow as fast, especially when compared to corporate or KPO jobs.
Join the banking sector: Banks require expert accountants who can work on financial strategies, control, funding, forecast and strategy. Joining a bank allows you to get experience in finance and opens the door for future career growth in corporations and top foreign banks. Many banks also have foreign branches and this can provide an opportunity to work abroad.
Join the corporate world: CAs can join the finance and accounting departments of corporates. The work can range from financial reporting, taxation, auditing, planning, fund management, investment planning, mergers, etc.
Joining a KPO or BPM (Business Process Management) company: There is a huge demand for Chartered Accountants in the KPO industry. For individuals that are looking for a challenging role that offers ample opportunities for growth, a KPO job can be a good choice. The breadth of roles in a KPO allow you to find work that will help you specialize in any field of your choice: taxation, accounting, research, analytics, financial services, legal and allied services, etc. Let's delve a little deeper into this option.
Scope for CAs in India's KPO industry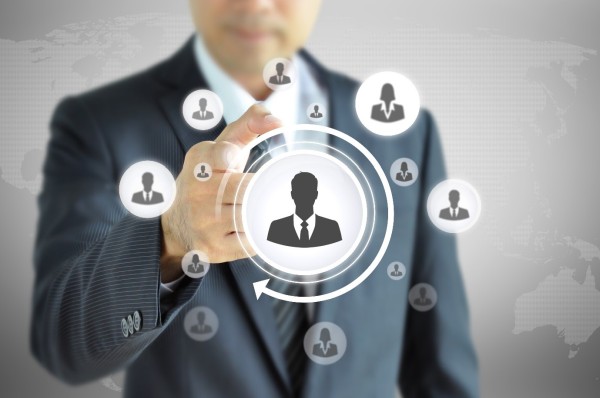 As we have considered above, for most CAs, joining one of the Big 4 firms or the corporate world is the dream. After all, these organizations give you a chance to work with various departments and gain a deeper knowledge of finance, accounting, auditing and taxation. However, in recent years, we have seen a rise in the number of CAs joining the KPO/BPM/BPO industry. (Please note: the industry is known by many names - we have chosen to use KPO for this article. While BPO and KPO are both terms used for outsourcing business services, KPOs goes beyond the stereotype and offer roles that reward individual judgment and creativity.)
And while the number of CAs in the KPO industry keeps on increasing, many fresh Chartered Accountants miss out on the opportunities simply because they still equate a KPO company with call centres and assume that the job involves repetitive tasks. That is not the case anymore.
Most CAs are unaware of the fact that the biggest pioneer of business process outsourcing in India, Raman Roy was trained as a CA himself! While the industry in those days was in its infancy, today it is one of driving forces, offering millions of jobs in the services sector.
The KPO sector is growing worldwide, and India dominates this area, with over 70% share of the global market. Financial KPOs form a large part of India's KPO industry, and there is a large demand for CAs in this field. Many KPOs are Fortune 500 companies with a presence in hundreds of cities around the world and thousands of employees. The opportunities for growth and exposure are limitless for Chartered Accountants.
For CAs who do not want to join the bigger firms for whatever reasons, other doors are open: there are several growing KPO companies that offer astronomical growth opportunities to Chartered Accountants. Such companies are now present not only in Tier 1 but also in Tier 2 cities.
Misconceptions about career path for CAs in the KPO industry
While India's growing financial KPO industry offers a rewarding career for CAs, too many CAs don't even explore the opportunities due to misconceptions about the work in a KPO. Here are some of the common misconceptions that stop CAs from choosing a career in the KPO industry:
Myth 1 - KPO jobs lead to a dead end
As the KPO industry is a relatively new field (although it has been around for over 10 years!), the career path of a CA in financial KPO firms is not well known. One of the fears that many candidates express is that KPO jobs are for college graduates and that there is no scope for future growth.
The actual scenario is just the opposite: the financial services KPO industry in India is growing exponentially, and this has created a huge need for people who can lead the finance and accounts outsourcing teams. KPOs are also interested in retaining and upskilling their resources and therefore invest in various training programs. For example, QX Ltd maintains an in-house training academy for training accountants in technical as well as soft skills. We hold Gold ACCA Approved Employer - trainee development accreditation due to our rigorous accountancy practices. We also have tied up with international education organisations and local institutes to provide training to our staff.
In an interview with The Hindu, Keshav Mrugesh explains that KPO companies offer more than just business processing jobs, We don't offer business process careers. We are the only company that goes to the market end-to-end verticalised. So, the people we hire are looking for travel careers, or insurance, banking, healthcare or utilities careers. They are not looking for a business process career. Therefore, for the talent, we are competing with the banks, insurance companies and retailers. We have positioned ourselves as a premium player. Therefore, we are able to access talent very easily.
Myth 2 - KPOs do not offer job security
Pink slips and layoffs are a common feature of outsourcing companies. But the KPOs offering financial services are on a growth trajectory and skilled accounting professionals are more likely to see growth than layoffs. While the employees of a KPO have to work hard - just like in any other industry - not only are the jobs secure but for talented individuals the scope of growth is also much higher.
Myth 3 - KPO jobs are very high pressured
KPOs reward performance and you can grow a lot faster if you show commitment, dedication and ability to develop new skills quickly. Also, as you deal with international clients, you are expected to deliver the highest quality of service on a consistent basis. Learning new skills and upgrading your skills on a regular basis is also a must. In that sense, there is a pressure to excel.
However, when it comes to daily work, you benefit from a high level of clarity - without the loss of creativity. The targets and delivery agreements spell out precisely what you need to do. At the same time, KPOs are open to new approaches and processes, have the ability of implemented them fast, and often reward successful innovation and creativity.
When you join an established KPO, you also benefit from transport facilities, comfortable infrastructure and facilities for food. This takes away the pressure of routine requirements and allows you to focus on your work. KPOs are aware of the demand they place on their employees. Often, the employees are rewarded through company-sponsored outings, summits and paid travels.
Myth 4 - Jobs timings for KPOs are difficult to handle
Most of the Indian companies work for clients in the UK, US or Europe. Accordingly, the timings can be morning shift, evening shift of night shift. Unlike typical BPO jobs that have rotational shifts, most KPO jobs have a single shift. For example, if you are working with a company or department that mainly caters to client in the UK, shifts start at 12:30 midday and end at 10:00pm. While KPOs demand dedication from their employees, most reputed companies try and make life easier for their employees by providing food and transport facilities.
Myth 5 - KPO jobs don't pay in the long run
While most CA students are aware that a KPO job comes with a decent starting pay (and top notch salaries for talented CAs), there is a misconception that they do not pay in the long run. But the fact is the Finance & Accounting division is a profit centre for KPOs. The work done by the CAs help the company make money.
The fact is that for hard working and skilled CAs, a KPO job can not only pay well at the start as well as in the long run, but it also puts you on the path for speedy growth. As the KPO industry grows, there will always be a need for experienced CAs.
How a KPO job grooms you
Any established KPO will have training and staff welfare policies in place. So, along with hands-on experience in dealing with international clients, you will get technical and soft skills training.
When you join a KPO, you get to work with international clients. You interact with clients from the UK, the US, Europe and other parts of the globe on a daily basis. Apart from gaining the technical accounting expertise for multinational companies, you acquire the soft skills required to deal with clients. You learn to manage a team of accountants and gain experience in project management.
At the same time, you will understand the business model, the requirements and expectations of clients, the best practices and methodologies for delivering finance and accounting services and all kinds of experience in running a finance department. These skills will prepare you for key roles in the future where you can design financial and business solutions for big clients, and this ability will assure your success in any role of your choice.
As a Chartered Accountant, I can understand that most CAs are not too keen on joining a KPO. Many of the aspiring CAs I have talked with feel that KPOs do not offer enough growth opportunities. Most are not even aware of the KPO jobs and what these jobs entail. There is a feeling that KPO is not the right industry for accounts.
I was also apprehensive myself when I chose to join QX KPO after completing my CA - but it has proved to be the right decision. I got a chance to work with the founder of QX, Chris Robinson, who is a KPMG-qualified, ICAEW-member chartered accountant with over 20 years' business experience. Over the years, I have helped several international clients belonging to various industries, spread across geographies - UK, Middle East, Africa, France and India. I saw rapid career growth, and today I am leading a finance, accounts and payroll team of more than 150 employees.
KPO career promises rapid growth
Today, the KPO industry is growing at a fast pace, creating fantastic opportunities for highly qualified individuals like Doctors, PhDs and CAs. Working for international clients, CAs in a KPO provide advice to clients in a number of areas including the setting up of accounting processes, devising business solutions, reengineering processes, analytics, mergers & acquisitions and more.
As a part of the financial KPO industry, you can specialise in taxation, accounting & auditing, research, analytics, financial services, legal and allied services, and more. Management positions also open up for accountants with some years of experience under their belt.
The future is bright for the Indian F&A KPO industry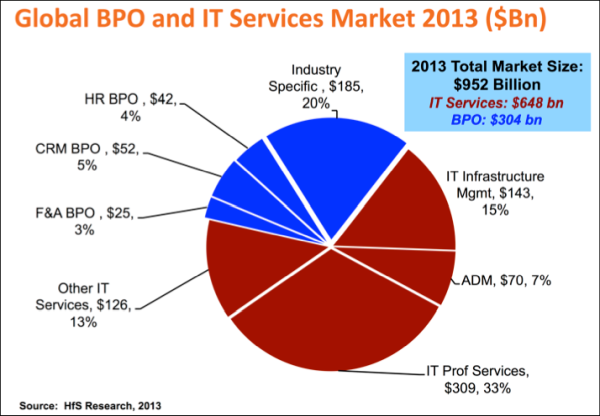 The global KPO industry continues to grow and India is the beneficiary of it. In 2013, the total size of the outsourcing market was $952 billion, out of which F&A KPO share was $25 billion. The industry continues to grow at a rapid rate and there are many success stories in its way.
In the words of Keshav Mrugesh (excerpted from the interview From CA to CEO: An inspiring story by CIOL magazine):
India will continue to be very relevant as it is impossible for any country to replicate easily the population base, the English-speaking ability, the mathematical capability and the progress the nation has already made in climbing up the value curve…
India can definitely learn lessons from some other nations like the Philippines and re-brand BPO such that it is a preferred career option of youngsters and recommended by teachers, career counsellors and other influencers. Indian BPO has transformed significantly from the old days and today focused on high-end data processes, KPO, high-end voice and employs large numbers of doctors, PhDs and Chartered Accountants.
Making the right choice
The career option you select will depend on your personal likes and dislikes, your dream, long-term plans and the opportunities that your skill set open for you. If you choose to build a career in the KPO industry, it is important to make the right choice at the start. Here are a few qualities you must look for in the organisation you choose to work with:
An expert team of accountants
A clear vision of your career growth over the years
Portfolio of clients across industries
Opportunity to work on different functions
Successful accountants within the firm who can mentor you
India remains the top destination for outsourcing and F&A KPO has gained a high level of maturity in the country. With the benefit of skill, scale and scope, the Indian F&A BPO / KPO / BPM industry is set to grow by leaps and bounds in the coming years. So, if you are a CA planning to join a KPO, you are entering a rapidly growing sector with numerous opportunities for rapid growth. Best of luck!
Author bio: Mahesh Jain is the Director of QX Finance & Accounts, which is a division of QX Ltd, a leading UK-based KPO company providing finance, accounts, recruitment, payroll, IT software and corporate advisory services. A Chartered Accountant with over 12 years of experience in BPO/KPO industry, he specializes in finance and accounts outsourcing.
Tags
Career