Meet CA Neeraj Goel, Chief Finance Officer at Jaquar & Company Private Limited for Global Operations - Europe, Middle East, Africa, and Asia, in an exclusive conversation with CAclubindia.
He shares with us his 27 years of rich experience in the finance sector, wherein, he worked with MNCs and Fortune 500 Companies in a wide range of industries like Solar, FMCG, Consumer Durables, Telecommunications, Pharmaceuticals, and Automobiles, etc. He has also been awarded the National Best Employer Brand 2018 and EY Entrepreneur of the Year 2018 in Consumer Products and Retail Segment.
The excerpts of our conversation with CA Neeraj Goel are highlighted below:
Mr. Goel, as we all know that you have vast experience in the finance industry. Can you please walk us through your academic and professional journey?
Yeah, sure. So, by profession, I am a chartered accountant and an ICWA all India rank holder. I completed my education way back in 1995-96. During that time people were not thinking about pursuing an MBA along with CA or vice versa. But I was lucky enough to do so. I joined MBA from IMT Ghaziabad. It was a three years regular part-time course. There are certainly other unique things in my profile which I would love to share with you guys which have very decently covered all my experience in industries that I have been a part of.
I have worked as an entrepreneur. I have worked with Indian MNC like I am working with Jaquar right now. I have worked with Fortune 500 companies like LG. I have worked in all three sectors, which include, manufacturing sector, trading sector, and service sector. I have worked with the LG group and there I was one of the youngest vice presidents and fastest-growing vice president in the entire LG group. So, I used to hold different positions throughout my career. Like CFO, CFO, and head HR which was again a unique position. I was the country controller that is group CFO with EATON group. Now I am working as a Global CFO with Jaquar group. We have a presence in 60 countries. Group's turnover is around half a billion dollars.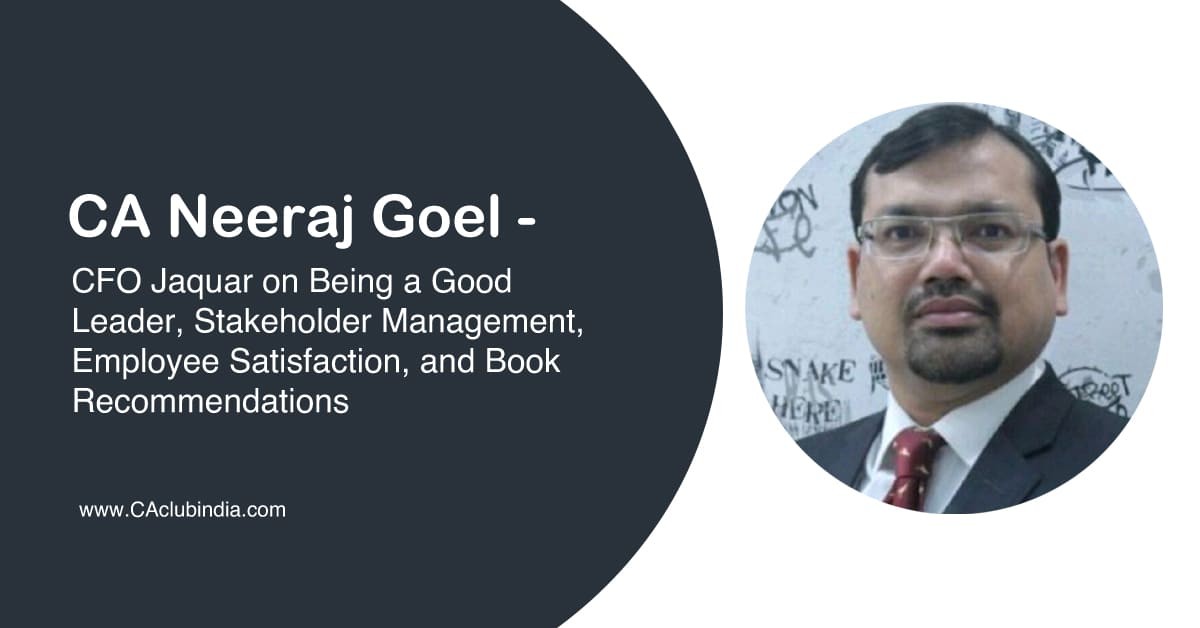 Like you mentioned that you have experience of working as an entrepreneur, then as the CFO of an Indian company, then with MNCs, then you also worked with the fortune 500 companies, so what would you say are the core rules and responsibilities of a CFO and a leader?
See, the core responsibilities of a CFO is to be always vigilant about the economic situation in the country and in the industry and make the organization ready for future challenges while utilizing the opportunities available on the way. CFO is basically a custodian of the promoters of the organization.
I believe that CFO has a humongous responsibility to support the operation. To play a vital role between the stakeholders and the board of directors. Being a responsible leader, you have to manage the individuals, their profile, and the consistency of their results. Not working like a manager who focuses just on the result part. A good CFO generally enables the team to perform, individually and collectively, towards achieving the organizational goals and adjectives.
This process is not that easy. It requires a lot of effort. So not only supporting, guiding, and facilitating but also standing the strength and overcoming the difficulties for improvements. A good CFO generally infuses that kind of confidence in the team.
Whereas, the finance team is no more docile, no more confined to debit and credit but also has a good partnership with the business and operations. It is very important to make them realize their importance and help them stretch their limits. For example, when I used to work at LG in the position of Head HR, we used to have a marketing head. The company was struggling at that time and they were looking for good leaders. They converted the position of the market head to business head.
I used to devote good time with the person in charge of the former body and we inculcated many strategies. Eventually, that person became the business head. So, I believe that CFO is not limited to just accounts and finance roles. One has to understand the need of the hour and make the organization ready to meet future challenges.
As you mentioned that the CFO is the custodian of the organization's policies, so how do you create a professional environment where the employees are satisfied with their part in the organization?
See, satisfying the employees is an easy yet quite difficult task. As far as my leadership is concerned, I believe in participatory management. I encourage people across all levels. They can share their views, thought process, and their ideas so that they can feel that they are important. They feel that they are contributing to the success of the department and the organization as a whole.
I make sure that they should have a detailed profile, their roles and responsibilities, and measurable deliverables. Everything has to be quite objective-based. The monthly reviewing process is highly inevitable. Be it good or bad, we have to give feedback. I make sure that I give access to all my teams and employees. Be it sales and marketing, be it customer relation, etc. inside or outside, the people should have access to the CFO when they need it.
So, I ensure that we should have that kind of system in our organization. The monthly standing meeting that we do in our department, I make sure that everybody gets a chance to spell out and express him/herself. Sometimes new minds can do the work more efficiently than the people involved in it already hence job rotation is very necessary.
Last but not least is differentiation, among the performer and non-performer. If there is an objective-based differentiation and you are giving good motivation to the performers through providing good increment and career development, good promotions, etc. then it will lead to good containment in the employees. Such things increase the feeling of family in the working environment. I feel proud to share that many of the employees have been working with me for the last 3 decades.
That's a brilliant thing you mentioned about your employees working with you for at least 3 decades. I'm sure there are some key attributes to achieve faster success in an organization. Since you worked in global MNCs and promoter-driven organizations, what would you say are the key attributes regarding faster achievements in such organizations?
That's a very good question. Somehow, any promotional driven organization or MNC requires the same attributes. If you want to excel, you have to have complete ownership. Apart from that, the other necessary requirement is passion. If you are passionate about your work and success then the sky's the limit.
On a personal basis I believe, I learned this in LG, that targets are not targets but deadlines. Targets can be postponed and stretched but if you manage the targets as deadlines the efficiency explodes. I also believe that no job is small or big. How you are doing a certain job and whether you have been bringing justice to it or not is what matters. You have to be nimble to new technologies and to new changes. Like all of us can vouch that because of the introduction of GST, whosoever was proficient in sales tax, VAT, service tax had to restart from the scratch.
Most important of all is to maintain consistency in work. Most people tend to bring a dip in their work progress. Even though nobody can be Sachin Tendulkar in their life but barring that fact, if one has been able to maintain a good enough consistency in deliverables then definitely, he or she is following the faster path to success. Apart from that, a very important attribute is that one has to be humble.
Whatever the position you're in, whatever the function you're supposed to perform you have to maintain a humble attitude. These are the key mantras to faster success.
I personally believe in what you just discussed. You also mentioned earlier that it's important to not only just set up goals but also to set up guidelines and deadlines to achieve those goals. So instead of being task-oriented, one has to be deadline oriented. I am definitely going to inculcate this in my life as well. So, what would you say are the key factors that can help to maintain a healthy relationship with the stakeholders, specifically in the case of investors, suppliers, and customers?
When we talk about investors, we must keep in mind that we are a promoter-driven company. We are a hundred percent closely held and private limited company. We believe that "money saved is money earned". So, we have to find different avenues to minimize the cost and to increase the saving part.
As a support function, we can't contribute to the top line so we contribute to the bottom line instead. We have to explore a variety of avenues wherein we can contribute to the bottom line. Ever since I have joined the Jaquar group, I have found that the company has many overseas subsidiaries that are bleeding with losses. We had been sending across the loan from India and the companies were getting settled up with the heavy losses. I just tried to arrange the overseas limits.
I realized that we could save some profits. Later on, I realized that there are still many subsidiaries that are bleeding with losses and for the next couple of years we cannot vouch for the green in the bottom line.
So, I had to change my strategy. I had to convert all these subsidiaries into the branches so that whatever the profits we are making in India can at least settle the expenses of all the other branches that needed it. This is a very small strategy but that brought many million dollars of profit to us. That's how you always have to be unique and find new avenues.
As far as customers are concerned, in Jaquar we pay a lot of heed to the quality of the products. Barring that we are facing fluctuations in our base metal price. However, we are trying to absorb that fluctuation and not increase the prices so frequently. Apart from that, we are the first company in the industry who started providing the servicing that too for ten years.
This shows our confidence in the quality of the products that we are manufacturing. We provided one of the best dealer financing support schemes to our distributors, which is one of the best economical rates. When you provide such support to the customers, they feel that the company is taking care of them. When I joined the company, the corpus was at sixty crores. Within a span of two years, it had to be increased from sixty to two hundred crores, and with keeping these things at hand we achieved it.
The Jaquar philosophy is that we believe in relationships. So, whoever is our service provider or vendor, we make sure that they continue to be so and that they don't change because of an issue of little price difference. You'll be astonished to know that our statutory auditor or the consultant is associated with us for the last thirty-five years. Standard Chartered Bank has been associated with us for more than three and a half decades.
So, we believe that if we are providing good quality, good control with our suppliers, vendors, and customers then we can excel together. During a tough time, Jaquar will always keep on supporting them and stand with them during the difficulties.
As an ending note would you please suggest some tips for success or some good book recommendations on leadership or anything from the finance sector?
It is very easy to recommend a book because I have more than 500 books. However, I'll tell you my philosophy regarding leadership which I think would do justice with this platform.
I believe that life is one. We have to do justice every day. Every day is unique. Each day, we have to do justice to our work and career, and family. I believe that if we are idle and not doing anything regarding our work then we are committing a crime with ourselves, our family, our company, and our society, and even to our nation. To think positively is very important. We have to follow the input, throughput, and output. If input and throughput are good then the output will definitely be good.
Also, one needs to be a good human being to become a good leader. Being a leader means connecting with a team. To connect with the team, you have to come down to earth. You have to be modest, polite, and build experience regarding what others might perceive of a situation. Life is like a walk on a steep.
You can't think of relaxing. You will come down if you are not struggling to go up. Every leader works hard. I have worked thirty-six hours straight multiple times and I have worked for a stretch of more than twenty-four hours so many times that I can't even remember. Until you're working hard yourself, you can't expect the team to work hard for you. You have to stand with them.
Considering all of this let me recommend some books. These books will improve the base.
The basic book is "Secret" by Rhonda Byrne. This book talks about the power of manifestation. Mostly about reinforcing positive thoughts. Once you think that the whole world is beautiful, you realize that you're beautiful and whatever is going will eventually be beautiful. Such a thought process is very necessary.
The second book is, "Who moved my cheese" by Spencer Johnson. This book will help create a vigilant worldview for the leader.
The last book I'd recommend is the "80/20 principle" by Richard Koch. The input-output result, cause, and consequences are all talked about in this book. So, we are surrounded by many factors that can cause inefficiency but if we find a way to improve, we can improve our efficiency substantially. Everybody should read these books to be more efficient in life. By bringing changes that are suggested in the book we can imbibe a big transformation in our life.
The humble and positive attitude that CA Neeraj Goel carries with himself every day is truly something that we must all inculcate in our lives. What is the one thing you will introduce in your lives, from this interview? Let us know in the comments section below.
This interview was taken by Ms. Aishna Kukreja , Assistant Editor, CAclubindia.
Tags
career