The results of ICAI CA Final Nov'19 exams were declared on the 16th of January 2020. Chartered Accountancy which is one of the most sought after courses in the country, is also considered as one of the difficult courses to clear because of the pass percentage that always hovers in single digits. And that is why everyone has their eyes on the list of rank holders every year when the results are declared.
In this attempt i.e. ICAI CA Final Nov'19 attempt, two candidates shared AIR-1. As the tradition follows, this time also we tried and connected with the rank holders to give you a sneak peek into their lives and know from them the secret ingredient in their success recipe. Here is our exclusive conversation with Abhay Bajoria, AIR-1 CA Final November 19 (New Course).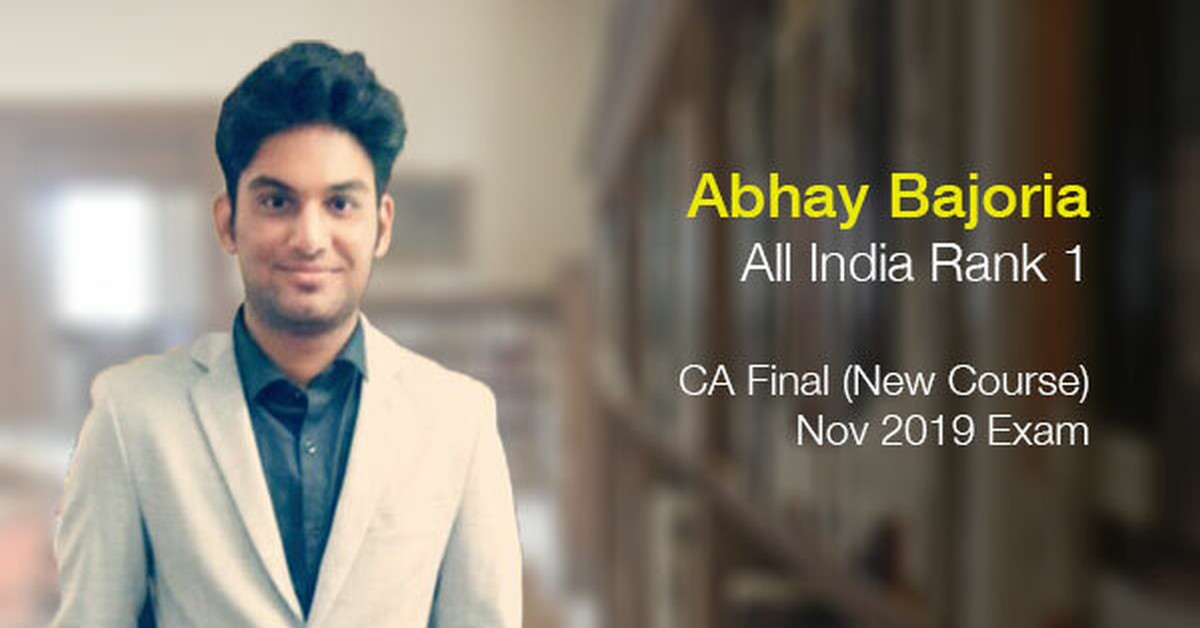 Abhay Bajoria is born and brought up in Kolkata. He is a cricket maniac and a complete movie buff. He is also passionate about music. Abhay's favorite cricket player is Virat Kohli. In our conversation with Abhay, he told us what his strategy was to prepare for ICAI CA Final exams.
Hi Abhay! Many congratulations from the whole team of CAclubindia on getting AIR-1
Thank you so much!
How are you feeling right now?
The feeling has not even sunk in yet. I still cannot believe what happened to me on the 16th of January. But, the feeling is quite overwhelming.
Did you receive a call from the President?
Yes, I received a call from ICAI's president. He called me around 35 minutes before the results were officially declared.
Were you expecting a rank or did it come as a surprise to you?
To be honest, I had prepared myself for every possible outcome that I might have to face after results. But at the same time, I knew that I had put in all the efforts and hard work and had given my best. So, I did have a feeling that I would secure a rank. I wasn't expecting an All India Rank-1 though. AIR-1 definitely came as a surprise to me. (Smiles)
So, please tell us something about yourself?
I was born and brought up in Kolkata. I did my articleship from Kolkata only. I am a complete cricket maniac and I am also a movie buff. I am totally into web series and I also have a great taste in music.
So, who is your favourite cricket player and what was the last web series that you followed?
Ummmm….. My favourite cricket player is Virat Kohli and the last web series that I watched was Vampire Diaries.
How has your CA journey been?
It has totally been a roller coaster ride. I had gone through a lot of ups and downs throughout my CA journey. It has been 4 and a half years, I guess. In June 2015, I gave my CA Foundation exams.
So, if I look back, I would say that there had been a lot of memories which I would never ever forget in my life. It just seems that I was a boy back then and now I have grown up as a much more mature person.
Who do you consider as your inspiration?
My inspiration is my mom, she has made so many sacrifices for me and has done everything for me - something which I can't describe in words.
How did you manage to study during your articleship period?
Well, during articleship period one HAS to spare some time for studies, there is no other alternative. You will have to convince yourself to cut off from all the social interactions. If I talk about myself, I had not even started with tuitions until the first of my articleship nor did I know the names of the subjects of CA Finals.
I started my tuitions just after my 1st year of articleship. But I made it a point to revise the topics taught in the tuitions on a regular basis. And one of the most important things is to complete all the tuitions whichever you want to before your study leave begins because you would be getting 4 and a half months of time for your studies. It is very important that you do self-study during that time and not waste your time on the videos and tuition classes. It is very important that you are finishing with your tuition classes, coaching and everything before your preparation leaves begin. I myself have taken tuition for 4 subjects and for the remaining 4 subjects - I did self-study.
According to you, what is the key to passing the CA exam?
There are so many things - the first thing is that you have to believe in yourself. Self-confidence is the most important thing. You have to admit to yourself that you have to work hard as there is no other alternative. You might get demotivated at some point of time, but then again, you need to boost up your self-confidence and gather up the firm belief within you that yes, it can be done. Just don't give up and have belief in yourself.
Did you face any challenges in this journey? If yes, then how did you tackle those challenges?
During my articleship tenure, as I was working in a Big 4 firm, so there were outstations audits and everything. And my mother was all alone at home. She wasn't even well. Also, during my prep leaves, when I was doing theory subjects like Law & Audit, it was very difficult for me to memorize the same things again and again. Even after I had completed the syllabus, there used to be times when I wasn't able to recall anything. That used to be tough.
I had a calendar, every day I used to mark a tick on that calendar to see whether I was able to achieve my goal for the day. I had set my goal in terms of hours like how many hours I am going to devote on a particular day. My target was to make sure that I am studying for 12-13 hours every day.
So, whenever I used to study for exactly 12-13 hours, I used to mark a tick on that day on the calendar. That used to keep me motivated. So, this is how I used to motivate myself and overcome the challenges on a daily basis.
What was the strategy that you followed for your CA Finals?
During my second year of articleship, I de-associated myself from all sorts of social media platforms, I just connected with my close ones. I realized that on a daily basis, I cannot be in touch with everyone as I have to focus on my studies and continue with my articleship as well - so, that was a decision that I made. Also, I used to wake up early in the morning and keep all the things pre-planned so that I could save my time and concentrate on my studies.
How did you use to unwind yourself?
I used to take a break of 10-15 minutes during the evening and take a walk on my terrace. Also, I used to listen to music, in fact, I have the habit of humming all the time, also while studying.
So, what was your favorite subject and which subject did you find a little bit difficult?
I liked studying Strategic Cost Management because of the study materials provided by the institute that consisted of new business models and applications and of course, Strategic Financial Management, as I have an interest in the finance sector.
Tough subject I would say - Law and Audit because I have devoted my last two and a half months on these subjects only and I knew that if I don't prepare well for these subjects, then I might fail.
How did you manage the 3 hours while writing the paper?
I would say the one day you get before the exam is very important. My target was to manage the syllabus one and a half-day before the exams because even if you have revised everything, you need to go through it at least once, before the exam-day.
The 15 minutes which you get before writing the exam paper are very crucial. I made a strategy of attempting the question which I thought would be easier from my part, to begin with, and completely avoided the question which I wasn't sure of.
What according to you is the right strategy of attempting MCQ papers?
MCQ I would say are a bit tricky. I, therefore, made a strategy of attempting MCQ first and complete it within 30-35 minutes before starting with the descriptive questions.
Do you think following the institute's material and RTPs are enough before attempting papers or do students need to follow some extra material as well?
You really need to be thorough with the institute materials, no matter what else you follow. I used to follow the RTPs, MTPs and the study materials before exams because 90% of the question paper comes from the institute material itself. So, you have to be absolutely thorough with them.
Did you attempt mock test papers as well?
I didn't write any papers, I just went through it, as I didn't have the time to attempt those papers.
Did you prepare any notes for your exams?
Yes, I prepared notes for subjects like SFM and FR, as there used to be some lengthy topics which I had summarized for my easy referral.
Any message that would like to share with the CA community?
As I said before, you have to believe in yourself. CA is a journey where you will have to undergo some hurdles but you need to overcome that and have the firm belief in yourself.
Thanks, Abhay for this wonderful conversation and once again many congratulations from the entire team of CAclubindia!!
Thank you so much.
Also Read: Komal Jain, All India Topper (AIR-1), CA Final, Nov 2020 in an exclusive interaction with CAclubindia
Tags :
ca exams
ca rankholder interview
students