Current Gig: CEO at Right Horizons and Iam also writing a book 'Honey, I lost all our money!"
One word that best describes how you work: Persevering
One quote that you live by:'I will tell you how to become rich. Close the doors. Be fearful when others are greedy. Be greedy when others are fearful.' Warren Buffet
How would you like to introduce yourself to our CAclubindia readers?
A person trying to help other people achieve their goals.
Tell us about your journey so far
After my 12th Standard, I went on to pursue the erstwhile CFA/PGDBA programme from ICFAI. I chose the programme because I had developed an interest in stocks, which I started investing from 12th Standard. After the completion of the course, I landed a job in Business Planning at Wipro Technologies. I subsequently took an internal transfer into Mergers & Acquisitions.
After a stint of over 6 years, I set out on my entrepreneurship journey by setting up Right Horizons. Right Horizons today manages over Rs 1000 crores of assets with branches across 6 cities and with a team of over 75 employees. The Right Horizons group today has multiple licenses including Portfolio Management Scheme (PMS), Investment Advisory and Insurance Broking.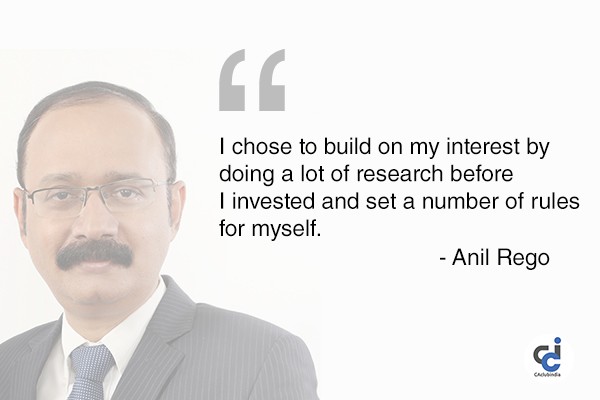 What is your favorite stress buster?
I am a workaholic and hence prefer to take things easy and spend time with the family. We make it a point to go for some short vacations; and manage to do about 4 such trips during a year.
What's your secret hack of making office hours super productive?
I am pretty focused on my work and restrict interrupts including mails which I access on a periodic basis. I do not use emails for anytime beyond the scheduled time. Also, I am pretty inactive on social media and restrict whatever time spent to the evenings or weekends. While I do spend some time with the family, I do also spend 1-2 hours every night which is also undisturbed.
What is the best professional advice that you've ever received?
I believe that we need to be continuously learning. I remember a very young entrepreneur of a startup suggesting that one should always look at recruiting people who are better than you. The other was that one needs to make strategic choices- and what not to do is as important as what one should do.
At the time of starting Right Horizons, what was the driving force that led you to leave a well-settled job and dive into your own entrepreneurial venture?
Actually, from the time I started working I was clear that I wanted to pursue entrepreneurship. While I was working, I always worked like it was my company.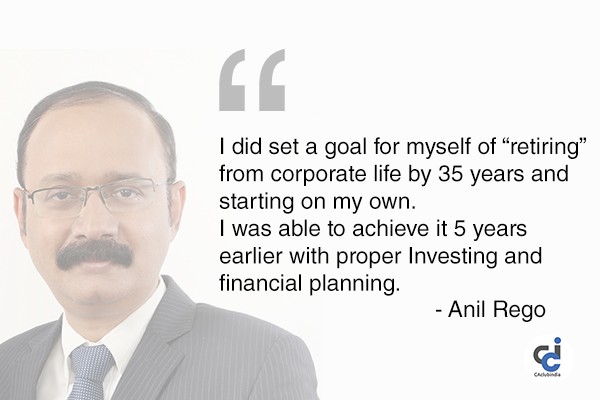 I did evaluate various decisions and on a number of occasions gave suggestions to the leadership team based on my thoughts. This helped me gain a wider perspective that was very useful after startup. Infact, I did look at a few opportunities with some colleagues, but realised that they always had a moving target. Then over a period of time I realised that I was helping a number of friends and colleagues on their personal finance as investments was my passion. I had started investing into stocks from my 12th standard days. I borrowed some money from my mother and invested this into stocks.
I must caution others from doing the same blindly though. I have seen many customers who have lost their money. I chose to build on my interest by doing a lot of research before I invested and set a number of rules for myself and saw the need for helping others achieve their goals just as I achieved mine.
How did you decide to retire from your corporate job at the age of 35 and made it a success?
I did set a goal for myself of 'retiring' from corporate life by 35 years and starting on my own. I was able to achieve it 5 years earlier with proper Investing and financial planning. Since, I did not want to put my family at risk, I had planned to setup a backup capital to ensure that monthly expenses are taken care of while I pursue my dreams.
Since, I achieved this capital quicker I decided to start earlier. I also took advantage of the fact that my spouse was working at that time and felt that this would give stability in the first few years of setup.
What would be your advice for professionals who are aiming for the same i.e. retiring at an early age?
I always suggest professionals to start off with a personal financial plan. It is important you understand your financial plan and also take care of the important family needs. One should also stress test the model.
I know of a customer who started off without a financial plan since he had the comfort of the ESOPs that he got from the company he was working at. The value of his ESOPs was a little over Rs 3 cr. Within a few months of start, markets crashed and that value of his ESOPs came down by a third. Withdrawals at this time resulted in erosion of capital and he also ended up having to draw on his equity capital when markets were at a very low valuation. If he had planned for liquidity with other instruments, he would not have had to sell at a low price.
What would be your advice for the professionals who wish to pursue their entrepreneurial venture? Few things to keep in mind?
If you are planning an entrepreneurial venture, then it is good to also do a business plan for the venture. I did a lot of my research on venture and even recruited an intern to help me in the work, did a severe of a few individuals to validate my business model, did a financial plan for a family friend as a first customer and then was able to hit the ground running when I started.
Please share some insights about your leadership approach
I like to lead from the front and by example. I also do consult with my team and where confident, I delegate. It is also important to understand the operating aspects of your business, because this helps you to provide guidance to the team when they need it.
How do you see the Finance Industry develop in India in the next 5-10 years? What are the available opportunities?
On the personal finance industry, I believe will enter into a golden era as people move towards financial assets from physical assets. The Indian economy is likely to do very well as there are a number of structural and demographic factors that play out. We have a very young average age which will result in a number of people coming into a working age. This is likely to drive consumption. Education levels are improving even in rural India and technology is going to be a game changer.
I see Investment Advisory as a large opportunity. Financial Planning professionals with a combination of relationship management skills and also having a strong personal financial background will be a very sought after and rewarding profession.
Further, integrated technology platforms in personal finance are also a large opportunity.
However, I must caution that I also expect a lot of disruption. They way of doing business is changing and companies that are unable to adapt to these changes will be adversely impacted.
Tags
Career