Current Gig: Associate Director Taxation with PepsiCo
One word that best describes how you work: Here and Now
One quote that you live by: You have not lost till the time you give up so keep trying.
Favorite Book: 7 Habits of Highly Effective People by Steven Covey
1. How would you like to introduce yourself to our readers?
A fun loving person who likes to travel a lot and meet new people from different cultures. Professionally, I am a Chartered accountant with more than 18 years of experience in the fields of finance, accounts, taxation, internal controls.
Presently I am working as an Associate Director taxation with PepsiCo India region. I have also worked with corporates like GE, Times Group, DS Group, Convergys, Nokia India in various capacities.
2. What prompted you to choose CA course? and a brief about the journey so far?
I did my schooling from a Government School in Delhi where the quality of education was not that great. But, even at that time I had the clarity that I want to continue my education in English and started learning presentation skills on my own.
I did my college from Delhi University and after that, I had the dilemma to choose between Law, MBA, and CA.
That's where my life took a good turn and lead me to where I'm now. I choose the CA course over other two option because this gave me an opportunity to work in varied fields like finance, accounts, taxation, internal audit, treasury etc. which is generally not possible with the other fields.
After CA, I also studied for, CPA (USA) and other post qualification courses on International taxation and IFRS along with my job. Right now, I'm also pursuing LLB.
This is also one of the life mantras that I wish to share with the reader - 'Never stop learning new things in life'
3. How was your first job experience and what you will suggest our readers for their career?
This is also a really interesting story; when I cleared my CA Finals in 99', the employment industry was not that great. I sat in the ICAI campus placements but couldn't get any of the jobs despite being cleared both groups in my first attempt.
Now, I had to look for the job on my own. I found my first job at a small company where my work profile varied from being an accountant to a cashier. But it was really important, I learned a lot of new things through my first few job which helped me throughout my career.
Also, I would say I was fortunate enough to experience and learn from different jobs that provide me with unique insights which are not usually available with a Chartered Accountant who has worked in the same field for years.
Here, I would advise all the upcoming aspirants that while choosing your first 2-3 jobs do not consider the salary package that you will receive. Just focus on the job profile and the work that you will be doing. Focus on learning as many new skills as you can.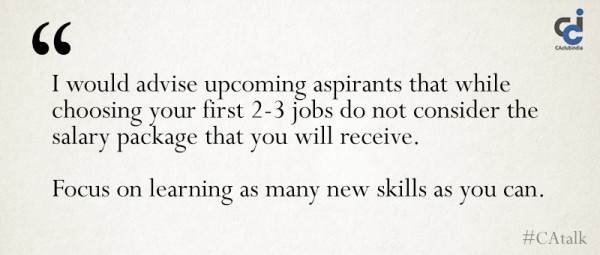 3. What is the most challenging thing you faced in your current role?
The most challenging thing which I have faced in my current role was the project related to Implementation of GST in the organization which involved interacting with multiple stakeholders, work round the clock to meet the tough timelines and also interpreting the new tax rules being framed by the Government and providing trainings to all the relevant stakeholders in the Ecosystem.
4. What is your favorite stress buster?
My favorite stress buster is watching movies/You-tube videos and traveling.Also, I watch a lot of online web series on Amazon Prime and Netflix.
For me, such movies and series are openings to understand different perspectives of life, to understand what are struggles that different people face. This also opens up your understanding of the world.
Also, since my childhood, my family used to go on vacations every year and that created a taste for traveling in me. Now, I have a special inclination towards traveling. Even now, I always try to find some time from my busy routine and go on vacations with my family.
If I have to choose one other thing, besides being a Chartered Accountant, I would choose to be a Travel Blogger. (Smiles!)
5. What's your secret hack of making office hours super productive?
For me the most important mantra is to give 100% to the organization and to not indulge in grapevine, plan for the work/day in advance and give your best shot at achieving the same.
Moreover, I follow the 80:20 rule where 80% of the time I work proactively and choose priorities of my task and work and other 20% of the time, there are chances that new things will come up and you need to be changing your whole work assignment.
6. What is the best professional advice that you've ever received?
You need to de-skill/re-skill every day in the VUCA (Volatile, Uncertain, Complex and Ambiguous) world we live in so that you are ready for the future challenges/opportunities. Also, you need to have good mentors and networking across the industry to be successful.
7. How much has the finance function changed so far as compared to last decade?
Finance function has changed tremendously in the last decade and it has become a business enabler/business partner rather than just being a record keeper/money keeper.
In today's volatile environment organizations are looking for finance to interpret the huge amount of data correctly in time so that they can make informed decisions well ahead of the competition.
Moreover, the reports that a finance professional prepares are now evaluated in terms of the value it delivers to the concerned stakeholders whether it is Top Management or the Tax Officials.
8. Why don't we usually see more finance professionals coming up in leadership roles?
I do not agree with this statement partly as there are many examples of finance professionals in leadership positions across the industry including in PepsiCo.
Finally, it depends on the appetite of the person and if the professional is groomed well and he is ready to take a punt than there is no stopping of them taking big leadership roles in future.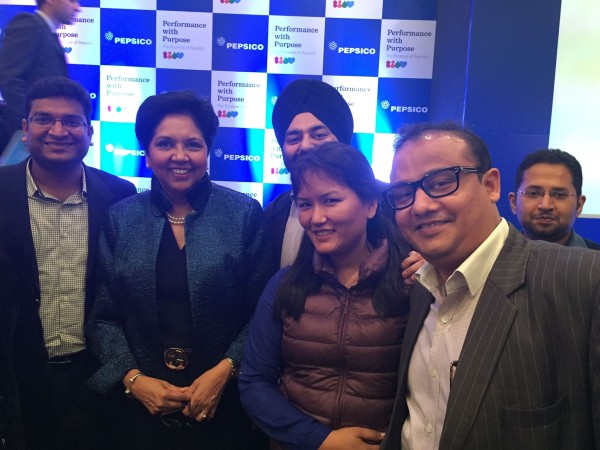 9. Lastly, what is your career advice for the budding finance professionals who aspire to achieve great heights in their career?
For me, the professional should have sharp insight on his plus and minuses so that they can know which roles are more suitable to them. Having a clarity about your future and career goals will give you the courage to say No to things that you do not find worth investing time in.
There is this one advice that I would recommend for budding professionals is to try working in small companies and startups instead of a big organization, because that will give you an opportunity to handle a different kind of work. Also, one bigger reason for this advice is big companies have structured processes and you don't usually to get to follow your own style. You just have to follow the defined procedure.
If I get another chance to restart my career, I would definitely try working in a startup and learn as much as I can about different work profiles.
Keeping that in mind, in the first 5 years of the career one should not run for the money, home location etc. but only at the profile of the role and they should try to do as many new and challenging roles as possible.
This will set them up for bigger leadership roles in coming days and years.
Tags
Career