Online coaching is one of the best ways to learn something. Many schools and institutes have recently started to adopt these methods in order to make their classroom teachings more effective and reachable.
Although many may argue that traditional classrooms with an instructor are better but certain features attest that the online classes have several perks over the traditional classrooms that makes it a better choice for ACCA students.
ACCA is gaining popularity in India and as more people are acknowledging its benefits and influence, the more they are taking interest in it. Qualifying ACCA makes you a global CA and gives you numerous opportunities to work on respected profiles for Big 4 and multinational giants in over 180 countries.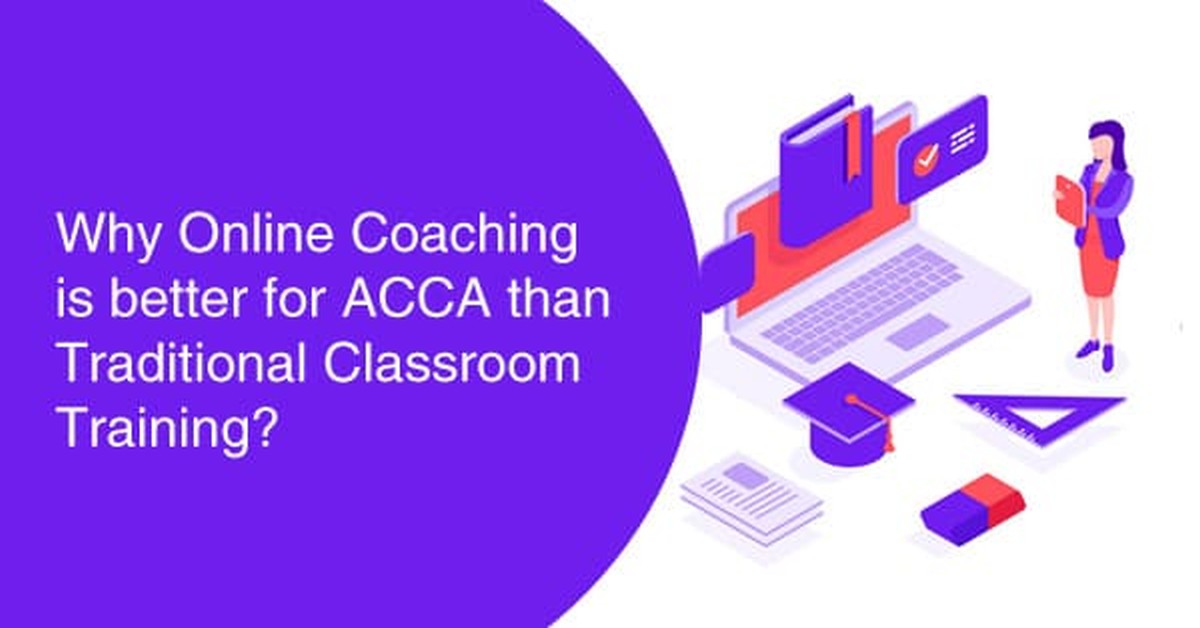 But to qualify ACCA, you must have to be an expert in International financial laws and be familiar with different aspects of business and management. And to gain deep knowledge about taxation, finance, and business you need to choose the best institute for ACCA.
How to Choose the Best Coaching Institute for ACCA?
There are many coaching institutes that provide online and traditional/offline classes for ACCA and claim to be the best.
But the question is which one should you choose?
As I have already mentioned, there are a number of reasons that make the online classes a better choice for ACCA than the traditional classes like:
1. Online classes are flexible: Online classes provide flexibility and can be taken at any time. That alone is the biggest advantage of choosing online classes over the traditional classes for ACCA.
Online classes ensure that the candidates are able to finish the course as per their convenience. Also, in case there are missed lectures , there is 100% backup being provided. Moreover, online lectures are quiet beneficial for working professionals who don't have time to join the regular classes.
They can schedule their classes on weekends as per their convenience and can study whenever or wherever they want.
2. Traditional classes promote rote learning: Imagine yourself sitting in a class and listening to an instructor who goes on and on about taxation and corporate laws. While there is nothing wrong in that, the problem arises when you try to take notes in between the lectures. Conventionally speaking, the human mind can't focus on two things at once. You can either write or listen to the instructor. So if you are trying to take notes into the class you will be missing out on the lecture and then you will have to memorize everything which you could have easily understood during the class.
While in online classes, you can just hit the pause button, take notes, understand what you just wrote/heard, and then proceed with the next topics. That will give you a better insight into the complex topics and will improve your understanding of the practical problems so that you can retain what you learned. Moreover, all notes are provided by the trainer so students can just sit back and only concentrate on concept clarity !!!
3. Online classes are consistent: Online classes of ACCA are much more consistent than any traditional class. The main reason for the consistency is that the learning resources are available to any student with internet no matter which part of the country they reside in. For example, every student of VG Learning Destination gets the opportunity to learn from the expert faculty by Grant Thornton. The partnership between VG Learning Destination and Grant Thornton ensures that the students get to learn from the ACCA qualified instructors. So even if a student who lives in a remote part of the country or some working professional who works over 40 hours a week can still opt for the online classes and learn from the professionals as per their convenience.
While the inconsistency with traditional classes may not allow them to take classes from the professionals at their desirable place or time.
So when it comes to quality education, online coaching for ACCA are far more consistent and better choice than the traditional/offline classes.
Conclusion:
The most important thing for an ACCA candidate is having deep knowledge and understanding of the concepts. While there might be some good traditional classes out there, but they are still inconsistent and can never be as flexible as the online coaching. So for the students who live in remote areas or working professionals who want to qualify ACCA while doing their day job online coaching for ACCA is for everyone who has access to the internet.
For further enquiries, please reach out to VG Learning Destination, a GOLD Approved Learning Partner of ACCA run under the guidance of Tax Guru CA Vinod Gupta Sir at 9599983113/115/117 or email acca@vglearningdestination.com or click on link http://vglearningdestination.com/vgldlanding/acca/acca-enquiry?adspart=ca_club
Tags
Students