A HOSTILE LOVE
LOVE NOT ALWAYS COMES WITH PLEASURE
Love perhaps the most wonderful feeling if it is expressed unconditionally and allow freedom, independence and liberty to the person who are being loved, but the moment it only wants something in return and looking to get gain or profit from the person or things being loved it takes a shape of business or transaction where each party began negotiate with their terms, who so ever hold the dominant position would ultimately emerge winner and the party not so dominant have to compromise and settled with less profitable and unfavorable terms. Similar sorts of expression has been voiced by the L&T CEO S. N. Subrahmanyan 'It's pyaar, not war', on eve of acquiring 20 percent stake in Mindtree of V G Siddharatha who had himself offered their share to the L&T. Mr. S. N. Subrahmanyan also stated that this step should not be counted as hostile as both company would going to benefited from the collaboration, he also said that there are certain emotions and trepidation involved, but business is a business. Emotions do play a part, but emotionalities have to be overcome as we go forward. What we are trying to do, is with, if I can use the word 'pyaar', and we will continue to look at it as something we are doing from our 'dil'. And we will continue to look at it with the same manner and purpose," he said at the press conference on 19th March, 2019.He assure the Mindtree that their Independence will not be harmed and Mindtree continue to be run as an Independent company with L&T investment. Meanwhile founder of the Mindtree call it a Hostile and quoted it pose grave threat, pointing out the uniqueness of the organisation founder said they will try and put their best of efforts to stop L&T to take any further leap in the direction of acquisition and would adopt all possible means to recover damage. The founder of the Mindtree was in no mood to celebrate the presence of the outsider and they reckon this would emerge an alien combination if happens.
WHAT PROMPT V.G. SIDDHARTHA TO SELL HIS STAKE OF MINDTREE
V.G.Siddhartha an owner of 'Café Coffee Day', backed and provide Mindtree Seed Funding when it was founded in 1999, he remain a patient investor over a 20 years for Mindtree, then what prompted him to sell his stake ? as media reports suggest, he has to settle an obligation on Income Tax Authorities an amount tune to Rs 300 crore and to mitigate the ill effect of rising debt at his investment firm 'Sivan Securities', he has been seeking buyer of his investment since 2018 and finally he finds L&T as a good option to tender his offer, L&T offer him more premium per-share which perhaps the best deal to lock-in and he sold his 20.4 percent stake to the L&T without any hesitation and second thought, although he deserves an exit and premium of his patient investment, but it was Mindtree which fails to cater the demands of Mr. Siddhartha on time and now with the entry of Mammoth like L&T they find tough to save their organisation with outsider intervention.
L&T TAKEOVER BID
An Attempt of L&T to acquire controlling stake in Mindtree indeed first of its kind hostile takeover witness by the IT industry in the history of India, soon after acquiring stake of Siddhartha L&T make a takeover bid of Rs 10,800 crore to acquire 66 percent stake in the Mindtree. It has placed an order with broker to arrange buying of additional 15 percent stake of the company from the open market. Subsequent to these deal, L&T would make an open offer to acquire additional 31 percent stake of the Mindtree through an open offer.
WHY L&T TARGETED MINDTREE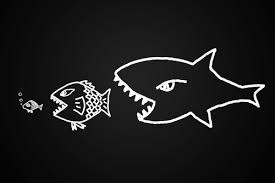 Takeover is the fastest and the easiest way of expansion of product and customer base,. but the first question strikes the mind why L&T targeting Mindtree, which itself experience the similar sort of crisis way back 90s, when two heavy weight of Indian Inc. Dhirubhai Ambani of Reliance Industries and Aditya Birla Group chairman Kumar Mangalam Birla made a hostile competitive bid with intent to acquire L&T. Is it an Intellectual property or fast revenue growth compare to the industry average of the Mindtree excites the L&T to acquire Mindtree or something else or L&T's explanation that the takeover would help Mindtree to scale-up its business and stands neck to neck with other IT industry big boys with L&T's investment. Although whatever it would be only the time unravels fate of the hostility.
The deal makes a lot of strategic sense for L&T its software unit, L&T Infotech, is predominantly into banking, oil and gas, and insurance fields while Mindtree is into consumer packaged goods (CPG), retail, hospitality, travel and the technology space. The combination would help L&T to broaden their customer base and finds fertile turf in the IT Industry, with the duo of talent and resources, L&T would do wonder in the Industry and gobsmacked the other players of the Industry.
AN ELEPHANT IN THE ROOM
With the acquisition of V.G.Siddhartha stake of Mindtree by the L&T the founder, board, employees and other well-wisher of the Mindtree feeling the heat of the presence of the mammoth, this prompted the Mindtree to look into the other option of buying back of its share and engage talking with other Company to protect their company from takeover. Now it would be very difficult for the Mindtree to mend the vent which has already given an access to the L&T into the citadel of Mindtree and with the passage of the time L&T would only going to broaden the vent with its money and muscle this would help the L&T to acquire what it desired for, still the task are not as easy as it seems from the distance a lot of dedicated and manoeuvre steps are require which benefits both the parties and do not leave any untoward experience which only results in harm and loss to both parties. Now it is imperative that both the entity would listen each other patiently and try to make this prospective collaboration a success story.
CULTURAL DIFFERENCE
The working culture and style of both the Organisation are in complete contrast, where on Mindtree personnel are allowed to dressed up in Jeans and T-shirt and may dressed which comforts them where on L&T a proper set of dress code need to be followed by the employees, the person who chose to work with the Mindtree at the time of their placement would find difficult to adhere the dress code of L&T, although the Governance environment of both company are phenomenal and both company are professional well managed. This difference may hinder the overall productivity if not given due care which it deserve, therefore it would be better not to dilute the working culture and the staff would be allow the similar sort of freeship in terms of choosing dress and comfort, this not only helps to keep the house in order it also allow to retain the talent irrespective of any change in management.
IS L&T HELPS TO SCALE-UP MINDTREE BUSINESS
The possibility of scalability could not be discounted with the presence of L&T into the house of Mindtree, with more resource and money Mindtree would expands its business multifold and compete other heavy weight of the IT industry in an event of direct confrontation, as of now Mindtree stand on 6th position in IT Industry with L&T investment and backing Mindtree would challenge the throne and explore better possibility for itself and industry, this would not only going to help the both company, the fruit of the combination would be largely share by the society as well, we are all aware that 21st century in an established age of technology and digital world and to remain competitive in this age as well to sustain your present situation require lots of resources and effort with L&T deep pockets Mindtree would not only survive the heat but would expand inevitably, with expansion good amount of job would be created which robust IT Industry of India.
WIN-WIN EQUATION
A Chairman and Managing Director of L&T A.M. Naik said that this is not a hostility and he assure that the voice of the Mindtree founder would be heard with respect and they are in no hurry, he also ratify the voice of Companies CEO that the independence of the Mindtree would not be compromised, if L&T allow Mindtree to remain free from the interference and work in a similar environment and with similar terms as it was working before L&T presence, this would perhaps the utopian circumstances which helps the combination to reach new heights in the near future, but euphoria not seems lasting for too long as this would be a very idealistic scenario that monetary affairs not comes with condition after all it's a business not a charity.
Tags
Others