Hello Shikha, Good evening! Congratulations on behalf of CAclubindia for securing CA Final AIR 2- Nov 22.
Very good evening, ma'am. Thank you so much.
How is the feeling as CA Shikha Jain?
It's the greatest feeling ever. And I'm still preparing my mind and everything to let this feeling just sink in!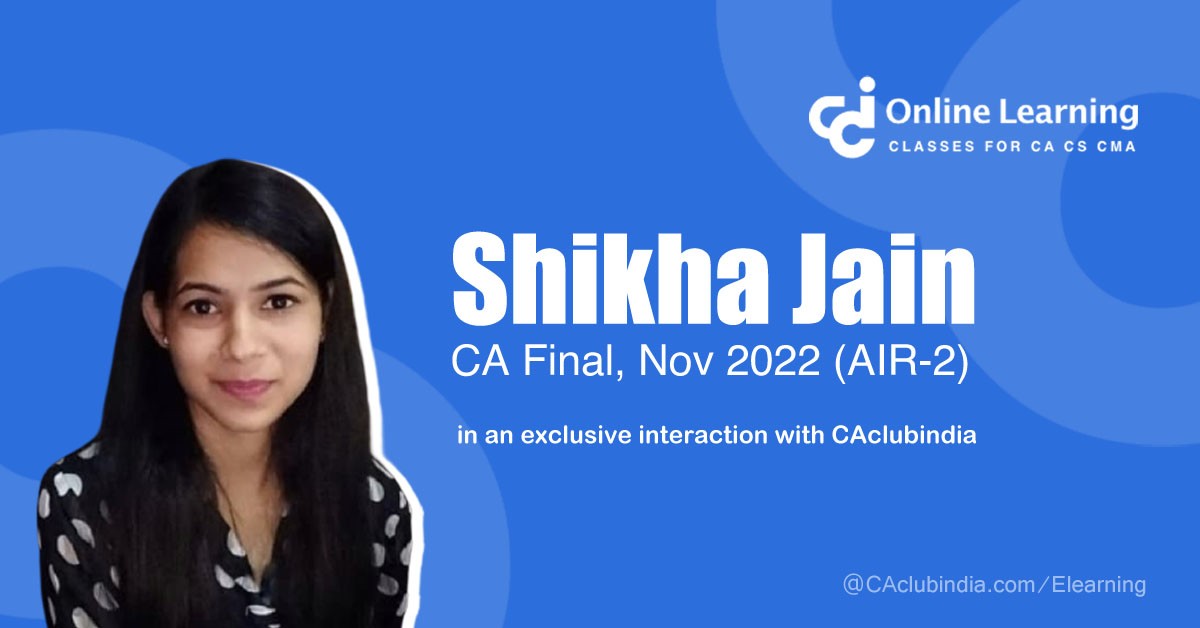 Okay, that's so nice! Shikha, can you briefly tell us about how you prepared for your examination?
To begin with, during my articleship days, I completed a lecture or two lectures per day. And five months before the examination, I completed all my lectures and the rest five months, I devoted full gradually to self-study.
I studied for around 8 to 10 hours a day. I never took this time to 12-14 hours. Yes, it was a very tight schedule for 8 to 10 hours and then everything I tried to manage within 4 to 5 hours that was in my hand from engaging in other activities to eating and meeting with my friends and family.
I concentrated mainly on ICAI material and tried to solve it as much as I could and revise my full syllabus two times (approx). And I tried to mark all the important things which I could so that I can cover the important topics, just one day before the examination.
Ok. So what was your study schedule? Did you study one subject per day or did you fit in all the subjects? What did it look like?
I generally took up two subjects a day. One would be theory and the other one would be practical.
The theory subject would occupy around 4 to 5 hours and the rest day was devoted to the practical subject. One theory and one practical subject had been a great combination for me.
Okay, that's nice! With all distractions of social media and going out with friends, how did you manage during your exam time? I'm sure you also would want to see the social media!
Yes, I was like - "Why can't I go out and enjoy?" I have to stay at the same place all day and get up every day and repeat the same cycle. But I motivated myself that it's only a time span of around six months and it will be rewarding throughout my life. It motivated me a lot.
And about social media, I uninstalled all the apps from the first date of those five months because I knew, I couldn't control myself. So I uninstalled everything in my phone just - WhatsApp and phone calls were ongoing.
How was your parent's reaction when they heard that you secured CA Final AIR-2?
They got very emotional and teary-eyed. It was very difficult to absorb for them that I secured such a great rank and great marks.
So, were you expecting a rank?
Yeah, I thought I could achieve a rank of 13 or 14. But securing AIR-2 was much unexpected.
Did you follow ICAI material only?
No, I followed ICAI material and also referred to the study materials from where I took my lectures.
How was articleship useful for you?
In my experience, articleship is the most joyous moment of CA life. Beyond friends who are the best motivators, who motivate us in the exam, we have great moments where all the practical exposure helps us to grasp all the concepts. Even the theoretical portion could be experienced in articleship time. So, it helps a lot and develops both our mind, personality and everything.
To whom would you dedicate this success?
I dedicate this success to my parents and sister "Disha Jain" who is also a Chartered Accountant. They never pressurized me for anything and had been my biggest support.
What would be your message to the upcoming students who are going to appear for May 2023 attempt?
I would like to convey them that consistency is the key. There is no shortcut to hard work and we have to work consistently, be patient and keep ourselves motivated.
What do you think about the new syllabus that ICAI has released?
Actually, I don't have much idea about it but it would indeed be great as the same has been planned by the institute members and released accordingly.
Thank you so much Shikha for this wonderful interaction and we wish you all the best in your future endeavors!
Thank you!
Also Read: Diksha Goyal, All India Topper (AIR-1), CA lntermediate, Nov 2022 in an exclusive interaction with CAclubindia
Tags
ca students
students