Most of us work hard to create financial assets. We spend a lot of time planning our finances, pondering over that expensive house we plan to buy and creating wealth through stocks and gold. For all of us, the sole motive of such measures is to leave a rich financial legacy for children/family. Therefore, it's important that the wealth is transferred to the right hands in case of any contingencies
Life is Uncertain
Please ask a hard hitting question to yourself. Are we certain about our last breath in this world? Not really!
Life is full of contingencies. One can never predict any mishappening. In our country which is predominantly considered to be a male dominating society (though things are changing day by day), most of us do not share the various Investment details with their spouse or another family person. It is not that we do not like to share the investment details with the spouse or any other family member, it is just complacency or you may say most spouses are not interested to take note of it. But think of a situation when you are not around to tell. One cannot imagine the pain a family could go through to realize the investments done by their earning members in various forms such as Shares, Mutual Funds and Insurance etc.
The following tables illustrate the amount of Unclaimed/physical investment papers just lying in the Country, source (media, govt. websites)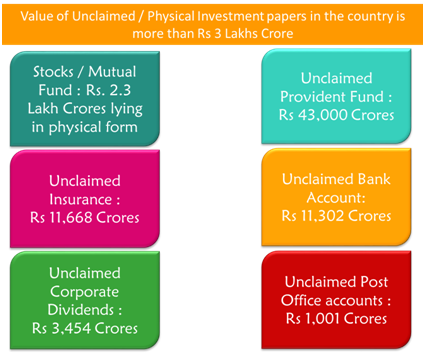 The Unclaimed Investment: Invest & Forget approach has taken a heavy toll on investors' wealth. There are no takers for crores of money stuck up, literally! Various financial instruments such as Old Shares, Mutual Funds, Old Insurance, In-operative bank accounts, Provident Funds and Post Office deposits carry the 'black hole' of unclaimed money that nobody claims year after year.
Print media data suggests that money worth more than Rs 2 lakh crores is still lying in physical form.
If we notice beyond the capital markets, the amount is no less mind-boggling. A whopping Rs 50,000 crore is lying in equally crucial instruments of inoperative provident funds, post office savings schemes and matured insurance policies, involving crores of investors. A recent RBI finding says that Rs 11,300 crore is lying unclaimed with 64 banks. 'This is such an issue that afflicts every household. We prefer to ignore it despite it's chronic presence in our daily life.'
What to do to avoid this scenario: One should keep a proper record of their investment whether in paper form or in electronic media. Someone in the family should be aware of all the investment made by the investor so that in case of exigencies, there is someone who can deal with those papers.
One should also get the will executed to avoid any future litigation.
You and Your Family Deserve your Investments. Preserve it so that the same can be of help to you while you sail through troubled times.
To conclude: Your wealth whether earned by you or inherited by you--please do not let those investments just ruin in your old papers. Convert them in liquid cash with the help of an expert who can help you recovering your old investments
Happy & Safe Investing
The author is a Co-founder & Director Share Samadhan Private Limited – India's Only Unclaimed Investment Recovery Advisory Company (www.sharesamadhan.com)
Tags
Others