This paper tries to emphasize on the importance of developing a strong organizational culture for getting enduring success & growth & suggests best practices for enforcing a strong culture. This paper also emphasizes that simply drafting & articulating the vision, mission, & core values will not help in getting enduring success. Success lies in building reputation for the organization. For this, alignment of the values of the employees with the values of the organization is of utmost importance.
a) Introduction:
Employees are one of the main stakeholders & torch bearer of an organization. Every individual has different value system(sanskar), ethics & morality which they acquire from the upbringing & from influences of circumstances, friends & relatives. Our actions & behavior are the reflection of our thought process & our thought process is driven by our value system. The way the employees behave, make judgment, take decisions impact on the culture of the organization & in turn its performance in the long run.
Organization culture development is a long drawn & continuous process. It is one of the most vital area for getting enduring success & sustainable growth. Still, most of the organization don't attach desired importance to this most vital area.
If we don't believe in those values, we cannot live by those values. Our action & behavior, decision making & judgment will never be in consonance with the value of the organization.
Here comes the importance of sharing the core values of the organization with all the employees on continuous basis & aligning them with the core values of the organization, so that their behavior, actions, decisions, judgment in running the organization are in consonance with the value of the organization. This paper tries to review the importance of strong organization culture & how a positive culture is needed to achieve sustainable growth & earn reputation.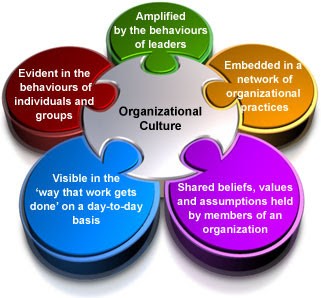 Pictorial depiction of organization culture
b) Definitions & meanings of some keywords:
i) Culture: Culture consists of group norms of behavior and the underlying shared values that help keep those norms in place.- John Kotter 1
ii) Organizational culture is the collective behavior of humans who are part of an organization and the meanings that the people attach to their actions. Culture includes the organization values, visions, norms, working language, systems, symbols, beliefs and habits. It is also the pattern of such collective behaviors and assumptions that are taught to new organizational members as a way of perceiving, and even thinking and feeling. Organizational culture affects the way people and groups interact with each other, with clients, and with stakeholders.6
Organization culture is to an organization what personality to an individual (Johnson, 1990)
iii) Vision statement: A vision statement of an organization gives the picture of where the organization wants to go. Vision statement is the inspiration, the framework for all the strategic planning of the organization.
iv) A mission statement is a statement of the purpose of a company, organization or person. It states the purpose of existence. "An inspiring mission statement explains why the organization exists and provides a sense of meaning for the leadership, staff and other stakeholders. From this emerges a vision of the organization, which provides direction as to how it will manifest the mission. This allows everyone in the organization to understand how their efforts can contribute to the overall purpose.
v) Core value of an organization is the guiding principle for the organization. These are the attributes which are reflected on the day to day interaction with the internal as well as external stakeholders & based on which the organization fulfills its vision & mission. A core value is only a true core value if it has an active influence and if the people or company manage to live by it, at least most of the time.
c) Case Studies:
Two most admired Indian multinational namely Tata Group & Infosys have been chosen to analyze & understand, how their strong value system has helped them to fulfill their vision.
Vision statement of Tata Group: Our vision is to be the global steel industry benchmark for value creation and corporate citizenship.
Five core values of Tata Group:
a. Integrity: We must conduct our business fairly, with honesty and transparency. Everything we do must stand the test of public scrutiny.
b. Understanding: We must be caring, show respect, compassion and humanity for our colleagues and customers around the world, and always work for the benefit of the communities we serve.
c. Excellence: We must constantly strive to achieve the highest possible standards in our day-to-day work and in the quality of the goods and services we provide.
d. Unity: We must work cohesively with our colleagues across the group and with our customers and partners around the world, building strong relationships based on tolerance, understanding and mutual cooperation.
e. Responsibility: We must be responsible and responsive to the countries, communities and environments in which we work, always ensuring that what comes from the people goes back to the people many times over.
The Tata group established in 1868 by Jamshetji Tata has now become an Indian multinational conglomerate & regarded as one of the most reputable company in the world. The 2009, annual survey by the Reputation Institute ranked Tata Group as the 11th most reputable company in the world. This is mainly because of its strong culture driven by its values. It has sustained for 145 years & still growing. The Tata Group has helped establish and finance numerous quality research, educational and cultural institutes in India. In a 2011 investor poll conducted by equity research firm Equitymaster, TATA Group was voted as the most trustworthy among the Indian corporate houses. Over 61% of the respondents "showed their confidence in the Tata Group". The Tata Group retained its "Most Trustworthy" status in 2012 poll.6
Vision, Mission & Values of Infosys.
• Vision: "We will be a globally respected corporation."
• Mission: "Strategic Partnerships for Building Tomorrow's Enterprise."
• Values: We believe that the softest pillow is a clear conscience. The values that drive us underscore our commitment to:
CLIFE
• Client Value: To surpass client expectations consistently.
• Leadership by Example: To set standards in our business and transactions and be an exemplary for the industry and ourselves.
• Integrity and Transparency: To be ethical, sincere and open in all our transactions.
• Fairness: To be objective and transaction-oriented, and thereby earn trust and respect.
• Excellence: To strive relentlessly, constantly improve ourselves, our teams, our services and products to become the best.
Infosys Limited (formerly Infosys Technologies Limited) is an Indian multinational, provider of business consulting, technology, engineering, and outsourcing services.
Infosys ranked among the most innovative companies in a Forbes survey, leading technology companies in a report by The Boston Consulting Group and top ten green companies in Newsweek's Green Rankings. Infosys wins Most Admired Knowledge Enterprise (MAKE) award for the fourth year. The 2007 Global MAKE awards were chosen by a panel of Fortune Global 500 business executives, leading knowledge management and intellectual capital experts. Infosys is the first Indian company to win the Global MAKE Award and enter the Global MAKE Hall of Fame. Infosys was voted India's most admired company in The Wall Street Journal Asia 200 every year since 2000. The corporate governance practices were recognized by The Asset Platinum award and the IR Global Rankings. It was also ranked as the 15th most trusted brand in India by The Brand Trust Report-6
Why Infosys has become one of the most admired company & fulfilled their Vision, will be clear from the following story:-
N R Narayana Murthy has written in his debut book, "A better India, a better world." how seven of the Infosys founder member deliberated upon over 4 hours in a small bedroom in his Bombay apartment, for formulating the vision of Infosys. After a strong deliberation all the members accepted the Vision as suggested by Mr. N R Narayana Murthy. Mr. Murthy wanted to make Infosys the most respected software services company in the world. And he convinced others why he wants this vision to be adopted by saying, "If you seek respect, you will not short change your customers, you will be fair to your colleagues in the company, you will be transparent with your investors, you will treat your vendor partner with care & understanding. You will not violate the law of the land in whichever country you operate & you will live in harmony in whichever society you operate in."
He continued by saying, "My conviction is that such a pursuit will bring revenues, jobs, profits & market capitalization"
He added that all of them accepted this vision as something larger than life & something inspirational to go after.7
d) Advantages of strong organization culture
Strong organization culture leads to low employee turnover because organization members agree about what the organization stands for, the end results are cohesiveness, loyalty & organizational commitment.
It promotes healthy relationship among the employees & no biased & unfair practices are accepted in a strong Organization culture. Organization with strong culture have an effective succession planning & hence, employees become aware of their career path.
The culture develops a habit in the individuals which makes them successful at the workplace. Strong organizational culture gives an identity to the organization.
e) Best Practices:
1. To share with all new Joinees by making these doc.(Vision, Mission, Core values) part & parcel of the welcome kit.
2. Taking oath by each & every employee by signing a doc. of declaration that the employee has read & understood it & he is committed to uphold these values in all his day to day dealing & decision making process.
3. Sharing the personal mission of all the employees with each other. By doing so understanding with each other, co-operation & support will increase, which in turn will increase the team cohesiveness.
4. Trust is one of the most vital element in creating team work & strong culture. So, ensure to build a culture of Trust among the employees & other stakeholders.
5. Organization must enforce a system of value alignment. Because organization values are the foundation of every plan, decision & action. Organization must recognize those whose actions , behaviors, conduct, decision making, judgment are in consonance with the value of the organization.
6. 360 degree feedback process: As per Dr. Marshall Goldsmith, Co-founder of Marshall Goldsmith partners & coach, senior management team of many of the world's leading companies like American Express, GE, Johnson & Johnson, UBS use 360 degree feedback as a part of an overall process to help align corporate values with individual behavior.
According to Right Management3, a Global leader in Talent & Career Management, a personal commitment to an employer's core values is the top driver of employee engagement among 91 possible factors analyzed by them in a new global study.
Right Management surveyed over 28000 employees globally in 15 countries & found the following Top Five Global Engagement Drivers:
1. I am committed to my organization's core values.
2. Our customers think highly of our products and services.
3. My opinions count.
4. I have a clear understanding of what is expected of me at work.
5. I understand how I can contribute to meeting the needs of our customers.
f) Conclusion:
Simply drafting & articulating the vision statement, mission statement & Core values & displaying those in the Boardroom is not going to help in establishing a strong organizational culture. While Drafting or articulating the vision, mission & core values of the organization it is pertinent to believe in what is adopted.
Here, leader shows the way how to enforce what is adopted. Then the employees will live by those values. In some organization self discipline in punctuality is enforced by adopting a value system irrespective of the rank of the employees. There all employees come to office at the scheduled time. This may sound very small. But it has an impact on the whole organization culture. Here, by maintaining punctuality all will respect & value other's time also.
There should not be any double standard in enforcing the values. This will create biased & unfair culture. Achievements are mainly dependent upon the co-operative efforts of employees. Main positive human attributes are mutual respect & Trust. These two qualities are required to be enforced among the employees to build a strong organization culture. Today's globally-competitive business environment has made a positive corporate culture a critical aspect of success for firms. No longer just a competitive advantage, it has become a prerequisite for success, allowing companies to attract and retain top employees.
Finally, we should inculcate the following teachings of our old scripture which is universal & applicable to all aspects of life,
"One should perform his deeds for the benefit of the humankind with an unbiased approach because bias gives birth to evil, which creates thousands of obstacles in our path."------Rig Veda.
References:
1. John Kotter is the chief innovation officer at Kotter International (www.kotterinternational.com),
2. Sharing an Employer's Core Values is Leading Driver to Boost Employee Engagement-By Right Management.- Philadelphia, PA (PRWEB) October 30, 2009
3. 10 Reasons to design a Better Corporate Culture-By Professors & Faculty of Harvard Business School-Blog published on Dec 22, 2008.
4. What is Your Organization's Core Ideology?-SLA published on Jan 2001.
5. Developing corporate culture as a competitive advantage -Golnaz Sadri and Brian Lees California State University, Fullerton, California, USA
6. Wikipedia
7. Anecdotes from a Debut book of Mr. N R Narayana Murthy "A better India, a better world"- Published in Business Today dated June 14, 2009.
8. Websites of Infosys & Tata Group.
9. "Organizational behavior" by "Stephen P Robins"
10. The Seven Habits of Highly Effective people-Stephen R Covey
I am a Science graduate from Calcutta University & also a Cost and Management Accountant qualified from The Institute of Cost Accountants of India, having experience of 31 years in various Industry sector in India.
My Mission is to strive relentlessly to bring a change in environment and society through sharing knowledge and resources at his disposal, spread joy, unconditional love and compassion and lead a life with highest degree of moral values and integrity.
I have been doing extensive research on the subject like values, ethics, morality, integrity, character, success.
Tags
Others