MICRO, SMALL & MEDIUM ENTERPRISES
Definition of Micro, Small & Medium Enterprises In accordance with the provision of Micro, Small & Medium Enterprises Development (MSMED) Act, 2006 the Micro, Small and Medium Enterprises (MSME) are classified into two classes:
1. Manufacturing Enterprises:-The enterprises engaged in the manufacture or production of goods pertaining to any industry specified in the first schedule to the industries (Development and regulation) Act, 1951) or employing plant and machinery in the process of value addition to the final product having a distinct name or character or use.
2. Service Enterprises: - The enterprises engaged in providing or rendering of services
MSME Classification

Composite Criteria: Investment and Annual Turnover

Classification

Micro

Small

Medium

Manufacturing & Services

Investment < Rs.1 cr. AND Turnover < Rs.5 cr.

Investment < Rs.10 cr. AND Turnover < Rs.50 cr.

Investment < Rs.20 cr. AND Turnover < Rs.100 cr.
ELIGIBLE ENTITY FOR REGISTRATION UNDER MSME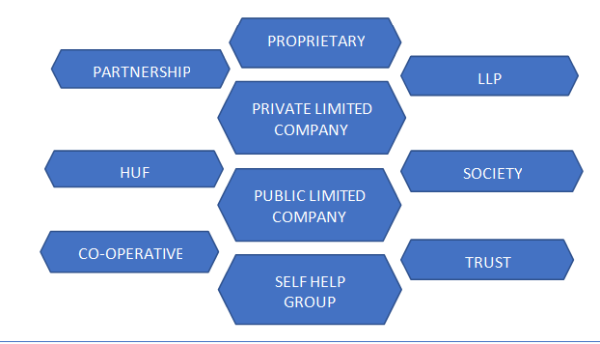 PROCESS TO GET MSME REGISTER
MSME CAN APPLY ONLINE BY VISITING THE BELOW LINK TO GET UDYOG AADHAAR
https://udyogaadhaar.gov.in/UA/UAM_Registration.aspx.
DOCUMENTS REQUIRED FOR REGISTRATION
1) Aadhaar No. of Proprietor/Director/Promoter/Partner/Authorised person
2) PAN of Proprietor / Partnership/LLP/OPC/Private Limited/Public Limited etc.
3) Address Proof of Place of Business
4) Partnership Deed/LLP Agreement/MOA & AOA as the case may be
5) Bank Account Proof (Bank Statement/Cancel Cheque)
6) Copy of Industrial licenses, if applicable and Bills of Machinery Purchased
ACTIVITIES NOT COVERED UNDER MSMED ACT,2006 FOR REGISTRATION OF UDYOG A ADHAAR MEMORANDUM (UAM)
1) Forestry and Logging
2) Fishing and aquaculture
3) Wholesale and retail trade and repair of motor vehicle and motorcycles
4) Wholesale trade except of motor vehicles and motor cycles
5) Retail trade except of motor vehicles and motor cycles
6) Activities of household as employees for domestic personnel
7) Goods and Service Producing activities of private household for own use.
BENEFIT OF MSME REGISTRATION
Registration of MSME is not mandatory but registration will help to take several benefits from government, some of which are:
1) Collateral free Loans from Bank
2) Bank Credit/Loan at lower interest rate
3) Statutory aid such as reservation in tenders etc
4) Subsidy in IPR Registration
5) Eligible for Industrial Promotion Subsidy
6) Credit Linked Capital Subsidy
7) Helps in getting Government tenders
8) Compensation of ISO Certificate expenditure etc
OTHER IMPORTANT INFORMATION
1) Udyog Aadhaar is for running units. No need to apply for upcoming unit.
2) Udyog Aadhaar Registration is valid as long as unit is operating.
3) The Government is not charging any fees for the registration of MSME.
4) Only manufacturing and service enterprise can register under the MSMED Act,2006, traders are not allowed to register.
Tags
msme
corporate law