Professionals handling finance function of businesses interact with banks on a regular basis. All the commercial banks be it ICICI, HDFC, SBI, AXIS etc have their own segments dedicated for the corporate clients. For example, HDFC bank apart from HDFC netbanking for its individual clients also developed Enet HDFC for its corporate clients. Some other most commonly used platforms are:
• Axis bank corporate internet banking platform: Axis Paypro
• Sbi corporate banking platform: SBI Vistaar
• ICICI corporate banking platform: CIB ICICI
What is corporate internet banking?
Corporate internet banking are banking solutions or platforms designed by commercial banks for the specific needs of their non- individual customers such as companies, firms, trusts, partnerships, proprietorship concerns etc. Corporate internet banking solutions allow corporates to carry out banking activities online anywhere and anytime.
Bulk payments or payouts
Most of the corporate internet banking transactions are in the nature of bulk payments or payouts.
• Bulk payouts include payouts to vendors, service providers, transfer of funds to branch offices, salary payouts etc
• Though banks have introduced the concept of corporate banking but the solutions can be hard to operate and often too complex
• Some common challenges include complex system requirements, manual addition of beneficiaries, multi-level-authorizations, unavailability during evenings and holidays, and difficult reconciliation in case of failures and reversals
Bulk payouts if done regularly in large volumes need to be automated. Most banks still support excel bulk file upload feature only. File uploads are slow, error-prone and are hard to reconcile.
Fintech startups are coming up with modern solutions to automate the payment function of corporates. Leveraging on bank APIs, smart analytics and simple product design, they are simplifying bulk payouts for businesses. These fintechs not only automate the bulk payouts but also provide a secure and integrated platform that lets you track all the transactions in real time.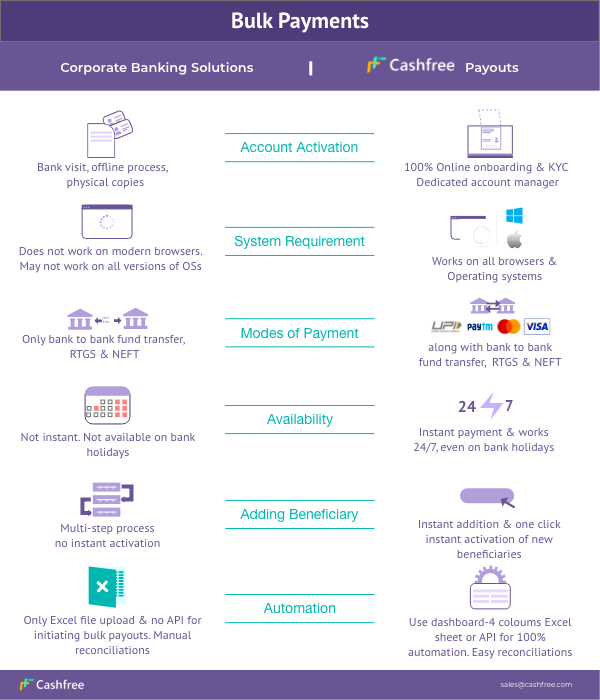 Challenges in using traditional corporate internet banking platforms
1. Complex system requirements and setup: Most banking platforms do not support operating systems like MacOS, modern browsers like Google Chrome and only work on old versions of internet explorer, Mozilla or firefox. Often specific browser settings are required. For eg. in case of Enet HDFC you need to have JavaScript enabled. In many cases, a bank's representative is required to visit the office to help the finance person understand system configurations and train on how to upload a file for bulk transfer.
2. Limited modes of payments and availability: Bulk transfers via corporate internet banking can be made only via NEFT, RTGS or intrabank fund transfers. Bulk transfers via banks can't be done on bank holidays and are limited to bank working hours. This can cause a delay in moving money. Modern and quicker modes such as bulk IMPS, UPI transfer, Paytm etc are not supported. These modes are instant and work 24x7, even when banks don't.
3. The cumbersome and error-prone process of adding beneficiaries: In most cases, before a bulk transfer can be made, all the beneficiaries first need to be added and approved in a multi-step process. For eg. in the case of Enet HDFC (shown in the image below), You need to fill in a 17 column file providing details of every beneficiary in a highly specific format. Validation may take up to 24 hours, in certain cases for adding beneficiaries, a letter signed by authorized signatories may be needed. It is also not possible to verify if the account details of a payee are correct before actually trying a payment.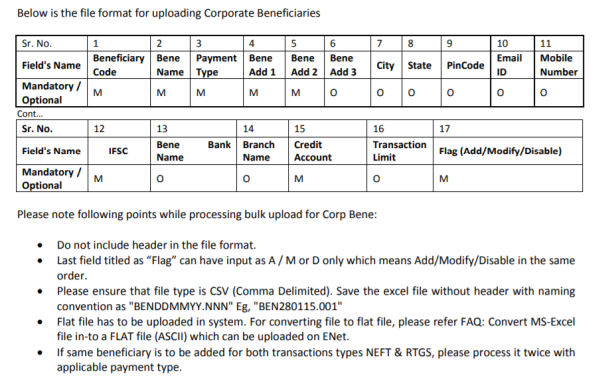 Source: Enet HDFC Faqs
4. High chances of errors and difficult reconciliation in case of failed transfers and reversals
If there is even a single error in the payment file, the entire bulk transfer gets blocked. Checking status of a rejected file is difficult. For eg, if you are using Enet HDFC login (shown in the image below), you need to download a rejection file and look manually for reason of rejection. Often, transactions are reversed after getting debited from the account. It becomes very difficult to reconcile which payment failed and why by merely looking at the bank account statement entries manually.
In the image: Enet HDFC -Manual reconciliation of errors in case of file rejection at the time of bulk transfer file upload on Enet HDFC.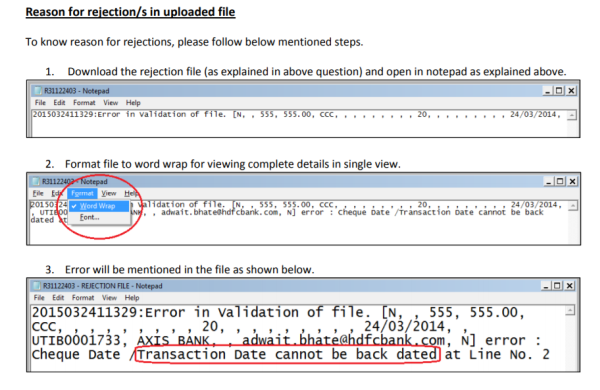 Source: Enet HDFC Faqs
How new startups are simplifying bulk payouts for Indian businesses?
Realizing the requirement for more efficient ways of doing outbound payments -- especially for businesses --fintech companies like Cashfree are coming up with modern corporate internet banking solutions. One such product is Cashfree Payouts.
Cashfree payouts is an online bank transfer product that helps businesses do instant bulk transfers any time they want. It solves the problems of new-age businesses with novel business models whose growth revolves around moving money quickly and in an automated manner.
Features and benefits of Cashfree Payouts
100% online account activation with paperless KYC
Easy to integrate and API first approach that makes automation easy where transaction volume is high
Instant verification of bank account details of the beneficiary before transferring
Works 24x7 and independent of banking hours
Supports transfer to bank accounts and also instant payouts to any UPI-BHIM ID, PayTM wallet or debit card
Possible to send a mass payout from another country to India
Unlike other corporate internet banking solutions, in case of error in the bulk upload, only the particular transaction fails and not the entire file
Dedicated Account Manager and chat support for real-time assistance during sign up and once your account goes live
How Cashfree Payouts improves business efficiency?
• Instant banking facility: It enables businesses to do instant payouts. You need not create any file or log in to any corporate net banking, transactions can be done on the dashboard or triggered as API calls to your bank's system through a simple integration. This completely reduces turn-around-time for doing a financial transaction
• Hassle-free: No need to send a physical payment request to the bank or upload CSV files. With a click, bulk payouts can be made
• Improved operational efficiency: Account statement is available immediately for easy reconciliation. So you always know which payment failed and why
• More than just payments: Cashfree Payouts also seamlessly integrates with Cashfree's payment collection products to offer a unified way for businesses to collect and disburse payments.
Read a detailed analysis of Smarter alternative to Enet HDFC and other corporate internet banking solutions (2018 Update)
About Cashfree
Cashfree is India's only Bulk Payout and Payment Gateway solution for businesses. Cashfree helps Indian businesses collect and disburse payments via payment methods like Visa, MasterCard, Rupay, UPI, IMPS, NEFT, PayTM and other wallets, Pay Later and various EMI options. Cashfree is backed by Silicon Valley investor Y Combinator and was incubated by Paypal.
Tags
Income Tax