Announcing the mega plan of Banks' merger on Friday August 30, 2019 with an aim to have financially strong Public sector banks in India, the Finance Minister of India, Nirmala Sitharaman, has outlined the Government's plan to merge 10 public sector banks into four large banks. After the mergers, there will be 12 public sector banks in India. The merger is expected to create fewer and stronger global- sized Banks to boost economic growth. As per studies conducted until now most of the mergers done in the past, have proved to be an overall success for the weaker banks although there are no concrete parameters to verify this observation. Hence going by the track record, merger and acquisition in Indian banking have been fruitful for the Indian Economy. In this article we are going to discuss the scope and implications of this decision in a question- answer pattern and also shed light on the history of bank mergers in India.
What bank mergers have previously taken place?
Mergers of banks in India started in the 1960s. Initially banks were merged to save non- performing banks or non- efficient banks but as time evolved the system too evolved. In the recent times mergers and acquisitions have also been made on grounds of business growth, profitability and organizational restructure and an attempt to make an Indian Bank join the league of the global giants. Here's a small summary of the mergers that have taken place -
Merger & Nationalization during the period from 1961- 1969: The period is called pre- nationalization period because in 1969 the government nationalized 14 private banks. As many as 46 mergers took place mostly of private sector banks in order to revive the poorly performing banks which proved to be quite a successful move for the underperforming banks.
The period from 1969- 1991: This post- nationalization period saw six private banks being nationalized in 1980. In this period 13 mergers took place mostly between public and private sector banks.
Bank Mergers from 1993- 2004: The merger of Oriental Bank of Commerce with Global Trust bank in 2004 saved the latter after its net worth had wiped off and also handed OBC a million depositors and a decent market in South India. Mergers of Punjab National Bank (PNB) with the then eroded New Bank of India (NBI) in 1993- 94 and that of Benaras State Bank Ltd with Bank of Baroda in 2002 also proved to be life saving for the weaker bank.
Bank Mergers & Consolidation 2008- 2010: SBI first merged State Bank of Saurashtra with itself in 2008. Two years later in 2010, State Bank of Indore was merged with it.
Consolidation of Banks (2015- 2017) - This phase saw five associates of SBI and Bhartiya Mahila Bank getting merged in SBI beginning April 1, 2017. This has placed State Bank of India among the top 50 banks in the world. The five associate banks that were merged into State Bank of India were- State Bank of Bikaner and Jaipur (SBBJ), State Bank of Hyderabad (SBH), State Bank of Mysore (SBM), State Bank of Patiala (SBP) and State Bank of Travancore (SBT).
Merger of Banks 2018- The government merged Dena Bank and Vijaya Bank with Bank of Baroda, creating the third- largest bank by loans in the country in 2018.
What is happening in this mega merger 2019?
In the mega merger, announced on August 30, 2019, ten public sectors banks will be reduced into four large banks. As the centre attempts to boost economic growth following a six- year low, this consolidation is expected to create fewer, and stronger, lenders. Sitharaman announced that the merger is being undertaken in order to revive and revitalise the banking sector to stay on course for the government's stated target of touching $5 trillion as an economy. Here is an insight to the decisions taken by the centre -
Three banks - Punjab National Bank, Oriental Bank of Commerce, and United Bank of India - will combine to form what will become India's second- largest lender. That entity will have a combined total of 18 lakh crore business, with India's second largest branch network - 11,437 branches.
Canara Bank and Syndicate Bank will merge to form another large entity which will be the fourth largest PSB, with business worth 15.2 lakh crore. It will have 10,324 branches - the third largest network in India.
Merging Union Bank of India with Andhra Bank and Corporation Bank will create the country's fifth largest PSB, with business worth Rs. 14.6 lakh crore, and 9,609 branches - the fourth largest network.
Indian Bank will merge with Allahabad Bank and the new entity will be the seventh largest PSB, with Rs. 8.08 lakh crore of business.
Indian Overseas Bank, UCO Bank, Punjab and Sind Bank, and Bank of Maharashtra - these banks have a strong regional focus and will continue to operate as separate entities. Bank of India and Central Bank of India will also continue to operate separately as before. For PSBs as a whole, there will be 12 public sector banks in place of 27 public sector banks in 2017.
To support this consolidation, the government will be infusing capital into the anchor banks so that transition does not translate to sacrificing growth for which it has announced an upfront capital infusion of Rs. 55,250 crore. PNB will receive 16,000 crores; Union Bank 11,700 crores; Canara Bank 6,500 crores; Indian Overseas Bank 3,800 crores; Central Bank of India 3,300 crores; Bank of Baroda 7,000 crores; Indian Bank 2,500 crores, and Uco Bank will receive 2,100 crores. United Bank will see an infusion of 1,600 crores while Punjab and Sind Bank will get 750 crores from the centre.
The centre also claimed that gross NPA level has come down heavily and that the centre is monitoring large loans to avert frauds. It also claimed that the sanctioning and monitoring of loans have been separated, and special agencies have been formed to monitor loans above Rs 250 crore to avoid a Nirav Modi- like situation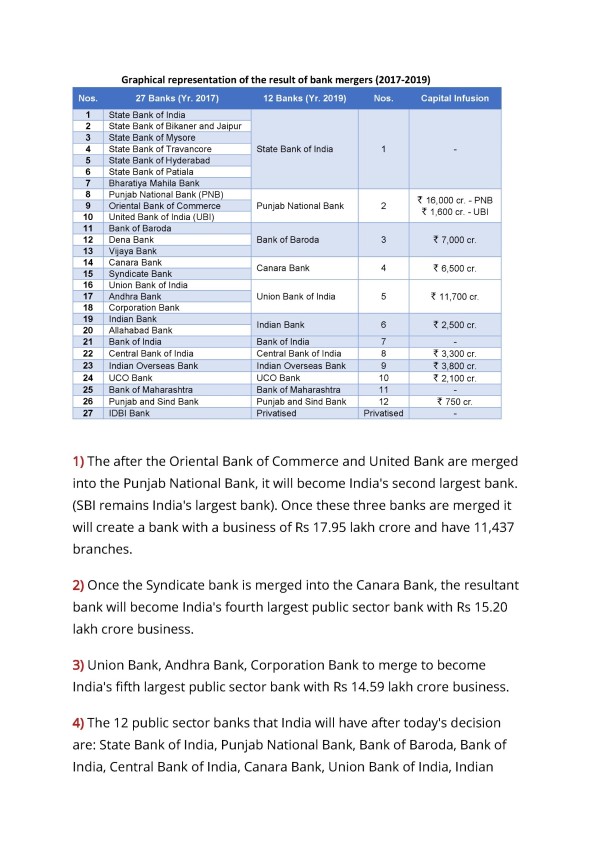 Is the mega merger getting support?
According to the Banking Companies (Acquisition and Transfer of Undertakings) Acts of 1970 and 1980, the central government has to consult the RBI before formulating a plan for PSB merger; so it is evident that the RBI is in support with this decision of mega merger. Also, many experts are in favour of this decision: PNB's MD and CEO said this merger will be beneficial for the banking system and the country as a whole and it will bring a lot of synergies into the existing entities; Canara Bank's MD and CEO said the move will provide better opportunities to do quality business; a partner of PwC India said that this would, in turn, help in better loan monitoring, overseeing the end- use of funds, and better recovery; a partner at Boston Consulting Group explained that a bigger bank helps in more independent decision making.
Is anyone pessimistic about it?
A report by Credit Suisse claimed that the merger is unlikely to revive credit growth or have meaningful cost synergies. It explained that the merger is unlikely to meaningfully revive the flow of credit to the liquidity pressed NBFCs - given the already high share of NBFC exposure in constituent banks, the four new entities will have more than 10% of their loan exposure towards NBFCs. The report summarized that the merged banks will continue to depend on external infusions inviting frequent dilutions. Prakash Agarwal, Head - Financial Institutions at India Ratings, observed, "The mergers are mostly among larger banks with absorbing bank not necessarily in strong health." They all face similar issues like falling profitability, asset quality deterioration, an ageing workforce, and lazy approach to digitisation. The Four Bank Unions - All India Bank Officers' Confederation (AIBOC), All India Bank Officers' Association (AIBOA), Indian National Bank Officers' Congress (INBOC) and National Organization of Bank Officers (NOBO) have threatened to go on indefinite strike from the second week of November to oppose "merger and amalgamations in the banking sector." They have also threatened a two- day strike from September 25 to September 27.
Will this merger actually help?
The government has listed three broad gains from the consolidation calling it 'Unlocking potential through consolidation'. Let's examine them briefly:
The first benefit is enhanced capacity to increase credit. The consolidated entities will have a higher capacity to lend, but also need capacity building, especially in project appraisal, risk management and monitoring. A bank like SBI, with its huge balance sheet, has also found itself in trouble with similar asset quality issues as other PSBs.
The second gain the govt. claimed is strong national presence and global reach. But these PSBs already control two- thirds of all banking in India. As far as global reach goes, Indian banks have a lot to catch up. Competition from private banking institutions is eating into the share of PSBs, thanks to better digitisation, faster processing of loans, and much better customer service.
The third potential gain is the operational efficiency gains that reduce the cost of lending. This is one area where the entire operating model has to change. PSBs still operate in an old fashioned manner. Banking has changed significantly in the last decade, with product- focused banks. We now have retail banks, small finance banks, payments banks and more. Meanwhile, PSBs seem to be caught in the relatively outmoded loop of corporate banking while private banks are exiting the space due to asset- liability management issues.
While most of the anchor banks will take a near- term hit on asset quality, share- swap ratios for the merger will not favour the smaller banks. Shares of these merging banks have corrected sharply since the announcement. Analysts recommend staying away from merging entities till more clarity emerges. Also, the integration process would take 24- 36 months. Website, mobile apps, IVR - all have to get merged into one. During the integration, the lenders will generate huge amounts of data and analytics will play a bigger role to create 360- degree user profiles, taking data from multiple banks. A senior executive at a multinational tech services firm said even if the core banking platforms are the same, each would require customisation.
What is the take- away?
The rationale is evident: banks saddled with bad loans or weak operating metrics are to be integrated with stronger, more efficient banks. Besides, banks working on a similar technology platform (core banking solutions) are being merged to ensure smooth integration. To support this consolidation, the government is infusing capital into the banks. Through this step, the government aims at improving operating efficiency, governance and accountability of the PSU banks and also facilitate their effective monitoring. However, the mergers will bring their own set of challenges and may not lead to value accretion for shareholders but it is expected to create higher efficiencies through better utilization of capital, greater credit disbursal, focused customer service and global expansion opportunities.
Tags
Others