If you're looking to buy a new home, open an office in a second city, or simply want to plan a luxurious holiday in the Alps, you'll find that you need ample funds to strike these items off your list. In this regard, Bajaj Finserv's Personal and Business Loan for Chartered Accountants are your ally. With their help, you can get access to funds within 24 hours. This means that if a last-minute summer getaway or a business opportunity presents itself, you can have up to Rs.35 lakh in your account instantly to finance every aspect. Here is a closer look at these loans' features that make quick disbursal possible.
Benefit from basic eligibility criteria
Bajaj Finserv's suite of loans for chartered accountants comes with easy-to-meet eligibility criteria. To apply, you must only fulfil two conditions. First, you must have a certificate of practice for your business that proves that it is at least 4 years old. Secondly, you must own a home or office in a location where Bajaj Finserv operates.
Only a few documents are required
Apart from having minimal eligibility criteria, these loans require you to submit only a select few documents. As per the list, you must submit KYC documents, a certificate of practice and bank statements. If you want to, you can also request Bajaj Finserv to pick up the documents from your home. This eliminates the need to take time out of your packed schedule to visit a branch.
Online application quickens the process
To further speed up the application process, you can make use of convenient online application, which comprises a simple form. You only need a few minutes to fill in your details and submit the necessary documents. After this, the documents will be verified, and Bajaj Finserv will release the funds.
Pre-approved offers benefit existing customers
If you are already a customer with Bajaj Finserv, you can accelerate the process even more. This is because you can apply for this loan on a pre-approved basis. Since your basic information is already with Bajaj Finserv, you don't have to go through the entire application procedure from the beginning. This allows you to get access to the loan amount with greater ease.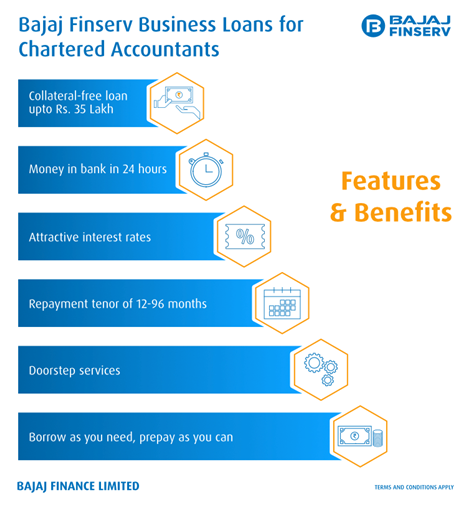 Enhanced flexibility with the Flexi Loan facility
Bajaj Finserv arms you with the resources you need to fund unexpected and/or periodic expenses. With its Flexi Loan facility, you can tackle both swiftly. This feature gives you access to a total loan amount, from which you can borrow in instalments, as and when you need money. The benefit you accrue is that you only have to pay interest on what you use and not the total amount sanctioned to you. For example, if you have utilized only Rs.12 lakh from the total approved amount of 27 lakh, then interest will be charged only on the Rs.12 lakh utilized.
Additionally, you have the choice to pay EMIs comprising only the interest, and you can repay the principal once the tenor is up. But most importantly, you don't have to make a fresh loan application each time you want to withdraw from the Flexi Loan facility. Instead, you simply make a request. You can withdraw, repay and re-avail the repaid amount as many times as you want to during the course of the tenor.
So, whether it is a personal goal or professional one, don't let delayed funds slow you down. With Bajaj Finserv's 24-hour disbursal policy, you can access funds even at the last minute!
To know more about loan for Chartered Accountants, click here.
Tags
Others