If your goals for the year include training yourself and your employees in cloud accounting or the latest digital software, planning a spa holiday for your family in Turkey or shifting your office to a larger premise, you will need to plan your finances to achieve them. The good news is that you don't need to rely solely on your savings. You can use Bajaj Finserv's Loan for Chartered Accountants to finance these expenses. The suite of loans includes a Personal Loan and a Business Loan that you can make use of.
When you choose either of these loans, you can get up to Rs.35 lakh in just 24 hours. So, whether your needs are planned or emergent, you can access this high sum and meet your goals in a timely manner.
Take a look at the features of these loans that make it possible for Bajaj Finserv to offer you funds in just 24 hours.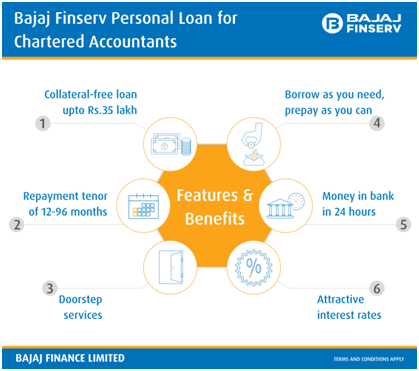 1. The loan's collateral-free nature expedites approval
You don't have to submit any collateral to take these loans. As a result, you don't have to provide documents pertaining to collateral and Bajaj Finserv doesn't have to evaluate the asset that you are pledging or look into its paperwork. As a result, the approval process is sped up.
2. Pre-approved offers eliminate steps
If you happen to be a Bajaj Finserv customer, you get loan offers that are personalized for you eliminating the need for you to apply for one from the scratch. Furthermore, you just submit very few documents and the loan amount is credited to your bank account. Yes, it's that simple!
3. Online application helps hasten the journey
If you are not a Bajaj Finserv customer, you can easily apply online at your convenience, anytime, anywhere. You only have to submit the forms and the necessary documents. After approval, the funds will be dispatched to your account. It only takes minutes to apply online, as compared to visiting a branch.
4. Easy-to-qualify for loans with minimal documents required to add to your convenience
To qualify for this loan, you only have to meet two simple criteria. First, you must have a certificate of practice of at least 4 years. Next, you must own a house or office, or your parents should own a house or office in an area where Bajaj Finserv operates.
Once done, you need to submit only 3 documents to get funds: your KYC proof, certificate of practice and proof of ownership of property.
When the requirements are so minimal, the application process becomes significantly quicker and easier.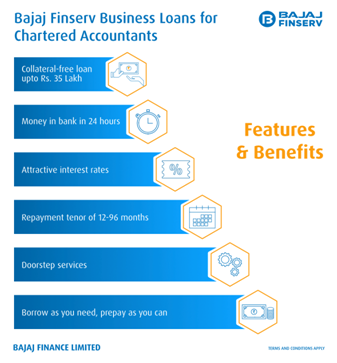 5. Flexi Loan option reinforces speed
Bajaj Finserv's Flexi Loan facility is one that offers dual benefits. You can access funds in instalments from the total loan amount as per your needs and can also benefit from paying interest only on what you use. You can choose to pay interest-only EMIs, and then repay the principal at the end of the tenor. This is just one part of the benefit that you can enjoy. The other part is that you don't have to file a new loan application each time you need funds. You can conveniently make a request online, and you can do so as many times as you need funds. This facility helps you get access to funds at lightning speed.
If procuring funds is what is throwing your timeline off track, shift your sights to Bajaj Finserv's Loan for CAs. It's 24-hour disbursal policy serves as the ideal solution.
To know more about a CA loan, click here.
Tags
Others