A sub-type of mutual fund which is relatively less explored is the liquid mutual fund. In this article, I will explain the meaning of liquid mutual funds, their suitability and their advantages.
Liquid mutual funds are a type of debt fund. Liquid mutual funds are mutual funds that invest in securities that have a maturity period of up to 91 days. In this type of mutual fund, assets invested are not tied up for a long time as liquid funds do not have a lock-in period. Investors can get their withdrawals processed within 24 hours. These funds carry the lowest interest-rate risk in the debt funds category.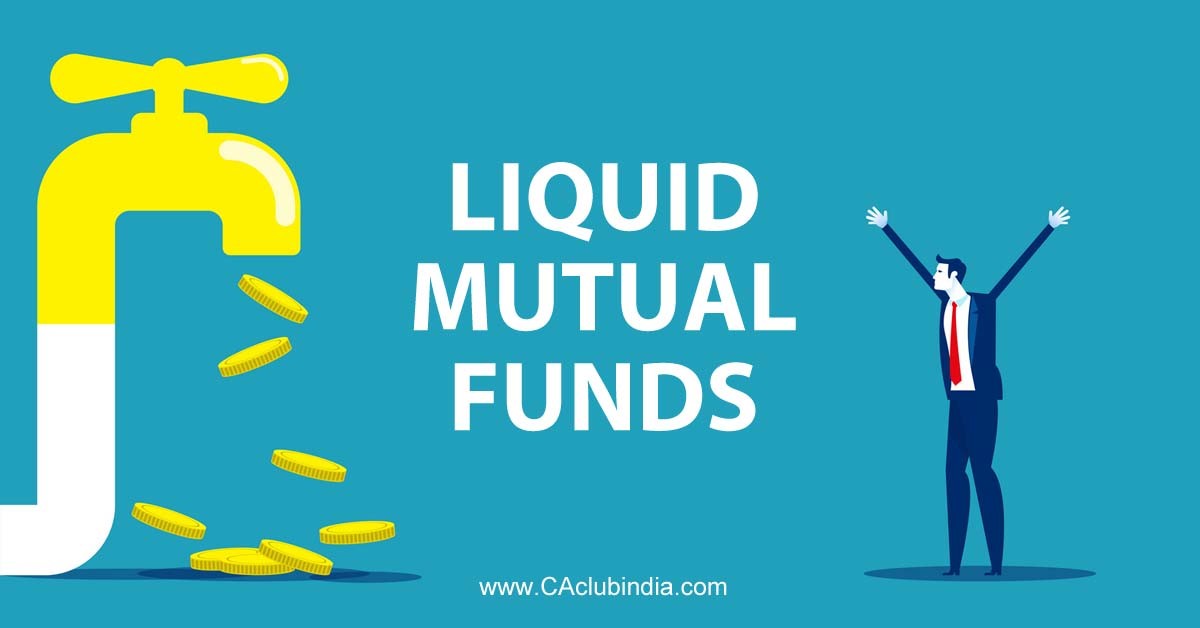 Who should invest in liquid mutual funds?
The following persons can invest in liquid mutual funds:
1. Investors with a surplus amount and no investment plan
If you have a good amount of cash that is not invested anywhere and are looking for a short-duration investment option with lower risks, then liquid funds are ideal for you. This type of mutual fund is useful for those people who have a surplus amount of money but are not sure in which stream to invest it. Putting that money in a savings bank account is one of the alternatives but the interest rate is quite low.
2. Investors who want a higher return than a saving bank account with low risk
In liquid mutual funds we note that the securities have a maturity life of a short period. Liquid mutual funds can be of one day and a maximum of up to 91 days. So it provides an alternative to park your funds At a higher return than a saving bank account.
3. Investors who want to keep Contingency Funds
The idea behind liquid funds is to provide liquidity and safety while generating a low return. Hence investors can park an emergency or contingency corpus in a liquid fund, with the assurance that it will be safe and can be redeemed when necessary.
4. Investors who need to Park Funds for short period
These funds are designed to keep funds safe while earning a small return. Hence, a large sum of money e.g. The sale of property or inheritance can be temporarily parked in a liquid fund until the investor decides how to invest the corpus.
Liquid funds generally invest in Fixed income instruments like government securities commercial papers etc. Also, liquid mutual funds have a low expense ratio as compared to other mutual funds.
The return on liquid mutual funds is on average around 7% which is way higher than what we can get by parking funds in the savings bank account. So it is a relatively better option. These types of mutual funds have higher liquidity. So whenever you need money you can just sell them and you can get your money back.
Advantages of liquid funds
1. Higher return with Low Risk
Liquid mutual funds have a higher return than conventional parking of money in a savings interest account. These mutual funds are low-risk debt funds.
2. Flexible holding period
An investor in a liquid fund can hold this investment according to its need. These have high liquidity. This makes it easy to enter and exit the investment while earning safe, market‐linked returns for the duration of the investment.
3. Quick and easy Redemption
Liquid mutual funds redemption requests are processed within one working day; some funds even offer an instant redemption facility. This is possible as liquid funds are invested in highly liquid securities with a low default probability. These can be held as an emergency fund as well.
"Loved reading this piece by
Ritik Chopra
?
Join CAclubindia's network for Daily Articles, News Updates, Forum Threads, Judgments, Courses for CA/CS/CMA, Professional Courses and MUCH MORE!"
Tags :
mutual fund
income tax