What is leadership?
Leadership is often defined as a process wherein an individual, influences and encourages others to achieve the organizational objectives and directs the organization so that it becomes more coherent and cohesive to work.
Leadership is the process of persuasion or example by which an individual (or leadership team) induces a group to pursue objectives held by the leader or shared by the leader and his or her followers.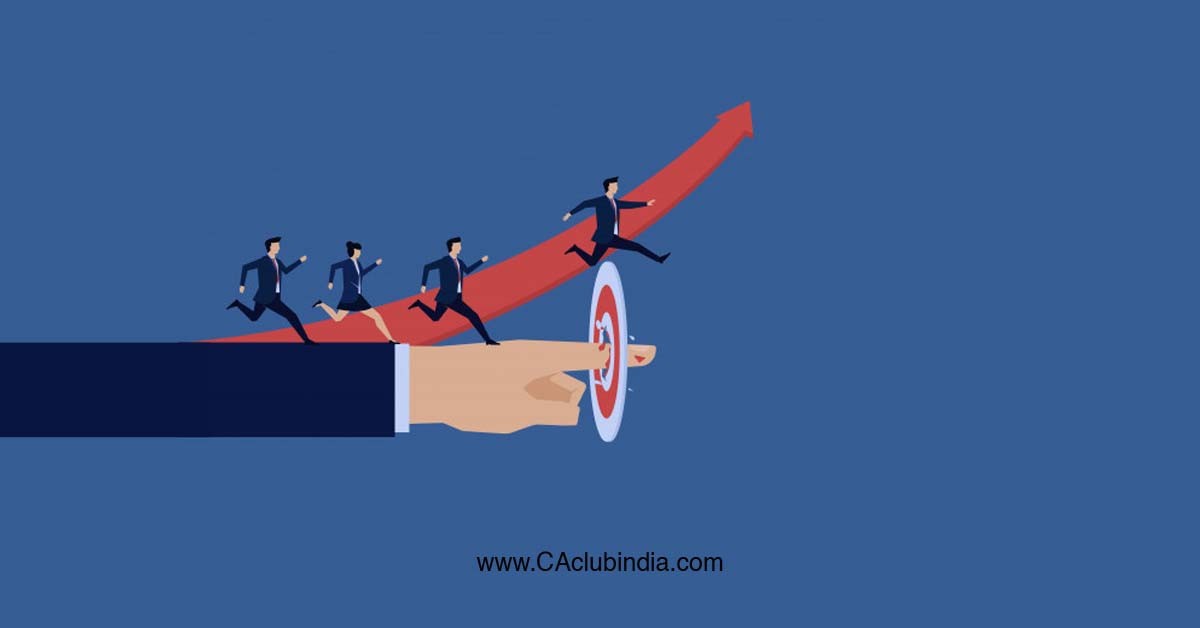 Definition
Leadership is a process of social influence, which maximizes the efforts of others, towards the achievement of a goal.
Notice key elements of this definition
Leadership stems from social influence, not authority or power
Leadership requires others, and that implies they don't need to be 'direct reports"
No mention of personality traits, attributes, or even a title; there are many styles, many paths, to effective leadership
It includes a goal, not influence with no intended outcome
Lastly, what makes this definition so different from many of the academic definitions out there is the inclusion of 'maximizes the efforts"
Why are leadership lessons important for a Finance Professional?
'Successful finance professionals do not restrict themselves within the boundaries of fundamental accounting knowledge and cash management skills". A professional's role is to keep a balance between number orientation and strategic mindset. The finance executive can't just be a "numbers guy"; he's got to be a CFO, CEO & an Entrepreneur. The finance professional needs to have the following exceptional qualities which plays a vital role for the growth in his/her career:
Courage and independence of thought
Charisma and self-confidence
Strong ethical approach to accountability
Serenity in the face of pressure
Thinking in terms of suitable business models
Being able to set up a strong performance driven organization
These qualities are pave the way to become a great leader. A good leader can inspire everyone in an organization to achieve their very best.
The leadership lessons from India
Leadership lessons can be learnt by following the path of great leaders. India has given birth to many leaders who are outperforming in their career. India has gifted great leaders to the world who stand to be the CEOs of top performing companies in the world. The inspiration of these leaders is to be carried forward by understanding their journey from an ordinary business executive to a Chief Executive Officer. Following are the lessons taken from the business leaders who have seen success by practically implementing it.
To discover how Indian leaders, drive their organizations to high performance, research team of Harvard interviewed senior executives at 98 of the largest India-based companies. In conversations with leaders at Infosys, Reliance Industries, Tata, Mahindra & Mahindra, Aventis Pharma, and many others, a picture emerged of a distinctive Indian model. None of the people interviewed suggested that their companies had succeeded because of their own cleverness at strategy or even because of the efforts of a top team.
They didn't mention skill in financial markets, mergers and acquisitions, or deal making- talents that Western CEOs often claim underpin their companies' performance.
Leading the way
The survey revealed an important difference between Indian and Western company leaders in how they focus their energy. When asked Indian leaders to prioritize their key responsibilities, this is how they ranked the top four:
Chief input for business strategy
Keeper of organizational culture
Guide, teacher, or role model for employees
Representative of owner and investor interests
It's striking that they put shareholders in fourth place, since U.S. executives are all but required to say that shareholder interests are their number one concern. This low ranking held for even the most global of the companies we studied, which are exposed to international capital markets and in some cases listed on U.S. stock exchanges. And it held for leaders such as Anand Mahindra, Sunil Bharti Mittal, and Azim Premji, who are huge shareholders in their own companies. Let us take a look at the way Indian CEOs have implemented the following:
1. Social purpose
"In terms of lessons for managers elsewhere, one of the most important things is that Indian leaders lead with a sense of social purpose," Cappelli told CNN.
He said every leader interviewed gave a specific social purpose as being the goal of their business. Those purposes ranged from improving healthcare in India, to getting cell phones to people who don't have access to communication tools, and proving to the international community that Indian companies can lead in IT.
Having a social purpose really motivates workers. "If you can articulate a social purpose for your organization and take it seriously, it can have real benefits." said Cappelli.
(ACSI) and 97% of the employees at Google say that it is a great place to work.
Sundar Pichai- CEO of Google Inc and Alphabet. He was appointed as the CEO of Google Inc on 24th October, 2015. The annual revenue of Google in 2020 is US $181.69 billion. After Sundar Pichai took up the position of CEO, Google acquired HTC in 2015. The company also scores 79 out of 100 on the American Customer Satisfaction Index
largest corporate renewable energy purchaser on the planet.
In 2007, Google became the first major company to reach carbon neutrality. Ten years later, the company also achieved its 100% renewable energy target, and is now the that a fully decarbonized future is possible for everyone.
As if that wasn't enough to earn a spot at the top of the corporate social responsibility totem pole, the company is now aiming to operate solely on carbon-free energy by 2030. Their goal is to not only pursue new carbon-free technologies, but to also demonstrate
From facilitating green commuting, to employee gift matching, to paid time off for volunteering, Google inspects nearly every part of their business with a social impact lens.
Satya Nadella became the CEO of Microsoft, a leading software giant on 4th February 2014. Global revenue of Microsoft grew rapidly from fiscal year 2020 to 2021, increasing by 18% year on year reaching US $168.09 billion. The company maintains a balance between the interests of the investors and the interests of the society. Following are the
Rural internet project announced July 10, 2017 Microsoft launches initiative to provide high-speed internet connections to millions of Americans living in rural areas.
Partnership to help farmers grow food October 7, 2019 Microsoft and the USDA partnered to harness data and AI to help farmers cut costs, increase yields and grow crops more resilient to climate change.
A pledge for the environment January 16, 2020 Microsoft announced it will be carbon negative by 2030, and by 2050 will remove from the environment all the carbon it has emitted since it was founded in 1975.
Digital skills for 25 million people June 30, 2020 Microsoft committed to helping 25 million people worldwide acquire the new digital skills needed in a COVID-19 economy.
2. Invest in employees
Indian firms invest an enormous amount in their employees' training and development. IT firms typically allocate 60 days of formal training for new hires and companies often spend months training even experienced workers hired from other firms.
The study said that U.S. firms have largely abandoned investing in employees, seeing it as a waste if they leave the business. It adds that employee turnover is estimated to be 30 percent in India, and investing in employees ensures the quality of those who stay at the company.
Subramaniam Ramadorai, the former head of Tata Consultancy Services, said of his company's success, "It's all about human capital at the end of the day."
Indra Nooyi- CEO of PepsiCo since 2006. PepsiCo is a leading global food and beverage company with an annual revenue of US $70.37 billion. The customer satisfaction score as per the American Customer Satisfaction Index (ACSI) was 81 out of 100 in 2020. Besides the quantitative aspects, the company adopted magnificent policies of investing in employees. The following are the practices being followed in the company to maintain employee satisfaction.
Acknowledging employees and their families by writing
Giving employees a clear sense of shared purpose
Letting employees have more autonomy and influence within the company
Making sure employees 'bring their whole selves to work" with inclusive benefits and
Indra Nooyi believes that leaders should bond the talent, not just buy the talent.
3. Take the long view
Indian bosses place far less emphasis on shareholders than is typical at Western businesses. As a result, they're more able to take a long-term view.
"A lot of U.S. companies in particular will say, 'We're not going to meet our quarterly numbers, so we've got to adjust everything in the pipeline to make sure we do.' That's a costly thing for the long term," said Cappelli.
He said Western companies can't just ignore their shareholders, but their CEOs can do more to buffer their employees from short term financial pressures, letting them get on with their jobs.
Ashwin Dani- Chairman of Asian Paints. He is an Indian billionaire businessman, and the non-executive chairman of Asian Paints Ltd, India's largest paint company with operations in 16 countries. He was the vice chairman and managing director from December 1998 to March 2009. Ashwin is among the top 50 richest Indians. As per the Case Study: 'Why is Asian Paints such a huge money-making machine?" by Saurabh Mukherjea, Founder and Chief Investment Officer of Marcellus Investment Managers, Asian paints is the only company which has grown its revenues at 20% per annum for six decades now. The founder of Asian Paints was Champaklal Choksey who had a long- term view back then in 1969. He had decided to replenish the inventory i.e., the paints every 3hours, at the store instead of stocking huge quantities at the wholesalers and distributors who ended up eating 20% of the profits.
With the help of ERP, they designed a system which can estimate the type of paint that will be sold at a future date and time with 98% accuracy. This was possible for the company due to implementation of technology at the early stage which made it to stand out and grab the major market share till date.
4. Work from their strengths
Cappelli says U.S. companies often think about strategy in terms of chasing customers or pursuing market opportunities, but Indian firms will more often start by identifying their strengths, identifying their customers' needs, and then try to meet those needs.
Indian companies do that by taking smart, motivated people, really engaging them and investing in them, and letting them loose to just beat on those problems, often with just trial and error approaches, until they come out with a solution that's kind of out of the box.
Jagdish Khattar, former managing director of automaker Maruti Udyog, told the researchers, "Throw issues to them (your employees). Let them examine and come back to you with solutions."
Arundhati Bhattacharya is a retired Indian banker and former Chairperson of the State Bank of India. She is the first woman to be the Chairperson of State Bank of India . In 2016, she was listed as the 25th most powerful woman in the world by Forbes. She is the only Indian corporate leader listed on Fortune's world's greatest leaders list ranked at 26. She quoted 'Avoid putting square pegs in round holes". The efficiency of a good team can be enhanced only when they play to their strengths.
Conclusion
The lessons mentioned above are highly likely to be found in Indian business leaders unlike western leaders. This difference could be because of the culture and adaptability. The following chart proves the point.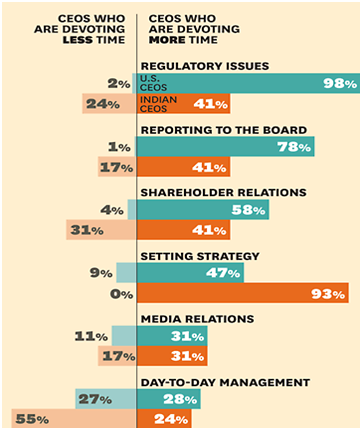 Source: Harvard Business Review, March 2010
The chart above depicts that Indian leaders are most effective as they are internally focused with a long-term view and put motivating and developing employees higher on the priority list than short-term shareholder interests.
"Loved reading this piece by
Aditi Kulkarni
?
Join CAclubindia's network for Daily Articles, News Updates, Forum Threads, Judgments, Courses for CA/CS/CMA, Professional Courses and MUCH MORE!"
Tags
others