Should you invest in Mutual Fund policies or Direct Stocks? Mutual Funds refer to a pool of money by many investors which is in turn invested in stocks, short-term debts, bonds etc. Direct Stocks refer to when the investment is done by individuals directly on stocks or IPOs of a company based on their knowledge.
In this article, we will be discussing the difference between investing in Mutual Funds and Direct Stocks, together with understanding the better option between the two.
Requirement of Knowledge
Investing in direct stocks requires a lot of knowledge and analysis such as fundamental analysis and technical analysis. It takes years for people to figure out the right tactic to invest in the stock market. And many individuals even with years of investing experience make huge losses.
Mutual funds are for the individuals who don't have much knowledge about the stock market. The fund manager is an experienced individual who has all the needed knowledge and expertise and hence will handle the mutual fund well.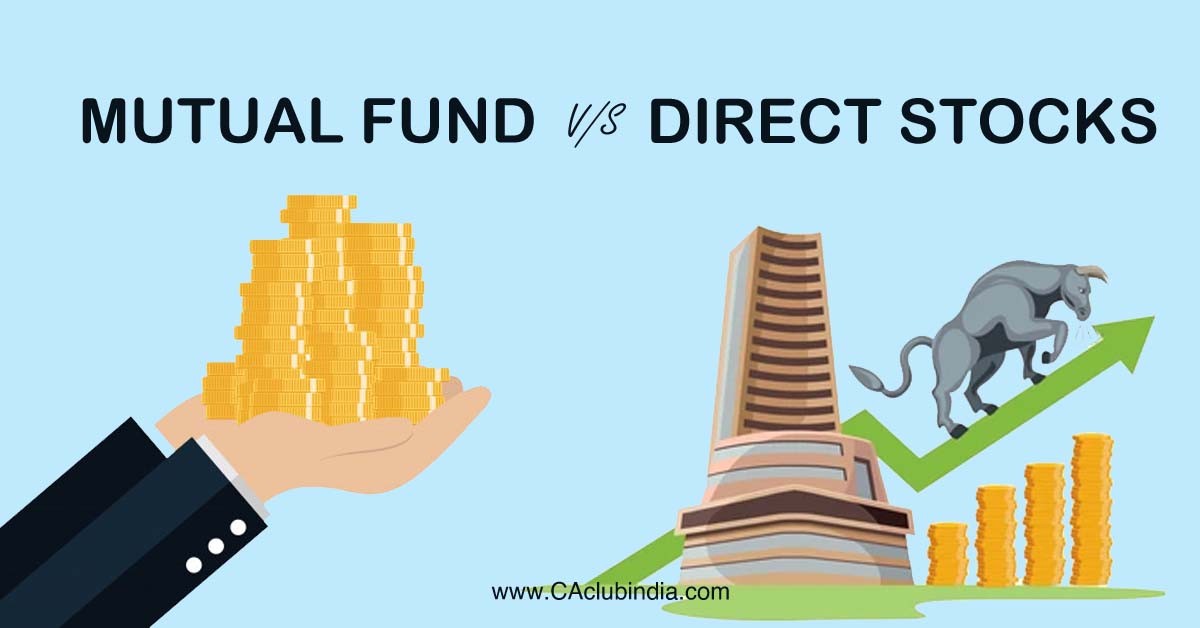 Return and Volatility
When investing in a Mutual Fund you almost invest in a portfolio of 30-100 companies. Even if one company faces losses it does not affect the returns as such due to the high diversity. The return on the mutual funds get averaged out as the portfolio of an individual is diverse and hence involves lesser risk.
In the case of direct stocks there is higher risk due to the volatility of the stock market and because individuals invest in lesser stocks than compared to mutual funds. An individual investor would invest in lesser stocks due to limited time and knowledge at his disposal.
Due to the smaller size of portfolio in direct stocks even a small change in the stock market may directly affect the returns of the stock market. The volatility in the stock market is extreme which may cause stress to many investors compared to that in mutual funds.
Tax Benefits
Direct stock market investing has no benefits in terms of Section 80C tax benefits, however while investing in ELSS (Equity Linked Saving Scheme), tax benefits can be availed. ELSS refers to a mutual fund investment scheme that helps an individual to save income tax and also grow their money.
Control over the stocks
Incase of mutual funds an individual does not have any control over their stocks. They are just supposed to invest a small amount of money for a fixed period which will later give them returns. Everything is then handled by the fund manager hence an individual does not have any control over the stocks.
In Direct Stocks an individual has full control over his stocks and can buy/sell more according to his own needs/wants or his own analysis.
Involvement
The involvement of the individuals in case of mutual funds is very minimal. Individuals who are very busy and have no knowledge of the stock markets invest their money in a mutual fund so that no work or research on their end has to be done. A fixed amount of money is withdrawn from the account every month and the research is also done by some experts in the field.
This isn't the case when it comes to direct stocks.In the case of direct stocks right from researching,buying, selling and everything is done by the individual without the help of anyone. The individual needs to keep a track of the company's portfolio and has to be very updated with the news related to companies.
Conclusion
From the points, we can conclude that:-
The knowledge required while investing in direct stock market is more than compared to mutual funds
A professional fund manager manages the mutual funds whereas in case of direct stocks it has to be managed by the individual itself.
The return incase of mutual funds is more stable and fixed in comparison to direct stocks
A standard facility incase of mutual funds is available which is SIP whereas incase of direct stocks everything has to be done manually.
The fees in case of direct stocks is of the Demat Account whereas in Mutual Funds an expense ratio needs to be paid on a day-to-day basis.
Incase of mutual funds the involvement is passive whereas incase of mutual funds the involvement needs to be active.
Tax benefits can be availed in the case of mutual funds whereas in direct stocks no tax benefit can be availed.
Tags :
mutual fund
shares stock