Meet Shadab, Topper, CA Final November 2018 - Old Course. Shadab hails from Kota, Rajasthan. Shadab is a proud son of a father who is a tailor. He worked hard to achieve this milestone so that he can take care of his parents and family. His humbleness has touched millions of students and his feat has inspired many more. Shadab secured 74.63% with 597 out of 800 marks in CA Finals. In this exclusive interview with CAclubindia, he shares his story of becoming a Chartered Accountant, his strategy for the CA Final exams, his struggles and what this success means to him.

Shadab, first of all many congratulations to you from the entire team of CAclubindia !!
Thanks a lot !!

How are you feeling right now?
I am extremely happy, in fact it is a life time achievement for me. My parents are also extremely happy, I guess more than me.

Tell us something about yourself? Were you expecting a rank?
I am from Kota, Rajasthan. I took the coaching classes and completed my articleship from Kota itself. Actually, I had secured 24th rank in IPCC, so somewhere in my mind I was expecting a rank in the CA Final exams as well . Although I wasn't expecting the first rank but now that I have secured the first rank, it is actually great. I am extremely happy :).

How was your CA journey?
It was always my dream to pursue the Chartered Accountancy course. Initially, I had to face some hardships, but gradually, I overcame them and forged ahead. It eventually helped in building my confidence. Now, that I have secured the first rank, the feeling is quite awesome. This establishes the fact that eventually hardwork pays off and one can achieve anything if he works for it. I always had the confidence that yes, I can surely crack the exams with a good . The initial preparation which I made before-hand, was a key factor that helped me to excel in my exams.

Whom you consider as your inspiration?
My parents have highly motivated me in this journey. My father has always been by my side and taught me how to deal with my fears and keep moving forward. My mom has also helped me in every possible way. She took care of me, especially during the exam time.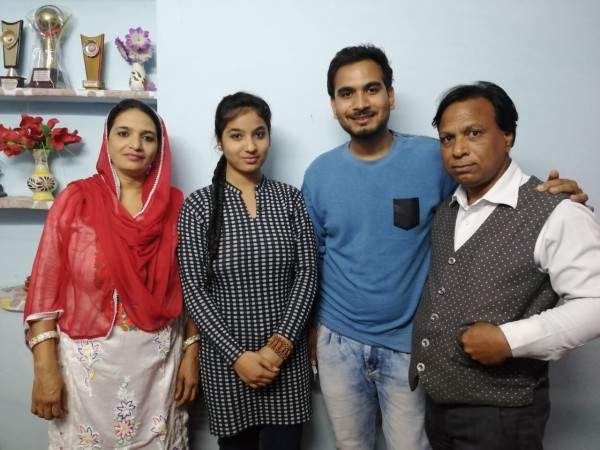 What was your strategy to study for the CA final exams?
I made the analysis of last 3 - 4 attempts and planned it in accordance with the different subjects.
I used to cover up all the recent updates which were hosted on the government websites for instance, the Income Tax website. Staying updated on the latest changes proved to be very beneficial as I was two months advanced as compared to the other students who were waiting on amendments. I was consistent with the test series and took it very seriously which increased my confidence and helped me in improving my time management. I mainly refered coaching materials and then the Institute's material.

How did you plan for your coaching?
I took coaching for the individual subjects from Kota itself. There are various institutes in Kota and the faculties are also good. I had a different faculty for every subject. My planning was to complete my coaching classes five months in advance because after the official leave, I wanted to devote my time for self-study. Post that, I studied regularly for 14 hours and to de-stress myself, I went on long walks for half an hour on a regular basis. Once a month, I used to hangout once with my friends.

Apart from that, time management is very important. I took the mock test from the institute to help me improve my time management and speed. The weekly test series helped me to get a fair idea of how to write effectively and efficiently the papers within the time frame of 3 hours.

I completed my coaching materials first for conceptual clarity and then in last 3 to 4 months, I referred to Institute's study material. My self-study was completely from the study material. Therefore, while writing the exams, there was nothing which I found out of syllabus, everything was covered in the study materials.

So, will you like to mention any faculty from your coaching institute whom you liked the most or who inspired you in this journey?
I would like to mention CA Vivek Bansal, CA Pankaj from whom I took coaching for FR and Taxation. He is a very good faculty who kept motivating me to do better. I basically followed the coaching materials, SM and PMs provided by the institute. In IDT, I studied the bare Act and I referred to Manoj Bathra Sir's book; and Vinod Gupta Sir's book for DT, I followed the questionnaires of D.G. Sharma Sir which covered up a lot of questions.

Which was your favourite subject and which subject did you find difficult?
My favourite subject was Law and ISCA was my weak subject but I made it a point to strengthen it as this is a subject which can be the reason for your failure or can help you secure a rank. I focused mainly on the weak subjects, for e.g. during IPCC, I found IT to be a weak subject and it was that one subject for which I secured 24th rank. So, I had the confidence that I will also make ISCA along my strength.

Any hardships or demotivation which you faced in this journey?
Yes, sometimes it became very difficult to manage due to the hectic schedule. So, in order to cope up with the stress, I went for an outing with my friends. I used to go for a walk daily which worked as a stress buster for me. Also, I used to interact with my other friends who were from the Engineering field and from whom I was able to know many new concepts and things. Proper sleep is a must before the exams. Just one month before the exams, a sense of boredom was developed where I was not able to understand anything. During those times, my father was the one who helped me to overcome the fear and always kept me motivated.

Can you share your study schedule with us?
I dedicated 12 hours daily for study. Coaching classes should get completed 3 months before the exams, one should have at least 3 to 4 months for self-study and devote 12-13 hours for studies; you can target 10 days each for one subject and on the 11th day, you can give a test for that paper so that you can come to know where are your weak points and how much you have been able to gather information from that subject. You can take 2 subjects at a time - theory and practical and follow this planning, then gradually as days will pass, you will be able to complete the same in less number of days and your performance will also improve. It's important to give a test after each revision of a subject.

I picked up 2 subjects (say) FR and law and made a strategy to complete its revision within 10 days and on the 11th day, I used to give mock test for the same. One month before the exams - it was not possible to appear for the mock test, so I planned to pick up daily 4 subjects and tried to complete the revision at least 3 to 4 times for each subject.

How did you manage the 3 hours exam time while writing the paper?
I had planned this while I was preparing for my test series, from which I learnt the importance of time management. I made a target to complete the papers within 2.45 hours. The test papers helped me to improve my speed and eventually, it helped me in the exams. So, mock test papers play a crucial role in this.

I made a target that within first one hour, I would complete the questions which I was sure enough so that I could secure at least the passing marks. Then gradually, the confidence keeps on building that yes, I would be able to answer the other questions as well. I had followed the same strategy in IPCC as well, which I also used in the CA Final.

Did you prepare any notes for the exams?
I used to mark the important points while studying which helped me in my revision also.

I had the habit of studying everything in detail and whichever point I found to be important, I used to underline those points or make a summary of (say) one paragraph and note it there itself, so that I can follow those at the time of revision as well.

The notes which was provided by the coaching institute was enough for me. It contained the detailed concepts which proved to be beneficial for me. I used to make a summary of the paragraph and note it beside that in the book itself; that helped me during revisions.

Were you able to manage your studies along with articleship? How did articleship help you in your exams?
Yes, I used to manage as I consider punctuality is important. I used to attend the classes in the morning, then articleship at noon and again attended the classes in the evening; after attending those classes, I used to revise as much as I could. Articleship plays a very important role in practical subjects. I was very afraid of consolidation topic, which I learnt from the office, post that I was confident enough that I would be able to solve any questions based on this topic. Moreover, case studies based on DT / IDT was also helpful for me. I also got to learn a lot from my seniors, other CAs with whom I worked in the office and got a lot of practical exposure from them. So, articleship plays a crucial role which is very important from exam point of view also.
What would be the tips that you would like to suggest to your juniors?
Firstly, I would suggest to upgrade yourself with the amendments, in this regards, I was one step ahead than others so you need to initiate that; apart from that dedication and will power is required. Also, one should avoid social media during that time and in order to motivate oneself, one can go through the motivational videos also. Also one needs to sacrifice one's comfort level for that particular period of time. For e.g, I hardly met with my friends, was not able to spend time with the family etc.

Also, I would just like to say that give as much as test series as you can. It will help you to cope up with time management. Your handwriting will improve and your presentational skills will be further enhanced.

Are you a member of CAclubindia? What help did you get from our website - CAclubindia?
Yes, Ma'am. I used to refer to the website whenever I had any doubts. It helped me a lot. I used to download the amendments / important files, regularly checked for updates and also went through the articles, whenever in doubt. Its a wonderful platform for students and professionals.

Any further message which you would want to share with the community?
I would just want to say that one should have the will power, keep a positive approach and have a firm belief that nothing is impossible - if you work hard, success is not far away.

Once again Shadab, many congratulations to you from the entire team of CAclubindia. You are an inspiration to many students. Thank you for this wonderful interaction.
Thank you so much !!
Also Read:
Interview of AIR-1, CA Final Nov 2018 (New Course) - Siddhant Bhandari: Click Here
Interview of AIR-2, CA Final Nov 2018 (New Course) - Rohit Kumar Soni: Click Here
Interview of AIR-2, CA Final Nov 2018 (Old Course) - Shahid Husen Shokat Memon: Click Here
Tags
students
ca rankholder interview
ca exams