The Income Tax Department has asked taxpayers to update their profiles on its e-filing portal i.e. https://incometaxindiaefiling.gov.in/. The official notification date is 22nd September 2017.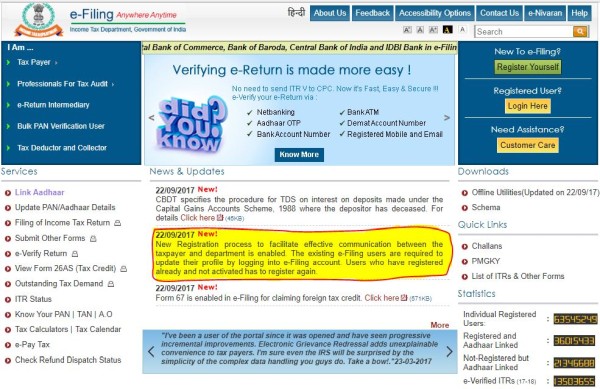 These are the following details which is required to be updated:
New Registration process to facilitate effective communication between the taxpayer and department is enabled.
The existing e-Filing users are required to update their profile by logging into e-Filing account.
Users who have registered already and not activated has to register again.
Now you need to provide your own email address and your own mobile number.
One Mobile Number & One Email Address can be used or attached with Maximum 3 Tax Profiles as against the earlier limit of 10 Tax Profiles
The Taxpayer is also required to declare whose email & mobile number he/she is providing e.g. Mobile Number & Email
Address of his/her - Self/ Spouse/ Parent/Sibling/ Chartered Accountant;
The Taxpayer has to link his/her Bank Account Number
These details to be verified by taxpayer through One Time Password (OTP) sent over the email and SMS over the phone.
Tags
Income Tax