Buying a house, a trip to the Swiss Alps, studying in an Ivy League college or purchasing a brand new car - sound like far-fetched dreams at the beginning of a career? Certainly not.
What you need is a monetary cushion - something that is easily attainable with wise strategic financial planning. And you don't need to be a financial whiz kid to perfect this!
The advent of investment apps has made investing in mutual funds a hassle-free activity. The entire process - from setting up an investment account, getting KYC-verified, and connecting to a mutual fund portfolio takes less than 10 minutes today.
But merely taking the plunge is not enough. How do you best utilize these apps to minimize your effort and maximize your earnings, is an important question.
For you to invest wisely, you need to set achievable financial goals. No more than 70 percent of your salary should go towards your monthly expenditure, and about 10 percent should be set aside for emergencies. This leaves you with about 20 percent for investing.
Now what you do with this 20 percent can make or break your dreams. The following steps can help you wisely invest your money and maximize your returns:
1. Set financial goals
Not having goals before investing is akin to jumping into water without knowing how to swim. You will drown! Investing without having goals could result in you making poor choices that earn you no adequate returns, while leaving you constantly short of money.
You need to have short-term, mid-term, and long-term financial goals to help you decide your investment instruments. Whimsical purchases such as buying the latest iPhone will mandate a different investment strategy to say, planning a Europe trip or purchasing a car, which calls for a long-term investment strategy.
Your goals dictate your choice of investment instruments and the ballpark figure you need to target to fund those goals.
2. Compartmentalize your mutual fund investments in line with your goals and ballpark figures. In order to maximize your returns, your investments should be a healthy mix of various investment instruments, such as:
Systematic Investment Plans (SIPs) is an ideal way to kickstart your personal investment journey. You can start a SIP with just Rs 500 each month, by linking it to equity mutual funds. SIPs are very convenient to pay, as you can schedule automated fixed investments every month. They also involve compounding on the returns of your investment, which is a great stimulus to accumulate funds in a reasonably short period of time. SIPs are especially ideal for funding your short-term and mid-term goals.
Lumpsum investments are perfect if you want to park a large corpus of funds in a mutual fund for a specified period of time. They offer much higher returns than fixed deposits since returns here are linked to the market. This is a great long-term option to fund your Ivy League dreams.
Gold-Based mutual funds investments help you beat market inflation and get high returns. You pour money into mutual funds which invest in gold, making it a virtual gold investment. You can take advantage of the fact that gold is a strong market commodity. Plus, since you do not physically buy gold, there are no overheads such as cess and making charges, and neither do you have to worry about keeping it safe.
Debt funds are good investment options for those who wish to play it safe. You invest in commercial papers, government securities, government bonds etc. to generate a fixed interest income. Your capital will mature at the end of your investment tenure.
Tax-saving investments are a must for any professional. Even, if you are unsure of your financial goals, you should avail of every opportunity to cut down your taxes. Consider investing in an Equity-Linked Saving Scheme (ELSS), which helps you claim a tax deduction of up to Rs 1.5 L under section 80c and save up to Rs 45k in taxes each year.
Fixed deposits are useful for those who do not want market forces to dictate their investment returns. The risk involved here is minimal but so is the rate of return as compared to other investment options. Plus, you can incur a penalty if you break your FD before it matures.
3. Avoid keeping your money parked in your savings bank accounts. The return of interest is just ~4 percent, and it serves you no purpose in helping you achieve your financial goals. It is among the most inefficient way to let your hard-earned money rot.
4. Monitor your investments at regular intervals to keep a tab on their performance. This way you will be able to predict if your expected returns are on track and whether your upcoming Europe trip is feasible.
In conclusion, setting financial goals will help you finalise a spending budget and set up a strategic investment plan to help fuel your dreams. Do not let the fear of investing and a lack of financial know-how restrict you from making the most of your hard-earned money.
20% of your salary is all you need each month to make smart investment decisions which will enrich your life. Get started today!
------------------------------------------------------------------------------
About the author
This piece has been written by Sanjeev Sharma, Co-Founder of Sqrrl – a personal finance, fintech venture targeted at young Indians helping them improve their relationship with money ultimately helping them Save, Invest & Prosper!!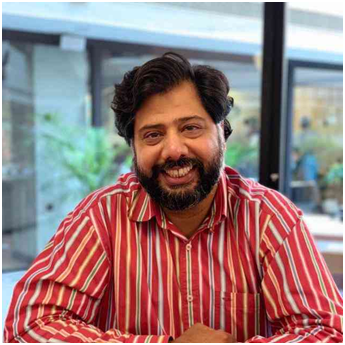 Mr Sanjeev Sharma has over 18 years of experience in Financial services across Strategy, Sales, Business Development & Advisory. He started his career with Kothari Pioneer Asset Management Company and later had stints with Global Asset Managers Franklin Templeton, AIG Investments and PineBridge Investments. His last assignment was with OPC Asset Solutions as Senior Vice President of Business Development.
Tags
Others