The Indian MSME sector is currently struggling to secure significant financing, with an estimated credit gap of $380 billion as stated in a World Bank report. This lack of credit has hindered the growth and establishment of chartered accountancy firms as well, even though the Institute of Chartered Accountants of India reported an upsurge of 37% in demand for newly qualified CAs.
As a result, chartered accountants looking to expand or set up their business often need to rely on loans at higher rates from informal sources. However, instead of servicing interest at such high rates, these professionals can also seek specialised loans for chartered accountants .
What is a chartered accountant loan?
A chartered accountant loan is a form of credit specifically designed to cater to the business practices andconsulting needs of chartered accountants. NBFCs in particular provide various kinds of loans under this option. For example, besides business CA loan, an eligible applicant can also avail housing credit, loan against property, and personal loan, all of which are specialised for chartered accountants.
Under this hood, Bajaj Finserv offers hassle-free Business Loans for Chartered Accountants, through which borrowers can access a sizeable principal against nominal interest charges. Here is a look at some of the features of the Bajaj Finserv Business Loan for Chartered Accountants.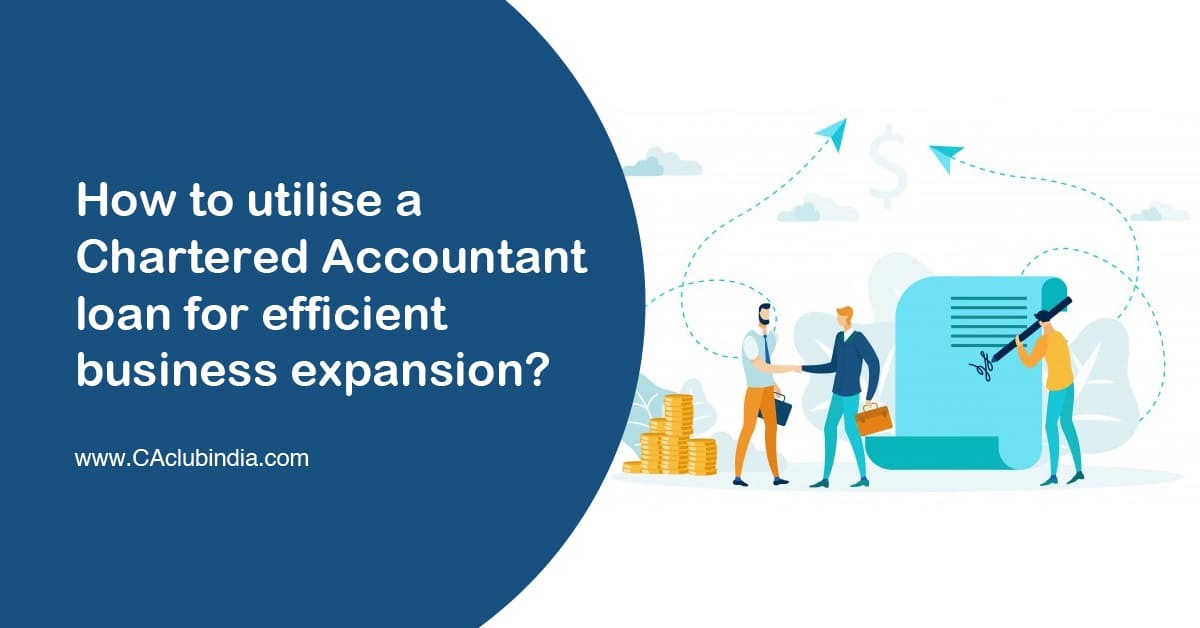 Features of a CA Loan
Borrowers opting for these loans to grow their established business can expect the following benefits and features –
Customised financing for Chartered Accountants
Eligible applicants can avail up to Rs.25 lakh as principal under a chartered accountant loan . Also, with the Flexi Loan facility, borrowers can reduce their EMIs by up to 45%. They can choose to borrow from a pre-sanctioned limit and pay interest on only the utilised amount and not the entire limit.
Competitive interest rates
Another attractive feature of a professional loan for chartered accountant is its low interest rates. Bajaj Finserv customers can avail these credits at reasonable rates, ranging between 14% and 15%. This should minimise the financial burden on CAs, especially when trying to expand their firms.
Flexible tenure of repayment
Depending on a business's financial standing, borrowers can choose to repay these advances within a tenure ranging up to 60 months. Therefore, besides the chartered accountant loan interest rate, this tenure flexibility also helps borrowers significantly in managing the loan.
No end-use restrictions
A loan for chartered accountants from Bajaj Finserv can be utilised as a borrower deems fit. For instance, one can use these proceeds to buy office equipment and furnishing, while another CA can hire additional staff members for his/her firm using this money. As Bajaj Finserv does not interfere with such decisions, borrowers observe full freedom in loan utilisation.
Online account management facilities
Borrowers can use the Bajaj Finserv online portal to keep track of EMIs paid and outstanding dues. Additionally, one can use the same platform to prepay or foreclose his/her dues.
Efficient utilisation of a CA Loan
Business expansion
Funds availed through this loan can be utilised to grow an already established business. From increasing the employee base to opening multiple branches of the chartered accountant firm open across various cities, this hassle-free credit enables borrowers to do all of this.
Hiring skilled professionals
For any business to prosper, you need individuals with the right skills for the job. Due to the minimal CA loan interest rate , individuals can acquire funds easily to afford a skilled workforce. In 2019-20, CA firms, along with BPO, banking and IT sectors, were responsible for 80% of the entire recruitments from ICAI's batch. Thus, the demand for qualified CAs at these chartered accountancy firms is immense.
Technology upgrade
In some cases, such a business may fail to realise its true potential due to lack of proper access to modern technology such as switching operations to cloud-based platforms, installing GST accounting software, etc. A loan for chartered accountants ensures that budget shortages do not result in such complications.
Renovating office interiors
Chartered accountants often deal with reputed clients and need to maintain suitable professionalism for a good first impression. Thus, while renovating your office to house newer employees or integrating conference roomscan seem costly, these loans ensure affordability.
Covering working capital deficits
Lack of sufficient working capital can interfere with regular functioning of a business while a CA firm with several outstanding invoices can face immense challenges in maintaining the daily cash flow. A quick personal loan for chartered accountants from Bajaj Finserv can thus eliminate such issues completely.
Additionally, Bajaj Finserv provides pre-approved offers to ensure quicker access to these loans whenever necessary. A borrower can check his/her pre-approved offer before opting for a loan.
To apply for a business loan for chartered accountant, individuals would need to visit the official website of the NBFC. Bajaj Finserv also offers doorstep document collection service, which allows easy paperwork completion without you having to step out.
Apart from this business finance, you can also avail a home loan for chartered accountants from this NBFC. You can proceed to apply for a suitable loan for doctors with the necessary documents and expect quick approval.
Tags :
career