Hello Everyone!!
You might be facing issues with the Emsigner on TRACES, In this article, I made an attempt to give100% solution for this issue.
The most common error while signing/validating with DSC on TRACES is
"Error in establishing a connection with TRACES WebSocketEsigner. Please ensure that WebSigner Setup is installed and service is running on your machine and there are no proxies enabled on the browser while doing DSC activities"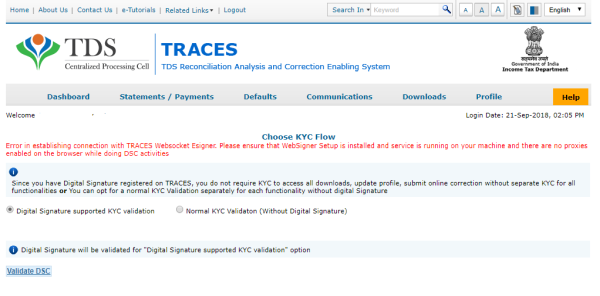 How to establish a connection with TRACES Websocket Emsigner?
1. First, Un-install the existing Java Utility, Emsigner (including MCA, GST) that was installed on your PC and start from the Scratch.
2. Install JAVA 8 Update 162 32-bit version only
- Even if you are using windows 7/10 and 32bit/64bit version, you have to install aforesaid version only.
- Yes, TRACES need older version of Java, your existing JAVA may be updated one, because of auto-update functionality.
- You can also download the aforesaid version Java Utility from the below link, as you might not able to get from the official website.
https://www.filepuma.com/download/java_runtime_environment_32bit_8.0.1620.12-17918/
- To ensure that you have installed correct version of the JAVA utility, you can cross-check with below screenshot from the Control Panel> uninstall programmes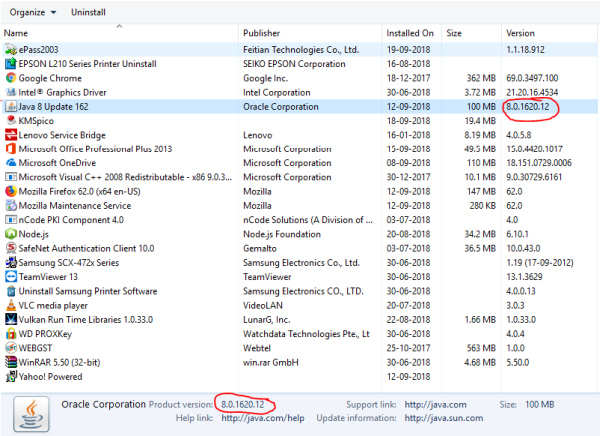 3. Download TRACES Web Signer Setup V 2.0 setup file from the TRACES website.
- Login into TRACES >downloads>requested downloads> and click on "Click here" to download the utility > enter the Captcha and click on submit> scroll down and find TRACES WebSigner Setup V 2.0 > download >right click on the setup file > click on "Install" option to start the installation.
- TRACES has updated WebSocket in 1st week of June 2019. So, even if you are using WebSocket V 2.0, I suggest you uninstall and download the latest WebSocket fromTRACES site.
4. Install DSC drivers on your PC, if not installed earlier or you are using DSC for the very first time on PC, DSC drivers will be available in the CD provided along with the DSC or Online.
5. Update your Chrome (if it is of Older version).
6. Clear Cache & Cookies from your browser.
7. Now restart your PC.
8. RunEmSigner as administrator.
After following the above steps, still if you are facing the same issue:
1. Install the JAVA FXER software from the below link:
https://johann.loefflmann.net/downloads/jarfix.exe
2. Run the above software as Administrator, your problem will be fixed.
Important:
1. Even if you are facing same issue after performing the above steps you might be using internet connection through mobile hotspot or JIO Fi device, please change your internet connection.
2. Incorrect DSC Token password issue on TRACES website.
While browsing TRACES site especially on Google Chrome, you may face issues with DSC Password, even though you have entered it correctly it shows Incorrect DSC Token password, this is purely a technical issue, please try clearing cookies and cache or logout and open TRACES site in Internet Explorer/Mozilla Firefox browsers.
That's it, now Insert your DSC Token and you will be able to validate DSC on TRACES website without any hurdles.
I have discussed and interacted with the TRACES technical team, IT Experts and in the article, I mentioned all the possible steps to be taken care of. I request before reaching me Whatsapp or email please try the steps mentioned in the article a it is. After following above steps mentioned in the article you shouldn't be facing any issues with the EmSigner on TRACES Portal.
The author can also be reached at cavinayreddy@icai.org
Also Read:
Tags :
income tax
traces