Whether you want to give your CA firm's working capital a boost or want to pay for your child's overseas education, a customized loan for chartered accountants is a low-cost, high-value financial resource that you can count on. Besides, it also offers funds quickly, and straight to your bank account, so that you can meet your needs on time. However, to ensure that you don't cause any delays in approval and disbursal, there are 4 things that you should keep in mind. Take a look at what they are:
1. Match the eligibility requirements
The first step is ensuring that you meet the simple eligibility criteria that this loan comes with. Regardless of whether it is a secured or unsecured loan, you will have to ensure that you have at least a 4-year old Certificate of Practice. Also, you or your parents must own a house or an office space in a region where Bajaj Finserv operates. If you don't fulfil these prerequisites, your application may not be processed further.
When you choose a Loan for Chartered Accountants from Bajaj Finserv, you can rest assured that you will get funds in an instant. Approval takes anywhere from a few minutes (unsecured loans) to 24 hours (secured loans). Once your documents are verified, you can receive funds as soon as 24 hours.
2. Ensure that you have a high credit score
Your credit score is an important metric against which lenders determine your eligibility. Since it is a measure of your creditworthiness, a high score helps a lender feel assured that you will be able to repay the loan. As a result, you are likely to be granted a loan faster. Apart from this, having a good credit score works to your advantage too, as you can use it as leverage to negotiate a lower rate of interest or a more substantial loan amount.
3. Borrow in line with your income
When you are selecting a loan, make it a point to tally the loan's EMIs against your income and ensure that you have the funds that you need to make payments on time, without any financial strain. If you can assure this, the lender will feel confident knowing that you have the resources to handle loan repayment. As a result, loan approval is quicker.
If your budget is on the lower end of the scale, don't worry. Simply apply for the loan as a Flexi Loan. Herein, you can withdraw from the total loan sanction in installments, and pay interest only on the amount that you use. Besides, you can pay interest-only EMIs and repay the principal at the end of the tenor.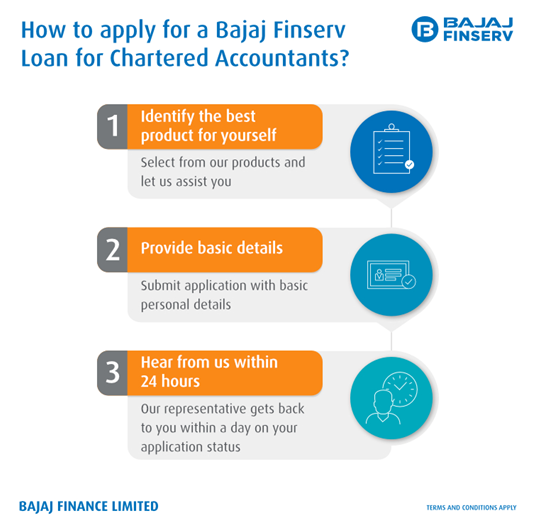 4. Gather your documents in advance
The last thing that you can do to support speedy approval and disbursal is ensuring that you gather the documents that you need to submit in advance, organize them and hand them over on time. This will ensure that you don't miss out or forget submitting any. You want to avoid this outcome because if your application doesn't have the right documents, the lender will send your application back to you. Then, you will have to remedy it and send it back. This will delay loan approval.
For any loan for chartered accountants, typically, you will only have to submit KYC documents and CoP, along with ownership proof of a property.
So, if you are applying for a loan for chartered accountants, be sure to follow these 4 tips to ensure speedy approval.
To know more about a Loan for Chartered Accountants from Bajaj Finserv, click here.
Tags
Others