DSC - Digital Signature Certificate, as the name implies, is used to sign electronic documents digitally and DSC comes in different types or classes broadly classified into 3 classes, viz. Class - 1, Class - 2, Class - 3.
Class - 2 & Class - 3 types of DSC are issued by a Certifying Authority (CA) who is licensed by Controller of Certifying Authorities (CCA). These Class - 2 & 3 types of DSC are issued after submission of certain identification documents and completion of certain procedures.
Inter alia the details collected include PAN of the applicant (individual/business entity). So, in conclusion, if the DSC is of Class - 2 or Class - 3 type, then PAN would be mandatorily included in the DSC.
But it may so happen that wrong PAN might be considered for a particular DSC and because of that, we may face a multitude of errors in using such DSC for MCA/ROC (incorporation, DIR forms etc.) purposes, income tax purposes etc.
When facing any errors while using the DSC or when you acquire a new DSC, it is a good habit to first confirm that the PAN of the applicant is correctly captured in the DSC.
Before going to see how to verify PAN details we need to know something: PAN is not captured as it is (i.e. in its general format of 5 alpha+4 numeric+1 alpha) into the DSC.
Instead, a hash value of the PAN is captured into the DSC for obvious reasons of privacy and security.
Note: hash value is explained at the end where you can find that this is a result of sha256 developed by the United States National Security Agency.
To check the hash value in the DSC, follow these steps:
1. Connect the DSC to the Computer and check if it is detected properly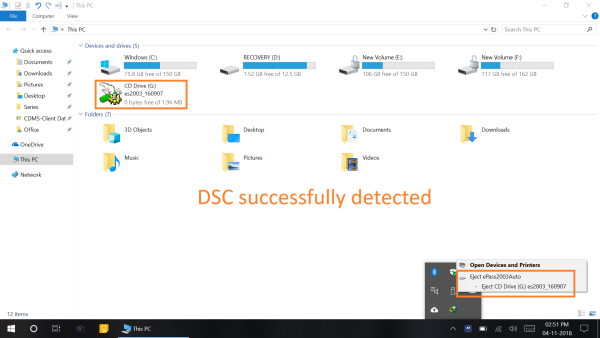 2. Open Internet Explorer and Go to Internet Options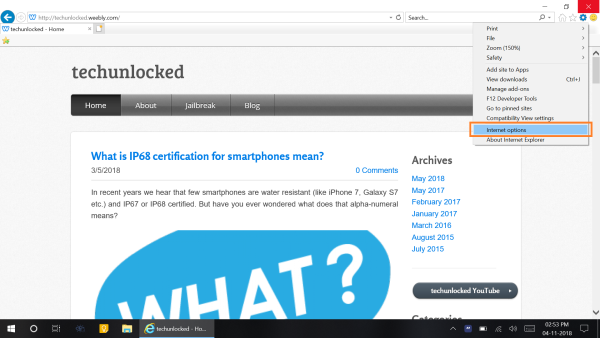 3. In the Internet Options window go to Content Tab >> Certificates >> Double click on Certificate you want to check the PAN >> Click on Details Tab >> Scroll to Subject Field and click on it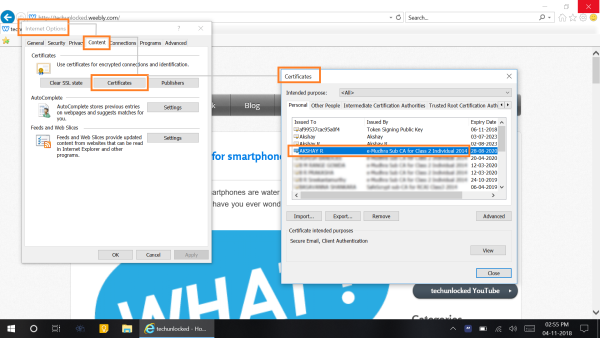 (In Certificates Tab, In the 'Issued By' column of it shows Class of DSC as well)
4. The string called as 'Serial Number' is the 'hash value of PAN'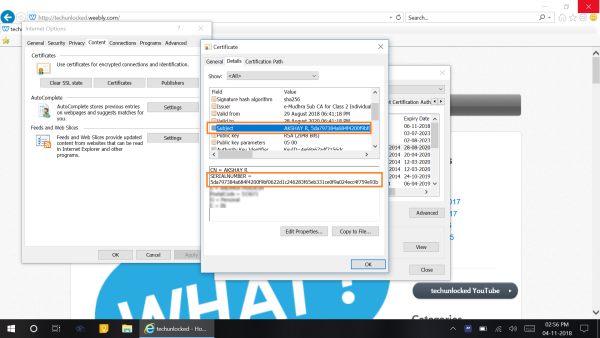 To check the hash value of PAN:
1. Go to https://www.e-mudhra.com/portal/panverification.aspx and enter your PAN (in CAPS) and click on Search where it will show the hash value for your PAN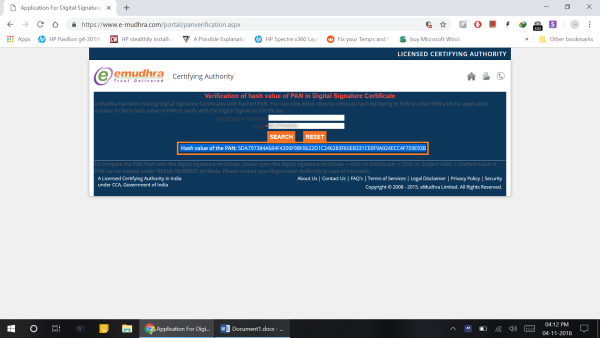 2. Now compare this hash value with the hash value in the DSC as shown in the Internet Explorer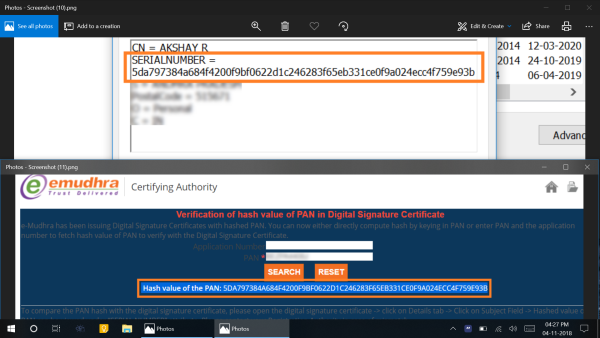 3. If you find it difficult to compare manually, check this site to do the comparison http://onlinemd5.com/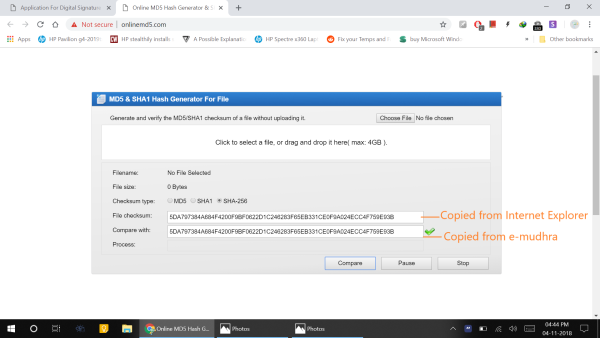 If both are matching, then PAN captured in the DSC is correct
What is that hash value?
In regards to privacy and security concerns, sensitive information like PAN, phone number etc. cannot be stored directly in the DSC. To overcome this issue, we use an algorithm called sha256.
Sha256 (Secure Hash Algorithm) - This is a type of algorithm (a series of stepwise calculations & operations) developed by the United States National Security Agency (NSA), which takes an input - alpha or numeric or combination or a file (text, image, pdf etc.) and produces an output which is a sequence of alphanumeric that is of 32 characters in length.

This output is called 'hash value' and this does not change for the given input. Even a small change in input like changing the case or adding space in between will change the output. Also, no matter how big or small the input is, the hash value is always 32 characters in length. One might get a doubt that if we know the steps on how this hash value is calculated, can't we do a reverse calculation and find the input? It is practically impossible to do a reverse calculation and that is what makes sha256 a secure algorithm and how that works exactly is a topic for another day.
Note: hash value for PAN is calculated using PAN in UPPER case. Even if you enter PAN on e-mudhra site in lower case, it will return the hash value generated using UPPER case as it is just showing you already generated & stored hash value and not recalculating it again based on the input.
Tags :
info technology