1) Accept the situation.
You might have worked really hard in the past, but unfortunately, you did not make up to the mark this time. Don't let the trauma of failure absorb your energy and waste your time. You are a CA student, you don't need any sympathy or guidance from others who even don't know ABCD of CA.
2) Take a quick decision.
Plan out which group do you want to go up with incoming attempt. Don't try to gamble in this.
This is the most common mistake made by the students as they are not sure till the end which group they should focus on. It's better to clear 1 group at a time rather than to flunk in both of them.
3) Prepare well for the theory
This is what pulling down most of the students. In Final Group 1, Audit and law are two theory subjects.
For Audit:
Tips to study SA How to study SA in auditing?
1) Study SA as per ABC analysis (as already given).Most importance should be given to 'A' category.
2) Read SA atleast 5-6 times before exam.
3) You have to memorize important topic/parts from each SA.
4) After reading SA for each time, you may find you have already forgotten what you have read earlier. Don't worry, it happens to everybody when you read topics like SA. After 5-6 reading/memorizing important topics, you will have confidence in SA type question.
5) Before going for the exam, look at questions as well otherwise you might get confused on which SA question is asked.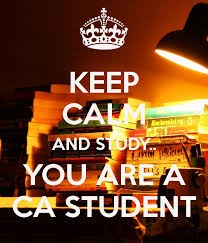 6) Memorize SA name and No., yes it's possible. If not possible, at least do it for 'A' and 'B' category SA's. If you sincerely follow the above tips, you can easily score 85%-90% marks in SA questions. Again please note ICAI doesn't want your points especially in SA type question, they want their module points. Otherwise, the examiner will directly give you zero. Guys if you want to pass CA exam, you have to avoid mistakes what others do. Just by doing so your chances of passing an exam increases by 50%. Just keep in mind this factor, I have prepared 3 major points why students fail in the exam? Try to avoid these things in the exam, and see the difference.
Why do students fail in Audit? 3 Major reasons:
1) Writing the same sentence again and again in active-passive voice. This is not what I am saying, same was published in the student journal (Examiner's comment section).
2) Not writing modules language. It is not possible in any subject to write exact same material as in module but you should try to replicate 30-35% of modules language. It is enough for scoring good marks. 3) Don't try to show off your own so-called knowledge (gyan). ICAI does not want your language/facts/knowledge, they want their module material language whether it's IPCC or Final.
For Law: Follow the mentioned tips
a) Don't follow the trend. ICAI can ask 4 marks question from even a single line of any provision. Try to read and cover each and every line of provision.
b) Don't go for the summary book. How can you expect to clear CA Final just by reading the summary book? Take a detailed book with cover each and every provision with illustrations as it will help you to grasp the concepts.
c) Don't just read and memorize provisions. Try to cover the type of questions that are asked from that part of provisions/chapters. Ultimately you should be aware what type of knowledge is expected from you in the exam, you just don't go blank in the exam hall without any idea.
d) It's a very wrong misconception among students that you have to learn everything as it is.
4) Appear for mock test.
Check the paper by yourself and note the mistakes that you are making repeatedly. Just a day before going for the exam, look at your checked mock paper and mistakes made by you so you don't repeat the same mistakes in the exam.
Make a separate notebook for mistakes which are repeatedly made by you so that you can read it before your exam and
This will help to boost your score by atleast 10-15%.
5) Revise at least 2 times before the exam.
Your time to cover up the subject should reduce with every revision otherwise it will not fetch your purpose.
6) Broke down each subject into A, B and C.
Make a timeline for each subject. Go from Category A to C. In case you aren't able to finish off your subject as per schedule, switch to other subjects. Don't just stick to that single subject otherwise too much attention to one single subject can cost you all other subjects. (You can give max 5-6 hrs more than your scheduled timetable) Try to finish A, B (100%) and C category (atleast 50) in timeframe scheduled by you.

7) Upcoming exams will have MCQ in some subjects.
MCQ will be a big time bonus provided you don't skip out any part. It's better to purchase MCQ books released by many faculties so that you will have overall idea about the knowledge expected from you.
The author can also be reached at jainshobhit1996@gmail.com
Tags
Students