Many of you must be wondering as to why I quit a successful CA practice for a mere passion? Some of you may be admiring me for this, but many of you must be thinking that I am a fool. Why somebody would quit a one crore CA practice just to write! Well, I will tell you why I did this and why I wanted to live the life that I want and not what is decided by my greed's and needs.

The Story
When I cleared my CA in 2014, I was high as if opium was running through my veins instead of blood. I was happy because now my dream of becoming a CA was going to fulfill. But, the high time didn't last long because I have to take a decision which every CA finds it difficult! Job or Practice?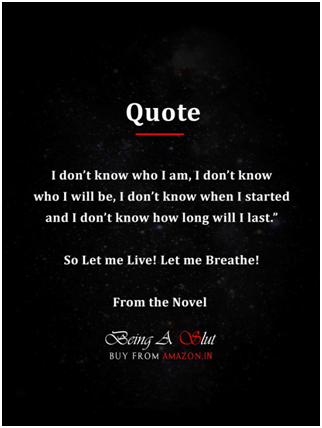 At that time, I had a nice job offer in my hand, but my dreams and commitment took me to a world of accounts and finance. Getting business for a new firm was a challenging task, as we didn't have reputed links in the corporate, so we have to innovate.
We started using the internet and our content skills to showcase our knowledge to the world through articles and guides. This was the first time; I met my unknown love of writing. I started writing articles, guides on different topics, and soon people started reaching us with their queries, which ultimately helps us build a strong practice.
The darkness inside
I was earning good! I could party, go to any restaurant, enjoy with friends, but somewhere deep, I was uncomfortable. I was working successfully as a Chartered Accountant, yet I was unhappy, frustrated, and incomplete. I was searching for something unknown, profound, something which could make me feel motivated, happy and satisfied.

In all, I was trying to find the meaning of my life, my purpose which appeared almost impossible to find. I can't see myself just earning money, spending it and dying. This is not life is all about? I wanted to be different, someone who could find that rare gift inside and change the future completely.
To see it, I had to explore a journey which was dark, and unknown, which of course wasn't easy so I was confused, whether I should stay like I was forever, or should I dare to start.
A battle
At one hand, I had a comfortable life, and at the other, there was complete darkness. But, still, I want to experience that darkness, the real world, which I never faced.
So after a fierce battle, I decided to quit everything and search for the real meaning of my life. I must confess it was different, hard and beyond my imagination and capabilities. I never thought that life could be so cruel, devastating and hard. It puts you down, kicks you like a football until you stand up and respond. And the only way to answer is never to give up.
So, I did exactly like that. Doesn't matter how many times I fall, kicked, buried, cried, screamed, feared, but I didn't give up. I continue moving ahead like a real athlete even in the darkest of times.
Real meaning - Challenges
Once I saw my real meaning, my passion, I thought the battle was over, but to my bad luck, it was just a beginning. But unlike before, I had a weapon in my hand, the gun of my passion, my love for writing!
So, with all motivation and admiration, I started following my passion. I would not say that following passion will work like wonders, but it gives you satisfaction even in the most uncertain times. I could breathe in darkest of the night; I could walk on a path where you can walk only alone; I did what was foreign to me, I explored the impossible and went beyond it to gain the vision and confidence, that I can change my world.
Revolutions do not come on their own, but by the people who have the confidence of making things happen. I am not only talking about the revolution in the world but in your life too.
Anyways, after so much of struggle and darkness, finally, my passion bought me the sunlight in the form of you, my audience, my readers to whom I owe my life, my capability, my skills, and my everything.
There is nothing to know about me, but there is everything to know about this world, and about you. Know yourself, and make this world a better place for you and others.
At last, I would love to say that always carry a vision, then turn your vision into a dream, and then go for it and until you achieve.
About the Author
Paras Mehra is an author of the recently released novel, Being A Slut, a mystery thrilling novel followed by more than 18000 people.
Tags
Career