Be it expanding the current portfolio of services, hiring new recruits, installing the latest tax-compliant software or maintaining the day-to-day expenses for running a practice, as a chartered accountant /tax consultant, it's imperative for you to have an adequate working capital. However, increase in utility bills, late payments from clients, business cycle recession, etc. can put significant pressure on your existing finances.
Flexi loans are an ideal way in such situations to address working capital needs and maintain a healthy cash flow. Read on to know how these new age-loans help you addressaccess for immediate cash requirements.
A High Pre-Approved Limit
Flexi loans grant you access to a pre-approved limit depending on your credit score. The higher the score, the higher is the limit. Bajaj Finserv's Flexi Loan offers a pre-approved limit as high as Rs. 30 lakh to CAs and tax consultants. You can utilise the money from your approved limit to meet your working capital needs.
Flexibility to Use Funds as and When Required
Flexi loans allow you to withdraw funds, within your approved limit, as and when the need arises. Thus, you don't have to worry about a lack of funds taking a toll on your operations and make an accurate estimation of your investments.
Save on EMIs Every Month
High EMIs result in a significant outflow of cash every month, thereby putting pressure on your working capital. However, flexi loans help you save on your monthly EMIs. This is because you need to pay interest only on the amount utilised from your pre-approved limit and not on the entire limit.
For example, if you use only Rs. 2 lakh from the limit of Rs. 5 lakh, you pay interest only on Rs. 2 lakh. Moreover, you have the option to pay only the interest component in your EMIs and the principal at the end of the tenor. This significantly reduces your EMIs, unlike term loans where you need to pay EMIs on the entire loan amount consisting of the principal and interest components.
No Need to Pledge Collateral
Lack of collateral can throw the borrowing exercise off-track. However,Flexi Loans are unsecured loans, wherein you don't need to pledge any collateral. This not only reduces the chunks of paperwork but also expedites the loan application process.
This is particularly useful if you have just started your practice and have no concrete collateral to present for procuring a loan.
No Part Pre-Payment Charges
If you are left with extra cash, you can pre-pay and adjust your limit at no extra cost. You can withdraw the amount again when required.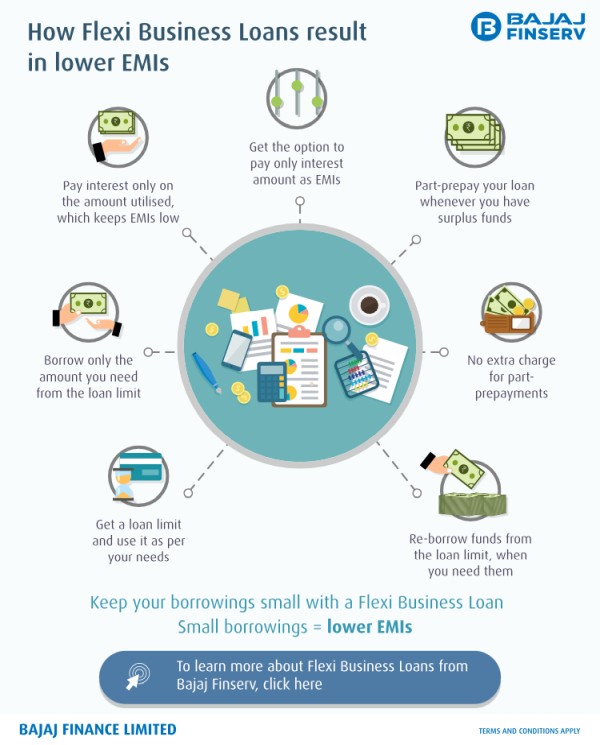 As evident from above, flexi loans, through their innovative features help you realise various prospects for your practice. Forget worrying about high EMIs and fixed repayments with flexi loans!
If you are a CA, you can apply for a Flexi Loan(for CAs) from Bajaj Finserv, by clicking here.
If you are tax consultant, you can apply for a Flexi Loan (for tax consultants) fromBajaj Finserv,by clicking here.
Tags
Others