A few years back, most of us as students were somewhat oblivious to the fact that we could start securing a good financial future for ourselves and our family from our college days itself. Of course, at that point of time, we were not cognizant of the importance of credit score for our future.
But in the last few years, the prominence of credit score has increased exponentially. Now, majority of students are aware of the importance of credit score. In certain situations, there is a dire need of funds and every youngster must know what they can do to tide over any financial emergency and get their families out of that situation.
Whenever there is an urgent need of funds and there isn't much in the bank account, the best action plan is to borrow. The borrowing could be done either from friends, relatives or lending firms. The situation could arise any time where one has to borrow from a lending firm. The lending firm could either be a bank, NBFC, or Fintech.
To borrow from these firms, you ought to have a good credit score, else your application could either be rejected or you may get an exorbitant rate of interest, which will prove to be a huge burden on your pocket.
How Can Students Build Their Credit Score?
In majority cases, students are generally new to credit and don't possess a credit score. Neither do they have a regular flow of income. So, it is difficult for a student to fulfil the general criteria set by lenders to avail a loan. Hence, there is a high chance that their loan application could get rejected.
But there are certain ways by which students can get score building products. These products would not only build their credit history, they would also instil some sort of responsibility in them as they would be required to manage their funds responsibly and make regular repayments.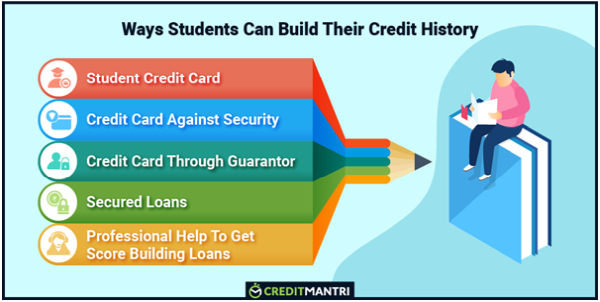 Student Credit Cards
Very popular in western countries, student credit cards are gradually gaining prominence in India as well. There are certain lenders that provide student credit cards. To apply for a student credit card, one must be of at least 18 years of age and must be studying in a college or university. Their id card will be required as the proof of their identity.
Some lenders require you to open a savings account with them with a certain minimum quarterly balance first before granting you a student credit card. There are also some banks that may grant you student credit card if you have taken an education loan through them.
One of the primary advantages of availing a student credit card is that the documentation is minimal.
Credit Card Against Security
If you are a student and your parents have opened a fixed deposit account in your name, that can help you in availing a credit card. The credit card limit will be 75-80% of your FD account. The best thing about these credit cards is that not only you will have a credit card in your hand and a chance to build your credit history, you will also get interest on your FD account parallelly.
Credit Card Through Guarantor
As a student, if you don't have a credit history, you can ask your parents to act as your guarantor when you apply for a credit card (or loan for that matter). But before going ahead with making you parents as your guarantor, one thing is needed to be made sure- Your guarantor must have a good credit score.
Get Professional Help
Certain professional organizations like CreditMantri have their proprietary algorithms through which they can determine a person's creditworthiness based on the information a person provides. Through this, they can determine the credit products that the person would be eligible for.
These organizations have tie-ups with majority of the lenders and can get the exclusive interest rate offers and discounts on processing fees on the credit products as well.
Alternative Ways
There are certain loans that can be availed without a credit score. These loans include loan against security, loan against property, gold loan, etc. Although these loans might help you build your credit score, it is suggested that you don't take these loans unless there is an urgent need for funds.
Action Plan
It is to be noted that just getting a credit card or loan will not help you build your credit history. To have a good credit history, you must make all your payments on these credit products on time. If you consistently miss or delay your payments, chances are that you might build your credit history, but your credit score would be low.
A low credit score will lead to loan rejection. So, start building your credit history from today and face your future financial emergencies head-on.
About Us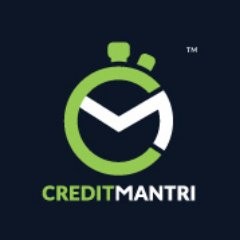 CreditMantri makes Credit Possible. It helps consumers take charge of their credit health and help them make better borrowing decisions. Users can discover loans, credit cards best matched to the credit profile, resolve issues on existing borrowings, and reduce current borrowing costs.
Tags
Students