'High Risk - Higher Returns | Low Risk - Lower returns!!!' that's the traditional rule of investment which we have grown up with.
High Net worth or Higher Middle class individuals enjoys the liberty of investing in higher risk assets compared to a Middle class / Lower Middle class who are obligated to invest in low risk traditional investment tools like Bank FDs, Corporate FDs, etc.
People in High Income groups are usually high risk takers and tend to take more risk when it comes to choosing the investment avenue. They invests in instruments like Mutual funds, Bonds, Stocks (by taking services of family offices/Private wealth management firms, etc.) which have higher risk but have given a higher yield which is proven in various empirical data.
However the lower and middle income group has been continuously loyal to traditional products which provide them low but assured returns and also safeguards their investments.
In the past, fixed deposit rates were giving satisfactory returns in the range of 8 - 10% and thus were the preferred investment tools for low risk takers. But with changing market conditions and banks shifting to marginal cost of lending rates (MCLR) from base rate regime, the fixed deposit rates have reduced significantly in last 12-18 months. Due to reduction in the returns on traditional products, many people have commenced making investments in the higher risk investment avenues for earning higher returns which is reflected in significant increase in the Mutual Funds investments, SIPs investments, equity investments, etc.
The selections of investment asset classes have a direct proportion to an individual's purchasing power, risk appetite, future goals, liquidity, etc. However more importantly we believe that the awareness of the products also has a huge role to play in investment asset class selection. While investing in such products, one should make himself fully aware of all the probable risks & returns associated with it along with the tax implications on the returns.
To make this handy and assist you in your investment decisions, we have prepared a holistic table of investments along with the degree of risk associated with each investment class, the tax implication, the duration of investment, etc.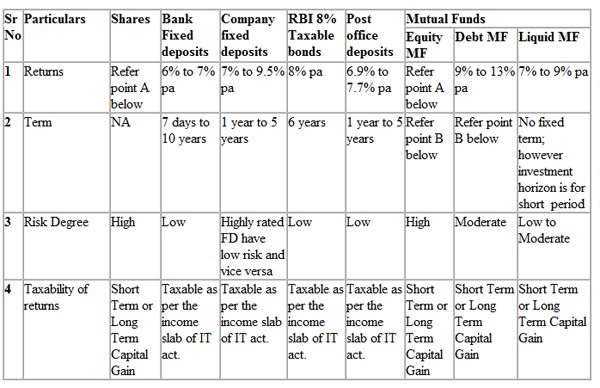 ​​​​​​A: Since the market is highly volatile, there is always a risk of prices of shares moving up and down. Return on the equity is not fixed and significantly driven by various micro and macro factors including market sentiments and hence the same cannot be predicted.
B: One can invest in a mutual fund in lump sum or in instalments commonly known as Systematic investment Plans (SIPs). The term for the investment can vary and depending upon the choice & need of the investor.
We hope this will help you in making your investment decision in right direction. Have a happy investing day!!! In future articles, I will elaborate on each of the above investment asset class in detail till then stay connected.
Tags
Others